Learn to Lead - Mindset Leadership
Good leadership shapes, enables and moves forward. Good leadership sets goals and defines a framework. Good leadership encourages employees to work independently and successfully.
But what makes a good leader? And how do I become a good leader?
Whether you are currently writing your doctoral thesis or are already a postdoc, based on your years of training and the strong subject matter expertise that comes with it, you will provide leadership in a variety of ways:
Leadership in working on specialized topics,
Leadership in working with others,
Leadership in a project,
Or leadership in your own startup
We invite you to develop your leadership personality and broaden your competencies, whether you are aiming for a job in academia, business or society. Regardless of whether you aspire to the position of a manager with personnel responsibility or whether you want to learn how to lead yourself better:
The program gives you the opportunity to create your personal context on the topic of leadership, to work out your individual development goals and to achieve them with suitable workshop offerings.
Please turn on the subtitles for the English translation of the video.
Testimonials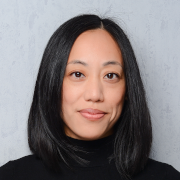 Kathleen Gali
Postdoc Fellow, Health Economics
The Learn to Lead Leadership program has given me many tools for my "leadership toolkit", which has proven useful as I take the step from student towards independent researcher. The kick-off meetings with Michael were particularly insightful that my group requested an extra in-person group meeting! Highly recommended!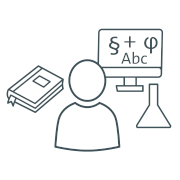 Justine T.
Doctoral Researcher, Epidemiology
It was very useful and fun. I was very impressed by the instructor and felt lucky to have had such a great group. I realized becoming a good leader is a complicated process, but that it can be learned/trained. It probably never ends because a good leader will always try to set new goals to improve themselves and the people they lead. I also realized leadership can be in different forms of action depending on one's own character and the people being led.
Kickoff and Fellowship
The program starts with the "Kickoff". Here we want to give you the opportunity to lay the foundation for your successful participation.
The journey begins...
The "Kickoff" comprises two workshop days. The focus is on the development of your own initial leadership/self-image as well as getting to know basic leadership principles and tools. During the workshop you will work on your own development goals as a leader. The participants of this workshop form a fellowship, which will work on further leadership topics in more depth in three group sessions following the Kickoff.
In this workshop you will:
Discover principles of effective leadership
Get to know selected leadership styles, models and tools
Reflect on your own experiences with leadership and your individual motivation
Develop your own initial understanding of leadership
Explore your own strengths and development potential
Practising resource- and solution-focused communication
You work out your personal development goals and identify which competencies you would like to develop further afterwards.
The Fellowship
These three moderated sessions take place as peer coaching with the participants of the "Foundation" workshop. The first session is dedicated to introducing the method of "collegial consultation". Subsequently, the participants will meet in a self-organized way to practice collegial consultation on the one hand and to discuss their development goals (from the workshop) on the other hand. They will also develop a topic that they would like to work on in more depth together with the trainer in the second group session. Also before the third session, the participants will come together in a self-organized way for collegial consultation. The third session will focus on integrating what has been learned into the participants' everyday (leadership) lives.
After the third facilitated session, the participants will write down which development steps they have taken on the basis of their personal development goals and how they have experienced and want to use the collegial consultation for themselves.
In the group sessions you will:
Reflect on your own leadership personality and personal development goal
Expand your knowledge of methods
Be supported through peer coaching
Competency Areas
In the competency areas, you will have the opportunity to expand your skills and sharpen your leadership image in relation to your personal development goals. It is your responsibility to decide which topics from these areas you would like to focus on. You must invest a total of at least 24 time hours in the qualification in order to successfully complete the program.
We offer services in the following competency areas:
Leading Yourself – Lead yourself as a key for impact and personal growth
Working with Others – Promote successful collaboration and diversity through communication and conflict management
Creating Change – Design processes and structures with a future-oriented perspective, focusing on digital tools, agility, and innovation
Thinking Big – Enlarge your circle of influence through knowledge transfer, social endeavors or starting a business
You can find an overview of our events that can be credited to the program here. The event overview is continuously supplemented.
Conclusion
Approximately six months after the kickoff workshop, a one-day closing workshop takes place. During this workshop, you will once again review the development goals you defined for yourself at the beginning and reflect on your next steps.
In the time between the kickoff and the closing workshop, you should have completed the moderated group sessions and the self-organized meetings with your peer group. Some participants may have already fulfilled the 24-hour requirement in the competency areas during this time, while others may attend events at a later date. You have the freedom to determine your own pace in this regard.
After participating in the closing workshop, you will receive your personal Learn to Lead certificate.
Registration and Dates
Enrolled doctoral researchers as well as postdocs with an employment contract with Universität Hamburg can register.
The next runs take place in the summer semester 2024. Two simultaneous programs are planned, one in English and one in German.
You can already register!
Learn to Lead - Mindset Leadership (in English)
27.05. / 28.05.24 Kickoff workshop
01.07. / 02.10. / 04.11.24 Group sessions
02.12.24 Closing workshop
Learn to Lead - Führen mit Haltung (in German)
03.06. / 04.06.24 Auftaktworkshop
01.07. / 07.10. / 07.11.24 Moderierte Gruppensitzungen
05.12.24 Abschlussworkshop
Quick Facts
Qualification program on "Leadership" to develop your personal leadership profile in preparation for more advanced tasks and roles.
Regardless of the intended career field - academia, business or society
Target Groups:

Enrolled doctoral researchers at Universität Hamburg
Postdocs with a contract at Universität Hamburg without disciplinary leadership responsibilities

Time Frame: at least two semester, max. six semester
Scope:

Program: total of at least 37 hours

2-day workshop in person
Three moderated online group sessions of three hours each
Four self-organized online group sessions of at least an hour
Final event, one day in person

Competency Areas: at least 24 hours

Individual choice of courses from the program

Plus own work on reflection questions
Due to the limited number of participants, your indication of motivation decides about the participation!