Dr. Claudia Mendes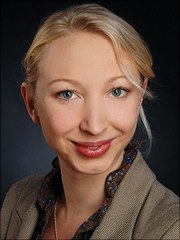 Photo: Claudia Mendes
Co-creative research
Address
Universität Hamburg
Contact
Vita
Claudia Mendes ist seit Oktober 2021 als Referentin für ko-kreative Forschung an der TransferAgentur tätig. Bevor sie an die Uni Hamburg kam, war sie wissenschaftliche Mitarbeiterin an der Professur für partizipative Technikgestaltung der TU München, wo sie sich mit Ko-Kreation in Forschung, Lehre und Praxis beschäftigte. So zeichnete sie unter Anderem für Konzeption und Durchführung von Ko-Gestaltungsprozessen smarter Infrastrukturen mit Industrie, Wissenschaft, öffentlicher Verwaltung und lokaler Bevölkerung verantworlich und entwickelte innovative Lehrformate zu Partizipation in Wissenschaft, Design und Technikentwicklung für Studierende der Architektur, Ingenieurs- und Sozialwissenschaften.
Ihr Studium der Medien- und Kulturwissenschaft (B.A.) sowie Urban Studies (M.A.) führten Claudia an die Universitäten Maastricht, Düsseldorf, Brüssel (VUB & ULB), Wien, Kopenhagen und Madrid (Autónoma & Complutense). Neben und nach dem Studium arbeitete sie freiberuflich im Bereich Kunstvermittlung, Moderation und Mediation und kooperierte dazu mit zahlreichen kulturellen und öffentlichen Einrichtungen (z. B. tanzhaus nrw Düsseldorf, Bienal de Arte de São Paulo, Stuttgart Marketing GmbH, Gebietsbetreuung 6.-9. Bezirk Wien).
Aktuell schließt Claudia an der TU München ihre Promotion in den Science and Technology Studies ab. Auf Basis einer kollaborativen Ethographie untersucht sie dabei die komplexe Ökologie der Zusammenarbeit eines Smart City Konsortiums im Spannungsfeld von Innovationspolitik, Europäisierung und nachhaltiger Stadtentwicklung.
Forschungsinteressen
Co-creative methods (participatory design, critical making, arts-based research, etc.)
Social Studies of Science and Technology
Sustainable urbanism and digitalization
European technopolitics
BBA6658
en_GB
de_DE
Publikationen und Konferenzbeiträge
Projekte
Kann später mit Links zu Projekten befüllt werden, an denen wir beteiligt sind.
Engagement
Hier könnten Mitgliedschaften, Netzwerke und Aktivitäten außerhalb der TransferAgentur aufgeführt werden.