This page:
UHH
>
Family Office
>
News
>
Universität Hamburg signs the Family at the University Charter
Universität Hamburg signs the Family at the University Charter
19 September 2017, by Familienbüro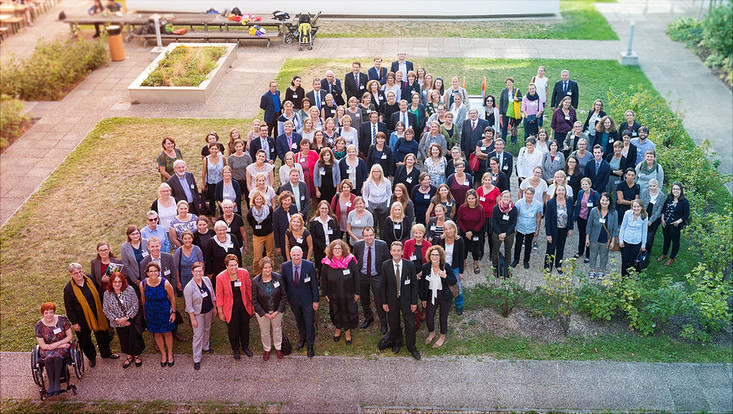 Photo: Matthias Heisler
On the fourth anniversary of the university initiative "Family in the University" in September 2017 in Vienna, Universität Hamburg signed the Family in the University Charter. Twelve further universities also signed the charter, bringing the number of members to 101. [Read on in German]
Die Universität Hamburg hat auf der vierten Jahrestagung der Hochschulinitiative "Familie in der Hochschule" am 14. September 2017 in Wien die Charta "Familie in der Hochschule" unterzeichnet. Neben der Universität Hamburg traten der Initiative in Wien noch 12 weitere Hochschulen bei. Der Zusammenschluss zählt nun 101 Mitgliedseinrichtungen. Die Charta wurde per Videobotschaft von der Vi­ze­prä­si­den­tin Prof. Dr. Jetta Frost und dem Vizepräsidenten Prof. Dr. Jan Louis unterschrieben. Die Gleichstellungsbeauftragte Dr. Angelika Paschke-Kratzin nahm in Wien die Beitrittsurkunde entgegen.
Die Charta "Familie in der Hochschule" wurde im Januar 2014 veröffentlicht und setzt hohe Maßstäbe zur Familienorientierung. Die Hochschulleitungen bringen mit der Unterzeichnung der Charta ihr Engagement und ihre Verantwortung für mehr Familienorientierung an ihrer Hochschule zum Ausdruck und vernetzen sich im Best Practice-Club "Familie in der Hochschule". Sie verstehen sich als Vorreiter_innen bei der gesellschaftlichen Entwicklung hin zu mehr Familienorientierung und Wertschätzung von Vielfalt. Sie sehen Familienorientierung als Teil des Hochschulprofils und stehen zu ihrer gesellschaftlichen Verantwortung als Bildungs- und Lebensorte, an denen die Vereinbarkeit von Studium, Beruf und Wissenschaft mit Familienaufgaben gelebt wird und selbstverständlich ist.
Die Charta "Familie in der Hochschule" wird als Strategieentwicklung zu einer nachhaltigen Chancengerechtigkeit und Familienorientierung in der Wissenschaft vom Centrum für Hochschulentwicklung (CHE) unterstützt.
Weitere Informationen zur Hochschulinitiative Familie in der Hochschule finden Sie unter http://www.familie-in-der-hochschule.de.
---