Event Concept
In order to provide you with the best possible support, the Career Center offers an event concept that accompanies you every semester with changing topics in all steps of your career planning. With different workshop formats, we support you in exploring career opportunities, mastering the job search, optimizing your application documents, successfully starting job interviews, conducting contract negotiations in your interest and ultimately mastering the start of your career.
In addition, we will show you how you can recognize and activate specific competencies that can be useful to you during your studies and later on in your career. At our events you will learn, among other things, how alumni of Universität Hamburg have pursued their career paths and which career fields they were able to open up for themselves.
Our events also offer you the opportunity to get in direct contact with companies from the private sector, NGOs and authorities and to explore opportunities for working student activities, permanent positions or, for example, dissertation topics. Sounds interesting? In our event calendar you will find all currently planned events of the Career Center of the Universität Hamburg.
Event concept scheme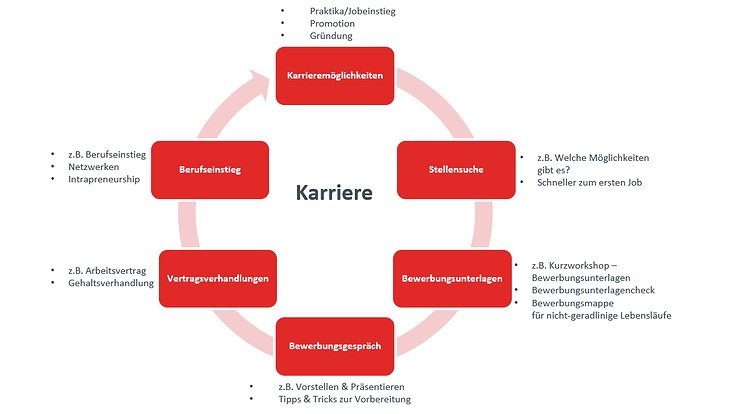 Photo: UHH/Steckel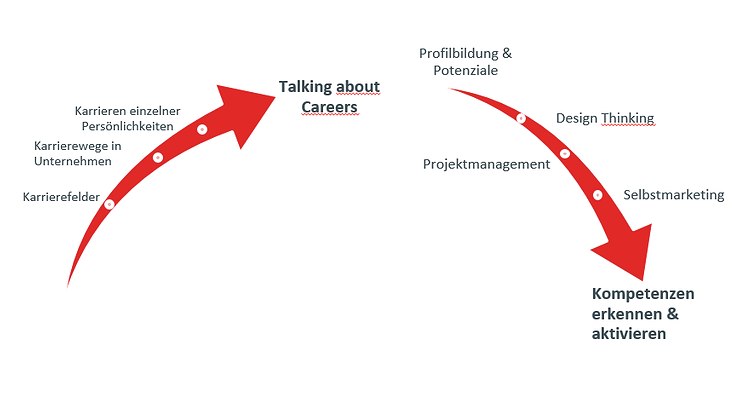 Photo: UHH/Steckel
Career
In a wide variety of formats from bar camps to workshops, we would like to bring you closer to the topic of a career based on your own needs. Our experience at the Career Center shows that we learn best with and through our fellow human beings.
We would like to help you to prepare and successfully start your career through advice and cooperation with non-university practice partners. We offer this support to students, doctoral candidates, scientists and alumni who are starting their careers and are interested in doing a doctorate or founding a company. The focus is on professional orientation, career planning, application, career strategies and the compatibility of work and family.

Practical Projects
With a practical project, you can prepare for your career start alongside your studies. You can contribute your specialist know-how, try out, apply and implement specialist skills, gain experience with project management and expand job-related key skills. Practical projects offer you the chance to gain realistic insights into day-to-day work and the usual requirements there, with the aim of making initial professional contacts for your future. The project tasks are usually processed in independently working, interdisciplinary project groups and are generally open to students and graduates of all disciplines. Depending on the project topic, however, certain skills or disciplines are also sought.

Doctorate
For further steps and support, doctoral students will find special support offers in the personnel development of the Universität Hamburg (career development cycle) and at the Hamburg Research Academy (HRA).
Business start-up
The start-up service at Universität Hamburg supports students and graduates with their start-up projects from the idea to the foundation, helps to specify your idea and possible financing and provides information about public and private funding opportunities. Students or graduates who are interested in founding a company can take advantage of individual advice on their start-up ideas and plans. If you are interested, please fill out this form for a consultation appointment.
An open founders' breakfast is held regularly especially for women interested in founding a company, where they can exchange ideas with experienced founders, learn together and network. You can find our current workshops on starting a business and freelance work at the Career Center on UHH Join.
Recognizing and activating competencies
We support you in recognizing and activating interdisciplinary skills during your studies. The offers give you the opportunity to:
Strengthen your existing skills, develop them further and discover additional ones
to reflect on your individual situation in a professional and socio-political context in an opportunity-oriented manner
to actively get to know and use networks
to make interesting contacts with companies and their teams
to develop your sustainability and diversity skills
Analyze your personal life balance needs
In addition to our workshop offerings (e.g. on project management, voice and presentation training, conflict management or leadership skills), students and graduates of Universität Hamburg also have the opportunity to get to know how interdisciplinary teams work together in practical projects.
Talking about Careers
In a personal and manageable atmosphere, we would like to offer you important and exciting topics related to starting your career.
Our guests give authentic insights into interesting questions, their own experiences, their everyday work and corporate cultures and are personally available to answer your questions.
Take the chance to ask the questions you always wanted answered. Or just listen.
The Talking about Careers events are open to anyone who is interested, especially if you are already employed.