Alexander Gerst at Universität Hamburg
A Guest Star from the Stars
13 May 2019, by Felix Willeke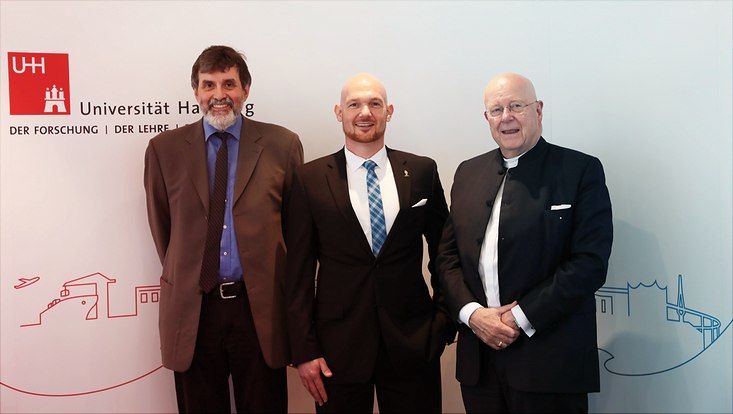 Photo: UHH/Ohme
Alexander Gerst (center) with his supervisor Prof. Dr. Matthias Hort from the Center for Earth System Research and Sustainability (CEN) at Universität Hamburg (left) and University President Prof. Dr. Dr. h.c. Dieter Lenzen (right)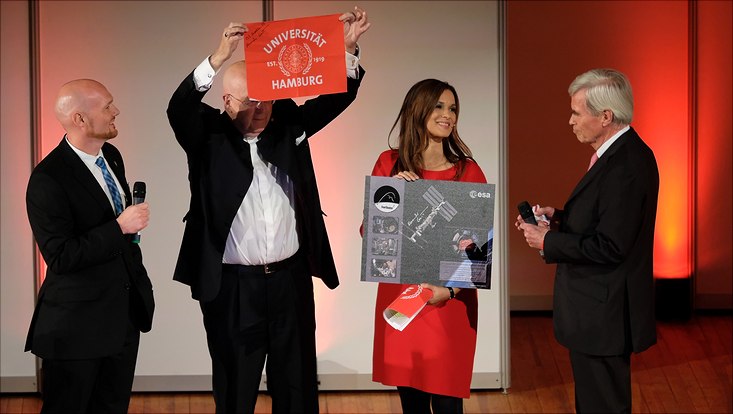 Photo: Sebastian Engels
Alexander Gerst (left) hands University President Prof. Dr. Dr. h.c. Dieter Lenzen (second from the left) a University banner that he took with him into space during festivities to celebrate the University's 100th anniversary. Also pictured: Anchorwoman Julia-Niharika Sen (second from the right) and Prof. Dr. Michael Otte (right)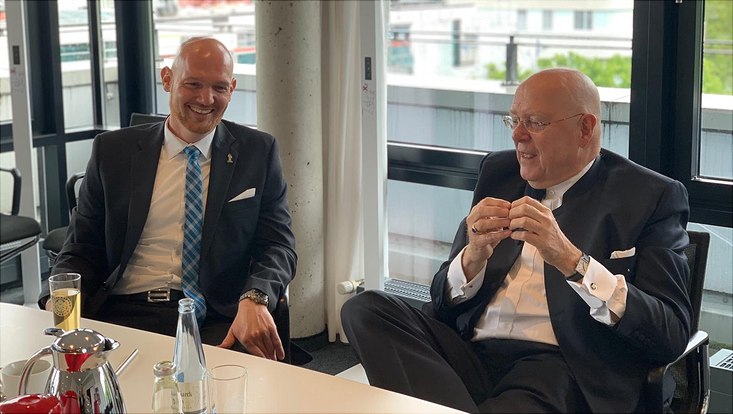 Photo: UHH/Werner
Alexander Gerst (left) and University President Prof. Dr. Dr. h.c. Dieter Lenzen at a reception before the official ceremony to celebrate the University's 100th annivesary.
At the ceremony to celebrate Universität Hamburg's 100th anniversary, astronaut Alexander Gerst was made an honorary senator. In return, Gerst presented a University banner that he had taken with him into space. In his speech, he advocated for pioneering exploration.
It was the most stirring moment of the celebration ceremony for the University's 100th anniversary: astronaut Alexander Gerst, who did his doctorate in geophysics in Hamburg, was officially named Honorary Senator of Universität Hamburg. In return, Gerst presented the University with a University banner that he took along on his distant journey to the International Space Station (ISS). He also presented the University's president, Prof. Dr. Dr. h.c. Dieter Lenzen, with a plaque from his last space mission, Horizons. These were gifts to a University that had, according to Gerst, profoundly influenced him. It did not simply encourage him to tread a familiar path, but it encouraged him "to go where no one had gone before."
On the way to space
Alexander Gerst already showed curiosity and a passion for research when he was studying at Universität Hamburg. Together with his supervisor Prof. Dr. Matthias Hort from the Center for Earth System Research and Sustainability (CEN), Gerst went on several expeditions, including to the Antarctic and the South Pacific. In 2008, while on Tanna Island, about 2,000 km east of Australia, Gerst found out that he had passed the first application round with the European Space Agency (ESA). One year later, the ESA introduced him as its new astronaut. In May 2017, he took off for the ISS in a Soyuz rocket from a space station in Baikonur (Kazakhstan). He was the 11th German citizen in space and the 3rd German citizen on the ISS. Since then, Gerst has completed a second space tour. He is not only the ESA astronaut with the longest total time spent in space (362), but, on his last mission, he also became the first German ISS commander.
A life lived research
Almost 10 years ago, the Baden-Württemberg native submitted his dissertation at Universität Hamburg on the Antarctic volcano Mount Erebus. And after his many experiences in space, it is still research that inspires him. "My heart beats for research and I feel at home in this environment," said Gerst. The geophysicist said that he feels most fulfilled when he contributes to knowledge. He would like to continue to do so in the future: "If I have an opportunity and things calm down a bit, I would really like to begin teaching again and to pass on what I had the privilege to experience." Perhaps he will return to his Alma Mater.
Contact
Dept. 2: Department of Communications and Public Relations