Inflammatory reactions of the immune system
New collaborative research center on the role of molecules produced in the body
23 May 2018, by Maria Latos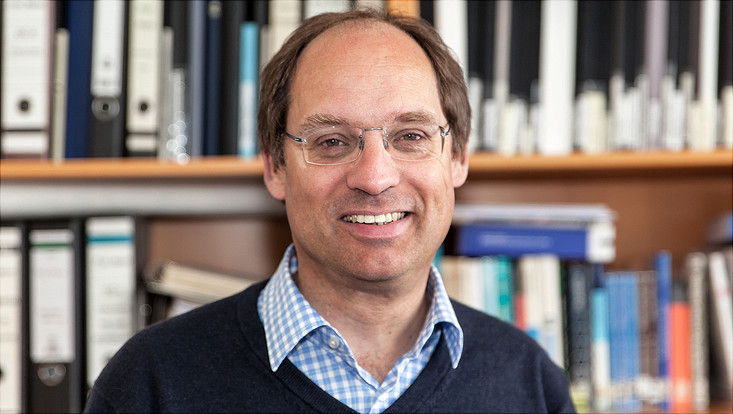 Photo: UHH/Schober
Prof. Dr. Chris Meier from the Department of Chemistry is co-spokesperson of the new CRC 1328.
Scientists in the Faculty of Medicine and the Departments of Chemistry and Biology at Universität Hamburg investigate the role of signaling molecules in inflammatory diseases in the Collaborative Research Center "Adenine Nucleotides in Immunity and Inflammation" (CRC 1328). The Collaborative Research Center has been awarded 11.4 million euros by the German Research Foundation (DFG). Spokesperson of the CRC is Prof. Dr. Dr. Andreas Guse from the University Medical Center Hamburg-Eppendorf (UKE).
To fight pathogenic organisms, the body activates its immune system. The immune system attacks and disarms the intruder. Yet sometimes the body is unable to differentiate between the body's own cells and pathogenic organisms such as viruses or bacteria. All of a sudden the immune system attacks healthy tissue, resulting in chronic inflammation.
Millions of people living in Germany suffer from inflammatory diseases such as multiple sclerosis or Crohn's disease. For many sufferers, there is no prospect of a cure. We do not even know definitively how many of these diseases develop. Scientists in the new collaborative research center will investigate the molecular and cellular processes that take place at the emergence of inflammatory disease and when immune reactions are triggered. The aim is to research the role of signaling molecules—the so-called adenine nucleotides—in inflammation processes.
Adenine nucleotides influence a range of processes within cells: Adenosine triphosphate (ATP), for example, stores energy and regulates energy transfer processes. Another, nicotinamide adenine dinucleotide (NAD), is of central importance in metabolism. "Adenine nucleotides are present both within and outside of cells. However, many of these internal and external cellular functions are not known. It is also not yet clear which regulatory influence they have on inflammation processes in the body," says Prof. Dr. Chris Meier from the Department of Chemistry and co-spokesperson of the CRC 1328. "The Collaborative Research Centre poses a unique opportunity for us to extensively explore these fundamental processes and use our findings to develop new diagnostic and potentially also new therapeutic methods."
In CRC 1328, scientists from the Departments of Chemistry and Biology collaborate with colleagues from the Faculty of Medicine at Universität Hamburg. The universities in Göttingen, Bonn, and Munich are also involved. "Cooperation between the various disciplines and departments enables us to dovetail basic research in the natural sciences and clinical medicine in order to answer complicated questions relating to molecular processes," explains Prof. Meier. "The strong interdisciplinary approach means that we have the most diverse range of research methods from biochemistry, cell biology, chemistry, bioinformatics, and structural biology at our disposal."
Collaborative research centers are initiated by the German Research Foundation and may receive funding for a maximum of three funding rounds or 12 years. CRC 1328 has been awarded initial funding of 11.4 million for 4 years.
Contact
Prof. Dr. Dr. Andreas Guse
Faculty of Medicine
University Medical Center Hamburg-Eppendorf
Prof. Dr. Chris Meier
Faculty of Mathematics, Informatics and Natural Sciences
Department of Chemistry