Research for greater justice
"We have to Fundamentally Change How We Look at Animals"
14 November 2022, by Christina Krätzig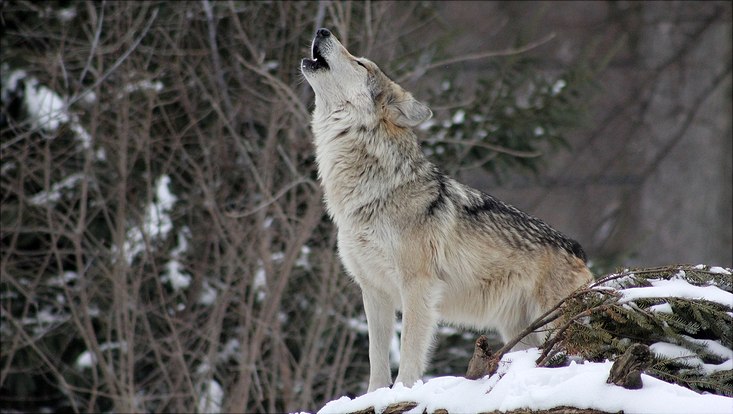 Photo: Pixabay CC0
Animals, like for example, wolves, are affected by human activity, and adapt their behavior accordingly. According to game theory, this makes them actors as well, which opens a new point of view on them, explains Dr. von Negenborn.
Postdoctoral Fellowships for outstanding early career researchers: Universität Hamburg—University of Excellence jas won funding for the third time. Philosopher and economist Dr. Colin von Negenborn wants to use the funding to find out how people can make sustainable and fair decisions, including about non-human actors.
Dr. von Negeborn, your project also looks at the relationship between humans and animals. Why is this an important issue for you?
I work at the interface of philosophy and economics. That is interesting for me because philosophers ask sociopolitical questions that economics do not consider. On the other hand, economic methods, particularly those from mathematics and game theory from the field of macroeconomics, can enrich the study of philosophy.
Our relationship with animals is well-suited to this research, because game theory approaches to ethics already exist, but have only been considered from an anthropocentric perspective. That means, until now, only those people who were actively involved were considered, even though animals are just as affected by human activity. 
How do game theory approaches work?
Game theory is a mathematical model which helps us to understand decision-making behavior in conflict situations. It allows us to estimate the effects of a range of interactions on all players. As such, it brings the potential reactions of all players into consideration. In using this method, our goal is to identify desired activities, that is conduct that is ethical and fair in conflict situations.
But animals don't plan their activities do they? Or do you think that animals also think ethically?
Probably not. But they are still affected by our behavior and adapt their own behavior accordingly. They move out of certain areas and range into new territories, just think about the wolves that have returned to Germany. They conquer new territory, come across new prey, and adapt their hunting techniques. That makes them players according to game theory.
The fact that they don't strictly rationally assess their own behavior and thus don't consciously decide on the most rational course of action, is irrelevant from a game theory perspective. At the end of the day, humans don't always act as rationally as we would like to think we do.
Does that mean that you are more interested in their methods than in their welfare?
I have to say, the methods are very interesting for me, but of course it is not an end in itself. I also want to contribute to humans learning to better recognize and discuss the limits of the permissible, i.e., ethically acceptable behavior. That affects our relationship with animals as well as other issues such as how we deal with future generations. In my research project I also look at issues of generational justice. In terms of animals, I think that we need to fundamentally rethink how we interact with them. We have to learn to see them as players as well, and not only as objects on the playing field. If we can do that successfully, that will have a long-term impact on legislation, and the framing of laws, and I think that would be a good thing.
As a postdoctoral fellow, you get a substantial budget for materials: €20,000 annually for a 3-year period. What do you want to spend that money on?
One thing I want to use it for is publication. I am a huge fan of open-access publications that are free and accessible for the academic community. But for authors that can go up to €2000 per publication really easily. The funding will be a great help with this.I also want to hire a research assistant, attend conferences and workshops, and host an event of my own in the second or third year of my research.  
As a postdoctoral fellow at Universität Hamburg Dr. Colin von Negenborn leads the interdisciplinary research project Markets and Morals in the emerging field Grounds, Causes, Reasons. The project combines practical philosophy and theoretical microeconomics.
Postdoctoral Fellowships
Universität Hamburg—University of Excellence supports especially qualified doctoral and early career researchers from Germany and abroad by awarding postdoctoral fellowships every year. In this program, recipients assume the responsibility for managing their own research projects. A requirement for the funding is a link to a research project in one of the emerging fields at Universität Hamburg. 
Queries:
Newsroom editorial office
Universität Hamburg