This page:UHH > Newsroom > Excellence Strategy > 2021 > Transfer fund
Knowledge Exchange Fund enters a new round
The New Normal: Changes Due to the Coronavirus Pandemic
29 September 2021, by Christina Krätzig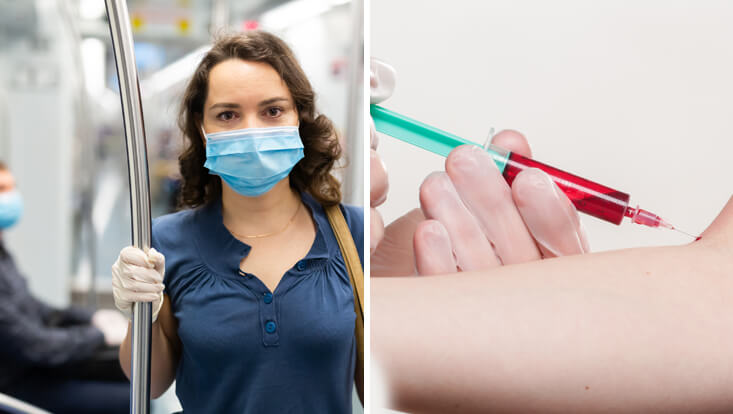 Photo: Iakov Filimonov / Shutterstock.com / Pixabay
How will we get to work in the future? And how can cancer be better monitored? These are questions that researchers from Universität Hamburg are attempting to answer with the help of funding from the Knowledge Exchange Fund.
This year, Universität Hamburg is financing research projects through its Knowledge Exchange Fund under the theme "The New Normal: Sustainable Development during a Pandemic." Here, we introduce 2 of the 12 financed projects.
Postpandemic commuting: How will we get to work in the future?
People rarely question routines, such as their choice of transportation, for example. "Normally, this is only the case if a change in biography takes place—for example, if someone moves to the countryside or to the suburbs," explains Dr. Christoph Hafenburg, a geographer who applied for funding for the project on postpandemic commuting together with Prof. Dr. Jürgen Oßenbrügge. For the 2 researchers, the coronavirus pandemic is, in contrast, an example of how external factors fundamentally challenge people's actions and decisions. According to Haferburg, "Two trends have emerged since the pandemic began: First, fewer people are commuting due to new regulations on working from home. Second, commuters have become increasingly dependent on individual transport, using cars and bicycles—to the detriment of public transport."
Against the backdrop of a prepandemic public transport system that was stretched to capacity and aspirations to transform transportation—key words "climate neutrality"—Haferburg and Oßenbrügge want to better understand the decisions that commuters make. To do this, they will conduct qualitative interviews and evaluate them according to—for example—respondents' economic sector, family situation, or place of residence. They will also talk to politicians and company executives about transportation of the future. "The insights we gain will hopefully help decision makers find the right tools to ensure sustainable traffic flows in the Hamburg Metropolitan Region region in postpandemic times," says Haferburg.
Monitoring cancer more easily 
Devices that can perform liquid biopsies quickly and automatically and are so small that they can be found in any doctor's office and hospital—this is what the physicist Dr. Irene Fernandez-Cuesta wants. "Liquid biopsy" is the term used to describe the analysis of blood samples in order to obtain information about the regression or growth of tumors or about the formation of metastases. This technique has the potential to make the removal of tissue samples for biopsies unnecessary, which would bring enormous relief for cancer sufferers. Many cancer patients were not looked after closely enough during the coronavirus pandemic. This method could help to ensure that examinations are perceived as less burdensome and that results are available quickly.
"Liquid biopsies require complex examinations in highly specialized laboratories. I hope that our work will help in making these accessible and quick," explains Dr. Fernandez-Cuesta. With the help of the financial support she receives from the Knowledge Exchange Fund, Dr. Fernandez-Cuesta wants to hire a technician to validate devices that she and her team have already developed. The technician will be tasked with analyzing samples from the University Medical Center Hamburg-Eppendorf (UKE) for a year and comparing the results with the hospital's latest findings. "This means that our work is also suitable for strengthening the exchange of knowledge between the Department of Physics at Universität Hamburg and the UKE and for consolidating and expanding the cooperation," says the junior research group leader, whose research was partially funded with an ERC Starting Grant in 2017.
The Knowledge Exchange Fund is financed through the Excellence Initiative of the Federal and State Governments. The funded researchers receive up to EUR 30,000. See the list (PDF in German only) of all funded projects, and find more information on Knowledge Exchange Agency's web pages.
Queries:
Newsroom editorial office
Universität Hamburg