New Grants from the Ideas and Venture Fund
Global Challenges, Local Research Approaches
20 April 2021, by Christina Krätzig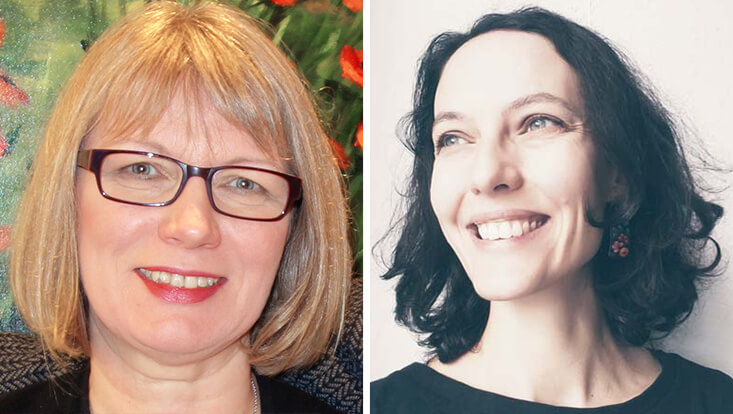 Photo: Universität Hamburg / private / private
Prof. Ingrid Schröder (left), linguist, and Dr. Katrin Singer, anthropogeographer, are among the funding recipients in 2021. Both research global problems at the local level.
From April 2021, 17 researchers at Universität Hamburg—University of Excellence will receive funding from the Ideas and Venture Fund. The researchers will use this to prepare larger third-party-funded projects suited to one of the University's profile initiatives or emerging fields. In total, the University will have around €440,000 at its disposal. Here, we introduce 2 projects.
Prof. Dr. Ingrid Schröder: How can we save Frisian and Low German?
In 1992, the European Union adopted the European Charter for Regional or Minority Languages. Its goal is to protect European languages that are only spoken by a minority of people. In northern Germany, this applies to Frisian and Low German. "Nevertheless, the situation is dramatic: the number of speakers continues to decline," says Prof. Dr. Ingrid Schröder, a linguist. In her new research project, she wants to find out how different generations value these languages; what they associate with these languages; and whether, with whom, and on which occasions they speak these languages. It is also important that Lower Saxony, Mecklenburg-West Pomerania, Schleswig-Holstein, and Hamburg all signed the charter and work to preserve the regional languages in northern Germany. For instance, they fund cultural institutions or offer language courses at schools as a required elective subject. "We now want to examine which of the measures promise success," says Schröder. "Ultimately, we want to know what can convince young people to learn these languages when everyone around them speaks High German. Is it possible to reverse the trend? Or will Low German and Frisian be lost in the foreseeable future?"
Prof. Dr. Schröder has been granted €24,930 in funding. Schröder will use the money primarily to conduct interviews with young and older Frisian or Low German speakers within the framework of a pretest. The project is located in the University's Linguistic Diversity profile initiative and serves to prepare larger projects at the German Research Foundation (DFG).
Dr. Katrin Singer: How can we broaden a primarily rational approach to nature to include creative, artistic perspectives?
The research project of Dr. Katrin Singer, an anthropogeographer, examines local and marginalized knowledge and the form in which such knowledge is passed on. Singer's project is linked to Cornelia Funke's artists-in-residence projects. The Universität Hamburg alumnus and children's author also invites artists to Germany and Italy each year so that they can deepen their creative expression with regard to nature. Singer wants to bring the funding recipients and the public together on-site to work out how art, science and scholarship, nature, and local narratives can be connected. The objective is to develop new perspectives for complex challenges such as the climate crisis or biodiversity loss. "Those are global problems that present significant challenges to science and scholarship at all levels," says Singer. "Only when the existing forms of knowledge acquisition are expanded and recognized as being equal to traditional scientific methods can local signposts emerge that inspire globally."
For Singer, the root of the problems mentioned lie in the rational, user-oriented view of nature that prevails in Europe. "I ask about the manner in which we perceive and understand nature and the world and then question whether it is possible to change this perception and how."
Prof. Singer has been granted €49,880 in funding. Singer will use the money to organize workshops, make the findings freely accessible, and pay one employee. Singer's project will serve to attract greater funding for doctoral and early career researchers—for example, within the German Research Foundation's Emmy Noether Program. It is located in the University's Modeling Nature profile initiative.
The Ideas and Venture Fund was newly created within the scope of the Excellence Strategy of the Federal and State Governments. Find further information on the University of Excellence pages or on the Staff Service Portal. 
Queries:
Newsroom editorial office
Universität Hamburg