This page:UHH > Newsroom > Excellence Strategy > 2020 > Postdoctoral fellowships
New ExStra funding program for postdoctoral fellowships
Money to research the wonders and value of science and scholarship
20 May 2020, by Christina Krätzig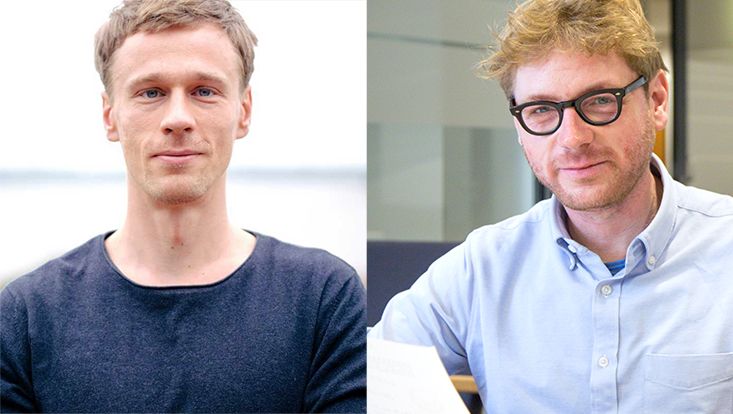 Photo: UHH/Kranz, Koscholke privat
Dr. Jakob Koscholke (left) and Dr. Rogier Gerrits will immediately start to receive funding for the next 3 years as part of the postdoctoral fellowship program.
The newly created program for postdoctoral fellowships within the context of the Excellence Strategy of the Federal and State Governments supports researchers who did their doctorates at Universität Hamburg and are working in one of the University's emerging fields. The first fellows have now been announced.
Philosopher Dr. Jakob Koscholke and literary scholar Dr. Rogier Gerrits are the first postdoctoral researchers to receive research project funding from Universität Hamburg's postdoctoral fellowship program. They will receive a substantial budget for materials: €20,000 annually for a 3-year period.
Dr. Gerrits, Dr. Koscholke, what are you planning to do with this money?
Rogier Gerrits: Among other things, I will take archival trips. I am researching the representation of miracles in the Early Modern World in France and want to find out how miracles in this period were captured in paintings or in poems, sermons, or eyewitness accounts. I hope to find contemporary written artifacts in the major libraries—for example, in the Bibliothèque nationale de France in Paris. But I would also like to look for traces of miracles in the provinces and, if possible, discover as-yet-unknown sources.
Jakob Koscholke: I will travel to conferences and also invite others to conferences. At the European level, there is currently no network for exchange on my research topic—that is, the value of knowledge for the individual and for society. So far, philosophers concerned with these issues have often shared thoughts by publishing their work. I find that unsatisfying.
What is your main research question?
Jakob Koscholke: I am concerned with the value of knowledge. This has been one of the fundamental questions in epistemology since antiquity. It goes back even as far as Plato. Today, sociopolitical developments seem to question this value: we are living in a so-called postfactual era. In my view, this means that it is imperative to draw a line between knowledge and mere opinion.
Rogier Gerrits: I would like to find out how a miracle, meaning a natural but rather incredible event, can be represented plausibly. This is, of course, a paradox that I would like to study more closely on the basis of literary analysis and an interdisciplinary approach.
What interests you particularly in this research field?
Jakob Koscholke: I think it is exciting the way philosophers today focus on the value of knowledge. In addition to philosophy, I studied logic, which is why it makes me curious to work in my area using the methods of probability calculations or game theory.
Rogier Gerrits: Miracles have always fascinated people. They inspire a thirst for knowledge. The belief in miracles still plays a role in the Catholic Church today. As I look more closely at miracles and their representation in the Early Modern World, I am interested in the way this fascination can become manifest in art.
Have you ever experienced a miracle?
Rogier Gerrits: No, I am far too matter-of-fact for that.
The funding period for the third postdoctoral researchers set to begin in 2020 will also begin in August. Dr. Doru Constantin Doroftei is a philosopher, linguist, and Jewish studies scholar.
Postdoctoral fellowships
This funding scheme is intended to enable highly qualified early career researchers from Germany and abroad to take the next step in their career—that is, to be appointed to a junior professorship, W2 professorship, or the leadership of a junior research group—by allowing them to manage a research project independently. Funding recipients may choose their research question freely. With this "open-topic model," the University aims to highlight the potential of interdisciplinary discourse for research and teaching.
The program is open to applicants from the emerging fields of all faculties. This time, candidates from the humanities and social sciences were chosen, making it possible for the University to comply with instructions from the German Council of Science and Humanities and to strengthen these areas.
Contact
Dr. Kerstin Lange
Universität Hamburg
Hamburg Research Academy