This page:UHH > Newsroom > Campus > 2020 > From the Fed to Universität Hamburg
Dr. Michael Bauer is the new Heisenberg Professor for Financial Market Economics
From the Fed to Universität Hamburg
13 February 2020, by Hendrik Tieke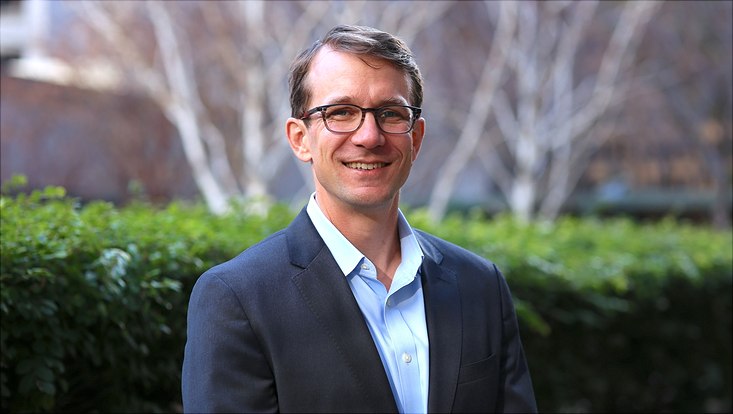 Photo: UHH/Bauer
Knows the US American financial system inside-out: Prof. Dr. Michael Bauer.
Dr. Michael Bauer has held the Heisenberg Professorship for Financial Market Economics in the Department of Economics at Universität Hamburg since 1 February 2020. Prior to this he lectured in a number of US universities, before taking on a position at the National Federal Reserve (Fed) of the USA which he held for 10 years.
The Heisenberg Program from the German Research Foundation (DFG) paves the way to a permanent professorship for top researchers. It does so by financing Heisenberg Professors for 5 years, after which they are transferred to the University's budget.
There has been a new Heisenberg Professorship in the Department of Economics at Universität Hamburg since February, specializing in financial market economics. This specialization deals with the analysis of financial markets, for example the market for shares and bonds, and their role in the economy and society.
Research and policy advice for the Fed
This new professorship is held by Dr. Michael Bauer. He previously worked for 10 years at the Federal Reserve in the USA, one of the most influential national reserve banks in the world. "The Fed determines the base rate for the United States," Dr. Bauer explains, "it also loans money to American banks, determines how much currency should be circulating, and supervised the country's credit institutes. In so doing, they should be shoring up the financial system against crises, to ensure stable prices, and support the labor market as far as possible."
Bauer worked in the San Fransisco branch of the Fed. "My tasks, as a central bank economist, was first and foremost to examine the financial markets," he says, "the Fed is, like most other central reserve banks, also a place of intense research."
Hailing from northern Germany, he also has experience with Swiss banking institutions
This is how he came, for example, to investigate the effects of inflation on the financial markets, or research how interest rates could be used to recognize the signs of economic recession. He also worked in the field of financial policy—the most important task of a central bank economist—and informed financial policy makers about current developments in the financial markets. In addition, as a lecturer, he also passed on his knowledge to students from a range of US universities.
Dr. Bauer grew up in the Hamburg region. He studied economics in St. Gallen in Switzerland, where he worked in a private bank for a short while after graduating. "It was my job to develop new investment strategies for shares using statistical methods," he explains. He left Switzerland to take up a doctoral position at the University of California, San Diego.
Graduating from doctoral studies from a faculty boasting 2 Nobel prize winners
"San Diego is the Mecca of econometrics, that is the branch of economics which tests economic theories using statistical methods." he details, "just before I went there, faculty members had won two Nobel prizes for economics." His doctoral studies were supervised by the econometrist and macro-economist Prof. James Hamilton, and examined the effect of news from the political and financial work on interest rates.
And Michael Bauer now brings all of this experience to research and teaching to Universität Hamburg, where he wants to pursue the interactions between financial markets, monetary policy, and macroeconomics. His research will closely examine questions such as:
How do monetary policy and economic developments influence prices on financial markets?
What role do long-term macroeconomic trends play for the financial system and monetary policy, for example, with regard to falling inflation or productivity growth?
What is the relationship between climate change and financial market developments?
What influence does globalization and international networking have on financial markets and monetary policy?
Financial and monetary policy: how can it be made sustainable?
For the future, Bauer is working towards joint projects with experts from Universität Hamburg. He would also like to reach out to researchers from other institutions for future collaboration, for example from German universities, the European Central Bank, the German Federal Bank, and German economic research institutes.
For Dr. Bauer, the question of sustainability in financial and monetary policy is particularly important: how can financial markets and monetary policy be set up to make the greatest contribution to a sustainable society—particularly, what is our influence on the environment, financial stability, or old age pensions? That is why he is planning a new profile initiative on the subject, in collaboration with colleagues from a range of economic and social science research institutions.
Contact
Prof. Dr. Michael Bauer
Heisenberg Professorship for Financial Market Economics
Faculty of Business, Economics and Social Sciences economics