Key research area: Manuscript Research
17 August 2017, by Peter Kröninger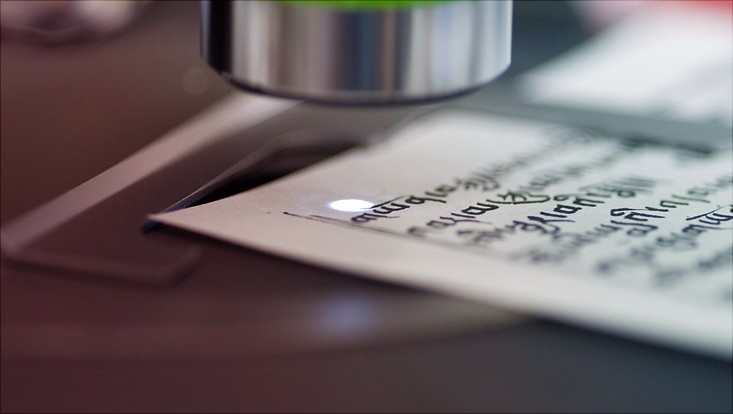 At Universität Hamburg around 60 scholars work in the collaborative research center "Manuscript Cultures in Asia, Africa and Europe" (SFB 950).
Centuries-old Arabic Koran and Biblical manuscripts or fragments of Homer's Illiad: manuscripts shaped the world's cultures long before the printed book. Even today they play an important part in many non-European cultures. [Read on in German . . .]
An der Universität Hamburg forschen knapp 60 Wissenschaftlerinnen und Wissenschaftler im Sonderforschungsbereich 950 "Manuskriptkulturen in Asien, Afrika und Europa", der in seiner regionalen Breite und fachlichen Zusammensetzung weltweit einzigartig ist. Insgesamt sind 19, vor allem auch kleinere Fächer an der Erforschung der Vielfalt der Manuskriptkulturen aus historischer und vergleichender Perspektive beteiligt, zwölf davon aus asiatischen, afrikanischen und europäischen Philologien.
Hinzu kommen Kunstgeschichte, historische Musikwissenschaft, Geschichte, Volkskunde sowie Materialwissenschaft und Informatik. Im nächsten Schritt wird durch die Einrichtung von Kooperationen mit der Holzbiologie, der Mineralogie, der Lebensmittelchemie sowie der Radiologie zudem eine deutliche disziplinäre Ausweitung in Richtung Naturwissenschaften und Medizin angestrebt.
Unterstützt wird die Forschung darüber hinaus durch das archäometrische Labor, das mit modernster Technik ausgestattet ist. So können zum Beispiel mittels eines speziellen Kamera- und Lichtsystems zuvor unsichtbare Schrift wieder sichbar gemacht oder mit einem Röntgenfluoreszenzspektrometer Tinten, Pigmente und mehr analysiert werden.
Forschungsschwerpunkte der Universität Hamburg
Weitere Informationen zu den Forschungsschwerpunkten der Universität Hamburg und beteiligten Fakultäten und Forschungszentren sowie Forschungspartnern finden sich auf der Übersichtsseite Forschungsschwerpunkte und Potenzialbereiche.
---