3 June 2022
New round of lectures for the public
Exciting talks right in the city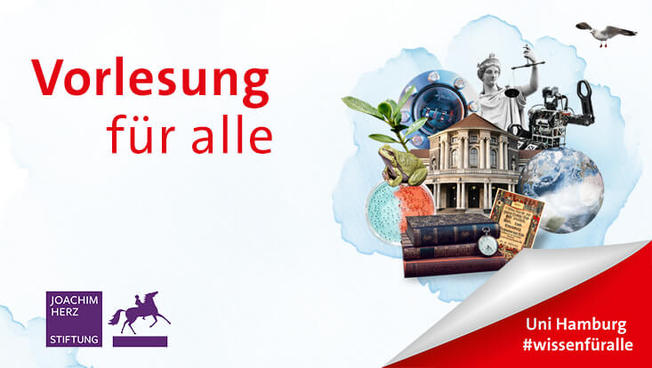 Photo: UHH
Lecture series logo
Head for the city! In a series of public lectures, Universität Hamburg researchers switch the classroom for more unusual venues to give their talks to the Hamburg public. The first dates have now been set.
The Vorlesung für alle lecture series was one of the most popular events throughout the University's 100th anniversary celebrations in 2019. After a long period with no in-person opportunities, the series will resume from June to October 2022.
In a casual atmosphere, researchers will give talks on interesting topics, provide insight into new findings, and explain the significance of research for our everyday lives. Subsequently, listeners will have an opportunity to ask questions and discuss. The talks generally last about one hour and are free. However, you need to register on the series' homepage.
The first talk will take place on 7 June 2022 at 7 pm, with Prof. Dr. Peer Briken in the Hanseatische Materialverwaltung. He will give a talk on sexuality in Germany from a scientific perspective, including the most exciting findings from a well-regarded study that he conducted with about 5,000 men and women between 18 and 75 years old. The subjects answered questions about their sexual experiences, relationships, and views.
From brain research to colonialism
The University's president Prof. Dr. Hauke Heekeren will also take part. On 13 July, the doctor and neuroscientist will be at the Karl Frierdrich Stehen pontoon at the Oevelgönne harbor museum to talk about what happens in the brain when we make decisions. Further lectures focus on, among other things, communication among plants and colonialism in Hamburg.
"Among our most important goals are to talk with the public, awaken interest in science and scholarship, and make the work at Universität Hamburg visible. The Vorlesung für all series is a good opportunity to do just that. I thank all of my colleagues who are taking part and I am personally looking forward to presenting my own research area at a place like the harbor museum, which is so full of tradition," said Heekeren.
The Joachim Herz Foundation is a partner for the series. Since it's founding in 2008, the non-profit has promoted education, academia, and research in the natural and economic sciences as well as the personal development of adolescents and young adults.
See the regularly updated Wissen für alle portal for information about the series.