18 May 2022
Studying historical written artefacts
Cluster of excellence builds mobile laboratory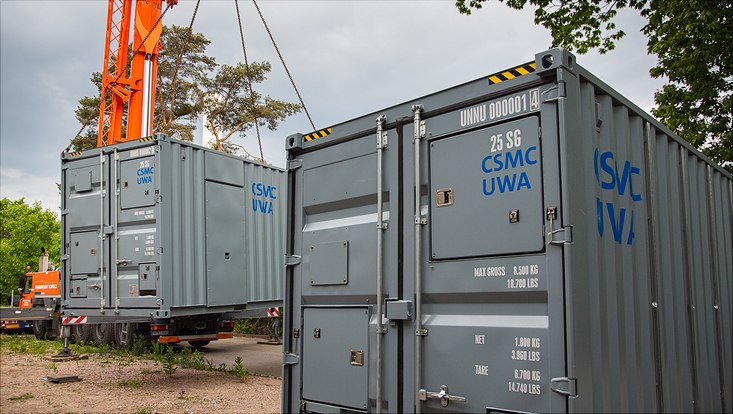 Photo: UHH/Esfandiari
Delivery of the cluster's mobile lab
To study valuable manuscripts and other written artefacts around the world, the Understanding Written Artefacts cluster of excellence at Universität Hamburg has developed a mobile laboratory. The first mobile unit has now been delivered. In the fall, it will be sent to India so that researchers there can study palm-leaf manuscripts that belong to the world's document heritage.
It can be difficult to transport valuable and delicate written objects from abroad for the sake of scientific study in Hamburg. Their fragile condition as well as concerns about religious significance, unclarified property rights, and even civil war in the countries of origin can constitute impediments.
"Not seldom do we find that there has been no thorough analysis of some unique object somewhere in the world, although it would be technically possible and it would allow the research community to take further steps towards understanding the development and purpose of written artefacts in manuscript cultures," explains Prof. Dr. Markus Fischer, spokesperson for the Artefact Profiling research group in the Understanding Written Artefacts cluster of excellence at Universität Hamburg. "So we decided that if manuscripts cannot come to the lab in Hamburg, we have to go to the manuscripts." The mobile laboratory fills the gap between the cluster's own mobile lab, which handles short-term jobs using smaller instruments, and its stationary laboratories.
Robust instruments but extensive data
Five of the 6 units ordered by the cluster of excellence were delivered on 18 May 2022. Half of the planned labs are designed as cleanrooms, with air filters and locks to prevent any kind of chemical corruption of the objects under consideration. The other labs are being equipped for simpler analyses and conservation activities. "We rearrange the necessary instruments for each mission," says Fischer. "They need to be robust enough to withstand long-term transport and extreme climates while also providing useful and extensive data. We are currently testing various instruments in trials to identify the most suitable ones."
For the first mission in India, the mobile lab will be used for the investigation of palm-leaf manuscripts from the eighteenth and nineteenth centuries. For hundreds of years, palm leaves were the most important text media in South and Southeast Asia. In Indian Pondicherry alone there are thousands of palm leaves, deemed as part of world heritage by UNESCO in 2005. "But today, we no longer know the origins of many of them, who produced them, and how they ended up in the French research institute in Pondicherry. This information got lost in the chaos of colonialism. We now want to try to solve these and other puzzles," says Fischer.
Additional electricity and water provision
To solve these puzzles, a DNA-sequencing, for example, will be used. This provides information about the species of palm and bacteria or fungi on the manuscripts. A mass spectrometer, on the other hand, determines the exact weight of molecules. Among other things, this allows for the analysis of a manuscript's surface. Moreover, an atomic force microscope provides detailed images of the surface. Both the chemical composition and the surface structure can provide information about a manuscript's origins.
To ensure electricity and water, there will be a sixth unit with generators and water supplies. It will serve as a supply container in case the local infrastructure does not suffice.
Researchers in the Understanding Written Artefacts cluster of excellence will conduct the experiments. They will accompany the mobile units to India and cooperate there with French colleagues and local experts to share their knowledge.
The interior of 2 mobile labs can be viewed at the Understanding Written Artefacts open house  on  10 and 11 June, 2 to 6 pm, Warburgstraße 26, Hamburg.
See the interview with Dr. Giovanni Ciotti fromUnderstanding Written Artefacts to find out more about palm-leaf manuscripts.
Download images