22 December 2014
Interkonfessionalität in der Frühen Neuzeit
2.6 million euros from DFG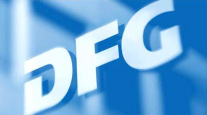 Photo: DFG
Das Logo der Deutschen Forschungsgemeinschaft (DFG)
The wars of religion of the sixteenth and seventeeth centuries are long since over but the consequences of the Protestant Reformation and the development of various Christian denominations continue to shape the modern world. Interkonfessionalität in der Frühen Neuzeit, a research training group in the Faculty of Humanities at Universität Hamburg, will now be conducting research on the relationship of these diverse denominations, which has often—and erroneously—been perceived as confrontational. As of 2015, the German Research Foundation (DFG) will be supporting the project with €2.6 million for a total of four years. Read on in German...
In dem Graduiertenkolleg, das bereits seit dem Sommersemester 2012 existiert und bis zum Wintersemester 2014/15 von der Forschungs- und Wissenschaftsstiftung Hamburg unterstützt wird, schreiben momentan 15 Doktorandinnen und Doktoranden an ihren Dissertationen. Ziel der Forschungsarbeiten ist es, die Durchlässigkeiten zwischen den Konfessionen im 16. bis 18. Jahrhundert zu untersuchen.

"Die jungen Wissenschaftlerinnen und Wissenschaftler beschäftigen sich damit, wie die Grenzen zwischen den sich damals gerade formierenden Konfessionen in Theologie, Literatur, Politik und Kunst definiert und zum Teil überwunden werden oder was ihnen gemeinsam ist", erklärt Prof. Dr. Johann Anselm Steiger, Sprecher des Graduiertenkollegs.
Der Forschungsansatz sei dabei vergleichend ausgerichtet – sowohl was den historischen Untersuchungszeitraum, also das Zeitalter von Reformation und katholischer Reform bis hinein in das frühe 18. Jahrhundert, betrifft als auch die medialen Ausprägungen, z. B. in Form von Gemälden, Druckgraphik, Musik, Theater und Literatur. Geografisch werden nicht nur die deutschsprachigen Regionen der Reformation in den Blick genommen, sondern auch Italien als Kernland der katholischen Reform, England mit seinem anglikanischen Staatskirchentum oder das Osmanische Reich als Zentrum der griechischen Orthodoxie.
"Durch die Förderung der DFG ist es uns möglich, auch weiterhin neue konfessions- und medienhistorische Methodiken zu entwickeln und zu erproben", so Prof. Steiger. Ein besonderes Augenmerk legt das Graduiertenkolleg dabei auf den interdisziplinären Austausch zwischen den Kollegiatinnen und Kollegiaten, die unter anderem aus den Fächern Evangelische und Katholische Theologie, Geschichte, Germanistik, Romanistik, Anglistik, Latinistik, Sinologie, Musikwissenschaft und Kunstgeschichte kommen.
Universitätspräsident Prof. Dr. Dieter Lenzen gratulierte: "Die Aufnahme in die Graduiertenförderung der Deutschen Forschungsgemeinschaft bestätigt die exzellente Arbeit, die im Kolleg 'Interkonfessionalität in der Frühen Neuzeit' geleistet wird – sowohl im Bereich der Forschung als auch in der strukturierten Förderung des wissenschaftlichen Nachwuchses."
Das neue DFG-Graduiertenkolleg ist bereits das achte dieser Art an der Universität Hamburg. Die Deutsche Forschungsgemeinschaft bietet Doktorandinnen und Doktoranden damit die Chance, in einem strukturierten Forschungs- und Qualifizierungsprogramm auf hohem fachlichem Niveau eine Promotion anzustreben.
Für Rückfragen:
Univ.-Prof. Dr. Johann Anselm Steiger
Universität Hamburg
Fakultät für Geisteswissenschaften
Fachbereich Evangelische Theologie
Tel.: .: 040 42838-3813
E-Mail: anselm.steiger"AT"uni-hamburg.de
Univ.-Prof. Dr. Marc Föcking
Universität Hamburg
Fakultät für Geisteswissenschaften
Institut für Romanistik
Tel.: 040 42838-2561
E-Mail: Marc.Foecking"AT"uni-hamburg.de