12 November 2013
Eleventh South Asian Day at Universität Hamburg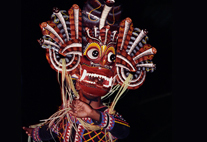 Photo: Jerzy Strzelecki, CC-BY-3.0, via Wikimedia Commons
Ritueller Tanz mit Teufelsmaske "Naga raksha", Sri Lanka
The Department of the Culture and History of India and Tibet in the Asien-Afrika-Institut invites the public to the
Eleventh South Asian Day
on Saturday, 16 November 2013, from 11:30 am to 9:30 pm
in the Asien-Afrika-Institut, Main Building of the University, East Wing
Edmund-Siemers-Allee 1, 20146 Hamburg.
Admission is free.
Read more in German...
Zentrales Thema des diesjährigen Südasien-Tages ist die Bildung und Ausbildung in Südasien. Dazu gibt es um 13.30 Uhr eine Podiumsdiskussion mit diplomatischen Vertretern aus Afghanistan, Indien, Nepal und Pakistan sowie Sachverständigen aus Wissenschaft und Unternehmen, u. a. mit dem Botschafter Sri Lankas, S.E. Upali Sarrath Kongahage, und Dr. Vidhu P. Nair, dem indischen Generalkonsul in Hamburg.
Der anschließende Programmteil widmet sich den modernen bildenden Künsten in den Ländern Südasiens. Am Abend wartet auf die Besucher ein buntes Kulturprogramm: z. B. ritueller Maskentanz aus Sri Lanka, Gesang aus Bangladesch, eine Modenschau aus Pakistan und vieles mehr.
Die Veranstaltung wird um 13.00 Uhr durch den Botschafter Sri Lankas, S.E. Upali Sarrath Kongahage, und Dr. Bernd Egert, Staatsrat der Behörde für Wirtschaft, Verkehr und Information, eröffnet. Mit dabei ist der Honorargeneralkonsul von Sri Lanka in Hamburg, Olav C. Ellerbrock. Die Universität Hamburg wird durch den Vizepräsidenten für Studium und Lehre, Prof. Dr. Holger Fischer, vertreten.
Das Partnerland der Veranstaltung ist Sri Lanka, weil 2013 die 60-jährigen diplomatischen Beziehungen zwischen Deutschland und Sri Lanka gefeiert werden.
Medienvertreter sind herzlich zum 11. Südasien-Tag eingeladen sowie zum Mittagessen bei südasiatischen Spezialitäten um 12.00 Uhr.