26 September 2013
Of sustainability, nutritious food and cyberspace
General Lecture Series at Universität Hamburg kicks off on 14 October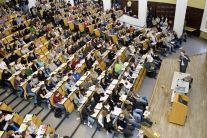 Photo: UHH/Mentz
Das Allgemeine Vorlesungswesen bietet rund 300 Vorträge kostenlos an.
In the upcoming winter semester, Universität Hamburg is once again offering a broad spectrum of lectures open to the public. The General Lecture Series includes thirty-three lecture series with roughly 300 individual lectures. Read more in German...

Die Vorlesungsreihe "Nachhaltige Stadt der Zukunft" gibt Einblick in Forschungsthemen des Kompetenzzentrums Nachhaltige Universität (KNU) und will so zu einem nachhaltigen Denken anregen. Interkulturelle Aspekte stehen in den Vorlesungen zur interkulturellen Bildung, zur "Theologie im Plural" und in der englischsprachigen Ringvorlesung "Approaches to Multilingual Language Transfer" im Mittelpunkt. Das Zusammenspiel von Ernährung und Gesundheit ist ebenso Thema wie Physik im alltäglichen Leben und aktuelle Forschung zu Nanomaterialien. In der Carl Friedrich von Weizsäcker-Friedensvorlesung wird das Thema Cyberspace unter sicherheits- und friedenspolitischen Aspekten näher beleuchtet. Weitere Vorlesungsreihen betrachten das Aufwachsen in der digitalen Gesellschaft unter medienpädagogischen Perspektiven, die Wahrnehmung von Zeit oder auch Sterben, Tod und Trauer im Wandel.
Das vollständige Programm finden Sie im Internet unter: www.aww.uni-hamburg.de/av.html
Die Vorlesungen beginnen am Montag, den 14. Oktober 2013. Der Besuch der Vorträge ist kostenlos. Zugangsvoraussetzungen oder Teilnahmebeschränkungen gibt es nicht, eine Anmeldung ist nicht erforderlich. Die Veranstaltungen finden überwiegend abends statt, so dass auch Berufstätige daran teilnehmen können.
Das Programmheft mit allen Themen und Terminen liefert Hintergrundinformationen zu den Vorlesungsthemen und Hinweise auf weitere kulturelle universitäre Veranstaltungen. Es liegt im Hauptgebäude der Universität und an vielen anderen öffentlichen Orten der Stadt aus und kann bei der Arbeitsstelle für wissenschaftliche Weiterbildung bestellt werden.
Für Rückfragen:
Daniela Steinke
Universität Hamburg
Arbeitsstelle für wissenschaftliche Weiterbildung
Tel.: 040 428 83-2476
E-Mail: av"AT"uni-hamburg.de
Additional links