22 August 2013
Training sense of balance to prevent falls: seeking subjects between seventy and seventy-five years old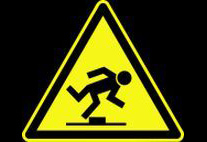 Photo: Wikimedia Commons
Stolpergefahr
Roughly one third of people sixty-five and older fall at least once a year. About ten percent of these accidents result in injuries. In the worst of these cases, injuries lead to permanent nursing care. Even if patients do not suffer serious injuries, many elderly people reduce their daily activities, growing weaker and less flexible, which only increases the risk of falling.Read on in German...

In Studien am Fachbereich Bewegungswissenschaft der Universität Hamburg konnte herausgefunden werden, dass Alltagssituationen, in denen mehrere Dinge gleichzeitig erfolgen (Multi-Task-Situationen), besonders sturzgefährdend sind. Um das Sturzrisiko zu senken, hat der Fachbereich Bewegungswissenschaft im Rahmen einer Pilotstudie Trainingsprogramme zur Bewältigung von Alltagssituation mit Multi-Tasking-Anteilen entwickelt, z. B. das Gehen über eine stark befahrene Straße bei kurzer Ampelphase und gleichzeitigem Tragen der Einkaufstaschen und Beobachten des Fahrradweges. Die Bewegungsprogramme haben bei Probanden erfolgreich zur Verbesserung des Gangbildes in der Ausführung von Mehrfachaufgaben geführt.
In der Zeit von September bis Dezember 2013 soll nun eine größer angelegte Studie erfolgen. Hierzu werden 100-120 gesunde Senioren im Alter von 70 bis 75 Jahren gesucht. Weitere Studiendetails erhalten Interessierte bei einer
Informationsveranstaltung
am Donnerstag, dem 29. August 2013, um 14:00 Uhr
im Hörsaal des Fachbereichs Bewegungswissenschaft,
Mollerstraße 10 (U-Bahn Hallerstraße), 20148 Hamburg.
Anmeldung und Informationen telefonisch Mo bis Fr, 13-16 Uhr unter 040 42838-5682 bei der Studienleitung Dr. Bettina Wollesen oder per E-Mail: Bettina.Wollesen@uni-hamburg.de(Bettina.Wollesen"AT"uni-hamburg.de)
Das Programm ist bereits von Krankenkassen zertifiziert und hat von der Ethi(Bettina.Wollesen"AT"uni-hamburg.de)kkommission der Ärztekammer Zustimmung erhalten.