The other side of mainstream: "alternative media" reporting
Interview with communication studies researcher Natascha Buhl
19 September 2017, by Ellen Schonter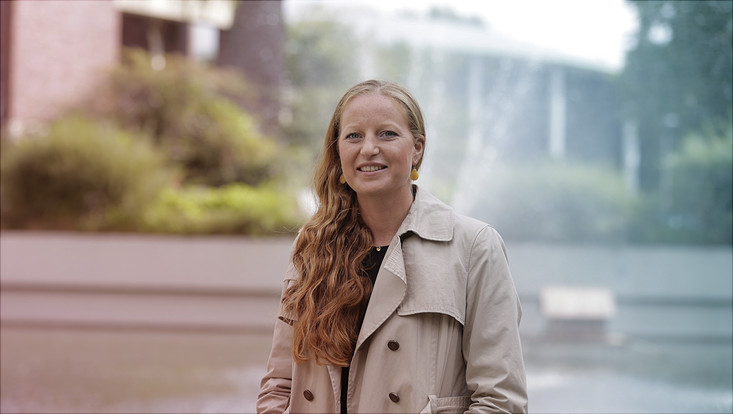 Photo: UHH/Kranz
Investigates media criticism and political ideology in the counter public sphere on the Internet: communication studies researcher Natascha Buhl.
The TV news program ZAPP broadcast by the Norddeutscher Rundfunk has started an experiment: the "Filter Zapper." Until the federal election on 24 September, ZAPP will operate two different newsfeeds. The first shows reports from the so-called "classical media," the other from the so-called "alternative media." Communication studies researcher Natascha Buhl from Universität Hamburg investigates media criticism and political ideology in the counter public sphere on the Internet and is involved in the development of the the Filter Zapper. In this interview, she explains what alternative media are and what characterizes their particular kind of reporting.
Frau Buhl, was ist der Sinn des Filter-Zappers?
In Deutschland wird zurzeit viel über die sogenannten alternativen Medien diskutiert. Mit dem Filter-Zapper sollen sich die Menschen selbst ein Bild davon machen können, wie verschiedene politische Richtungen ein bestimmtes Ereignis bewerten und welche Inhalte sie verbreiten.
Der Filter-Zapper macht also die Bandbreite der derzeitigen Haltungen und Weltanschauungen sichtbar – er ist ein Abbild der politischen Kommunikation in Deutschland.
Wie haben Sie die Entwicklung des Filter-Zappers unterstützt?
Dazu muss ich erst mal sagen: Der Filter-Zapper verfolgt keine wissenschaftliche Fragestellung. Er ist ein journalistisches Experiment, das ich mit dem Wissen aus meiner Forschung beraten habe.
Ich habe zum einen die Entwicklung der Grundidee unterstützt, nämlich dass Polaritäten bei Weltanschauungen besonders sichtbar werden, wenn man die Berichterstattung von sogenannten klassischen und sogenannten alternativen Medien vergleicht. Zum anderen habe ich das Team dann bei der Auswahl dieser alternativen Medien und der Themenschwerpunkte beraten.
In den Medien ist "alternative Medien" ein gängiger Begriff. Aber was genau ist damit gemeint?
Neben vielen anderen Kriterien lautet eine grundlegende Definition der Forschung: Alternative Medien zeichnen sich durch die Abweichung von etwas anderem aus. Sie können nicht ohne das "Andere" bestehen, weil sie sich konstituierend darauf beziehen.
Alternativmedien können nicht ohne das "Andere" bestehen.
Die Frage ist natürlich: Was ist das Andere? Eine genaue Definition ist schwierig, gemeint ist damit meist die hegemoniale, also die vorherrschende Meinung. In der amerikanischen Forschung hat sich dafür der Begriff "Mainstream" etabliert, in Deutschland ist dieses Wort aber negativ besetzt. Deshalb würde man bei uns das "Andere" eher mit dem Begriff "politische Mitte" beschreiben.
Für den Filter-Zapper mussten Sie eine Auswahl an "alternativen Medien" treffen. Wie sind Sie vorgegangen?
Die Auswahl basiert größtenteils auf meinen Forschungen. Die Medien erfüllen die Definition der Abgrenzung vom Anderen, häufig erkennbar durch ihre Selbstdarstellung. Die meisten Alternativmedien postulieren ihre Andersartigkeit bewusst, weil es Teil ihres Selbstverständnisses ist.
Für den Filter-Zapper war auch relevant, ob die Medien zu bestimmten polarisierenden Themen berichten. Das Thema Medienkritik ist zum Beispiel konstituierend für "alternative Medien" – denn wenn man mit den bestehenden Medien zufrieden wäre, gäbe es auch kein Anlass, ein alternatives Medium zu gründen. Am Ende haben wir von dieser Liste Medien mit einer gewissen Reichweite ausgewählt.
Wodurch zeichnet sich die Berichterstattung von "alternativen Medien" aus?
Meine Forschung zeigt, dass die meisten der sogenannten alternativen Medien besonders stark zu zwei Arten von Themen publizieren: Zum einen, wenn sich politisch und medial ein hoher Konsens zu einem Thema abzeichnet. Zum anderen, wenn Themen in der Öffentlichkeit überhaupt nicht präsent sind, es also eine Lücke in der Berichterstattung gibt. Ein Beispiel ist das Thema Medienkritik, zu dem ich auch forsche: Die "Mainstream-Medien" betreiben kaum eine tiefgehende Eigenkritik und die alternativen Medien nutzen diese Lücke.
Trotzdem muss immer klar sein: So etwas wie eine einheitliche "alternative Szene" gibt es nicht. Es gibt verschiedene Gruppierungen, die zwar alle abweichen – aber in verschiedene Richtungen. Sie sind sich deshalb auch manchmal politisch überhaupt nicht ähnlich.
Genau das spiegelt sich im Filter-Zapper wider: Innerhalb des Streams der "alternativen Medien" werden Meinungen aus ganz verschiedenen Rändern abseits der politischen Mitte angezeigt. Der Filter-Zapper will also keine vermeintlich guten und schlechten Medien gegenüberstellen. Die Zuschauerinnen und Zuschauer sollen einen neutralen Blick auf die Medien werfen können und selbst ein Urteil über die Berichterstattung fällen.
Kontakt
Dipl.-Journ. Natascha Buhl
Fakultät für Wirtschafts- und Sozialwissenschaften
Journalistik und Kommunikationswissenschaft