New research office at the WISO Faculty
"By focusing on knowledge exchange projects, everyone wins."
11 April 2022, by Niklas Keller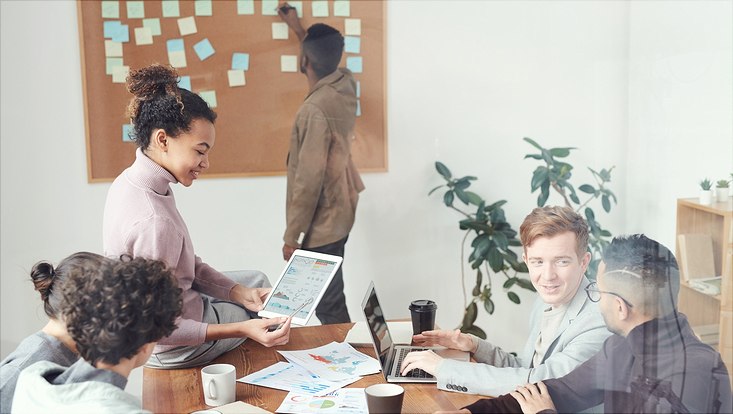 Photo: Pexels
Students are involved in many of the ROSI's projects, enabling them to gain practical experience.
Do adults with illness want to be cheered up by clinic clowns? How accessible are Hamburg sports facilities for disabled individuals really? The newly created Research Office for Social Innovation (ROSI) at the Faculty of Business, Economics and Social Sciences answers questions like these.
A few years ago, the voluntary association Klinik-Clowns Hamburg approached the student research team led by Prof. Dr. Kai-Uwe Schnapp to ask whether adults with illness would also like to be cheered up by clinic clowns. So, together with Klinik-Clowns, the research team developed a suitable research design, collected the data through guided interviews, and evaluated the results. The research team found that people who had not yet experienced the clowns had a negative attitude and that those who had already had contact with them were receptive. The team's students were able to conduct practical research, and the association received the findings in order to help it bring a smile to more people during difficult times in their lives.
"In many courses, a lot of time and energy was put into puff projects. I wanted companies and civil society organizations to also benefit from the students' drive so that the work was not in vain," says Prof. Dr. Kai-Uwe Schnapp about the beginnings of the Project Office for Applied Social Research. The office has been integrated into the Department of Social Sciences for 10 years, and many students have been able to implement practical projects in their seminars thanks to the project office.
Good prospects for civil society organizations
The Project Office for Applied Social Research recently became the Research Office for Social Innovation (ROSI). It is now the central office for knowledge-exchange-related research and teaching within the Faculty of Business, Economics and Social Sciences. Due to the office's new positioning in the faculty, topics are no longer limited to social sciences—the Departments of Socioeconomics and Economics will also benefit from the office in the future.
"We want to bring our strength in conceptual skills to the chorus of knowledge exchange at Universität Hamburgat," says Schnapp. Laura Adam, ROSI office manager, says, "There are laboratories in the faculties that are much closer to what takes place and have close contact with researchers and teachers; they are aware of their strengths in the area of knowledge exchange. For example, whereas cultural and educational institutions exchange ideas within the humanities, the ROSI is well suited to knowledge exchange activities with social and community organizations."
Although the ROSI has not ruled out cooperation with companies in the future, it wants to focus primarily on civil society organizations. Which ones might those be? "We want to cooperate with organizations that contribute to improving social coexistence in the city or that help people become better educated and better prepared to deal with problem situations," Schnapp explains. Partners can be municipal authorities, Diakonie, Caritas, or charities. Clubs, associations, districts, multigenerational houses, or the clinic clowns mentioned at the beginning are also potential partners. The subject field is broad.
No puff projects, but effective career orientation
In addition to the organizations, students in particular benefit enormously from diverse internship-based projects. "Some students, for example, used a questionnaire to examine the acceptance and effectiveness of the courses offered by the association Education for All! and suggested improvements to the premises and course times after the survey. The following year, the association made changes to a large part of its services in order to reach more people," says Schnapp. "As a result, students are learning various skills and gaining important experience that cannot be taught in a standard course," explains Laura Adam. According to Adam, career-relevant skills include communication skills, professional appearance and actions, and, of course, scientific work and teamwork. "The further along they are in their studies, the more scientific skills they can contribute and professionalize," says Adam. Moreover, students can make important contacts in various professional fields.
Laura Adam can imagine expanding the training opportunities. "We are increasingly considering involving doctoral researchers in the projects. Often, we do not have the employees who can guide the projects and instruct students. As part of their training, doctoral researchers can also gain practical experience outside the University," says Adam.
Finding answers to relevant questions
Schnapp especially remembers a survey conducted with users of Hamburg sports facilities. Hamburg's sports confederation wanted to know how accessible sports facilities in the Hanseatic city were for disabled individuals. "The client was convinced that standardized questionnaires would best provide this information," Schnapp explains. "We additionally argued in favor of qualitative interviews—our findings were even part of a German Olympic Sports Confederation discussion on requirements for gymnasiums." However, the questionnaire findings did not help at all, because closed questions can only ask about what is already known.
"As an interface between science and society and as a research office, we can answer tangible questions that are relevant to the public," says Schnapp. "By increasingly focusing on knowledge exchange projects, everyone wins."
How can students contribute?
The Research Office for Social Innovation regularly looks for students to participate in projects. Prospective participants can find out more on the website and subscribe to the newsletter. The Research Office for Social Innovation provides information about new positions and opportunities to participate.
Contact:
Newsroom editorial office
Universität Hamburg