UN Climate Change Conference has started.
"It won't work without tangible sanctions." An interview with the economist Prof. Dr. Anke Gerber
7 November 2017, by Giselind Werner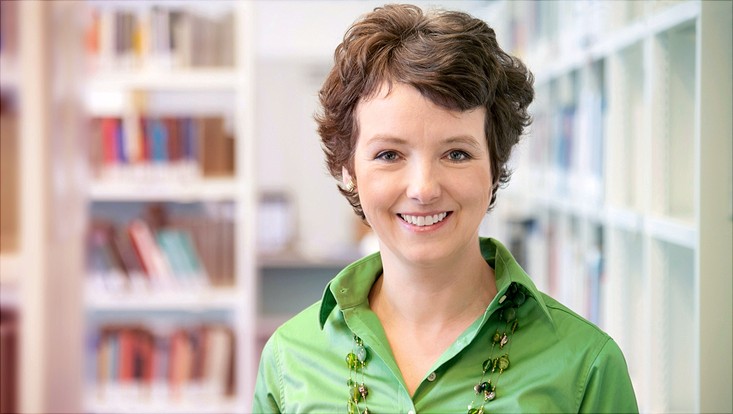 Photo: Franziska Glück
Economist Prof. Dr. Anke Gerber specializes in international agreements such as the Paris Climate Agreement.
The UN Climate Change Conference (COP23) began Monday in Bonn. Thousands of delegates from over 170 countries will negotiate climate goals at the 23rd annual conference of the United Nations Framework Convention on Climate Change (UNFCCC). The conference runs until 17 November, marking the first time that delegates are convening since the USA announced its decision to withdraw from the Paris Agreement. Presiding over this year's conference is the Republic of Fiji, an island nation that is already feeling the effects of climate change: 45 villages, for example, have had to be resettled due to rising sea levels. The economist Prof. Dr. Anke Gerber conducts research on, among other things, international agreements. In this interview, she explains to what extent this kind of climate agreement can be binding and what it takes to implement it.
In 2015 delegates negotiated the Paris Agreement, an international climate agreement that went into effect in November 2016 and was ratified for the first time by countries such as China and the United States—two of the world's largest carbon polluters. It is already becoming clear, however, that several industrialized nations will not be able to meet the goals outlined in the Agreement and ambitious plans will fall short of the 2-degree global warming limit while the USA under Trump has now pulled out of the Agreement entirely.
Just how binding is an international agreement like the Paris Agreement?
An international agreement like the Paris Agreement is binding according to international law. This does not mean much, however, because generally, breaching international law does not result in sanctions. This means that the Paris Agreement, like the Kyoto Protocol before it, is entirely voluntary. The signatory countries can decide on their own climate protection measures but so far there is no regulatory framework for checking and implementing resolutions.
What can be done to ensure plans are implemented?
There need to be tangible sanctions if a country does not reach its stated goals. This is difficult, however, in an international context. Sovereign states have virtually no way of sanctioning one another without hurting themselves. This makes sanctions negotiable, undermining their purpose.
Thus, we need, first, an independent institution authorized to sanction in an emergency and is immune to demands for re-negotiations. Second, this institution needs to be equipped with effective sanctioning strategies.
Philipp Wichardt from the University of Rostock and I have been conducting research on international agreements and we recommend the following procedure: Once they have decided upon their individual climate protection measures, the individual countries pay a kind of security deposit to an independent institution (for example, the World Bank). If a country meets its own obligation, it gets the deposit back. Otherwise, the country forfeits its right to the repayment of the deposit. The deposit amount just needs to be fixed at a rate high enough that the individual countries would feel compelled for purely economic reasons to meet their stated goals rather than lose their deposit.
Do you know of any comparable international agreements that have proven successful?
The 1987 Montreal Protocol on Substances that Deplete the Ozone Layer is an international treaty that obligates its signatory countries to reduce or eradicate chemical emissions that deplete the ozone. The treaty was and continues to be very successful, but the situation is not comparable to the Paris Agreement. Rejecting ozone-depleting substances is, relatively speaking, cheap and it has immediate, significant, and direct effects. In the case of carbon emissions, the costs are substantially higher and the first beneficiaries will be future generations.
The goal of this year's negotiations should be, among other things, a "rule book" to be adopted at the upcoming conference in Katowice, Poland. What is that, exactly?
A rule book stipulates how to review the individual countries' climate protection measures. An agreement about procedures for regular evaluations is indispensable if the Paris Agreement is going to be effective.
What do you expect in the coming years from the negotiations?
I don't have any great expectations because I don't see much willingness on the part of the major players to reach the 2-degree goal. Just look at the coalition talks in Germany. Maybe we need a few dramatic natural disasters first to increase voter pressure before anything really happens.
Literature
Gerber, A. and P. Wichardt (2009): "Providing Public Goods in the Absence of Strong Institutions," Journal of Public Economics, p. 93, pp. 429-439.
Gerber, A. and P. Wichardt (2013): "On the Private Provision of Intertemporal Public Goods with Stock Effects," Environmental and Resource Economics, p. 55, pp. 245-255.
Contact
Prof. Dr. Anke Gerber
Faculty of Business, Economics and Social Sciences<br/>Professor of Microeconomics