What does the USA's withdrawal from the Paris climate accord mean for the climate? Four questions for Prof. Dr. Detlef Stammer
2 June 2017, by Anna Priebe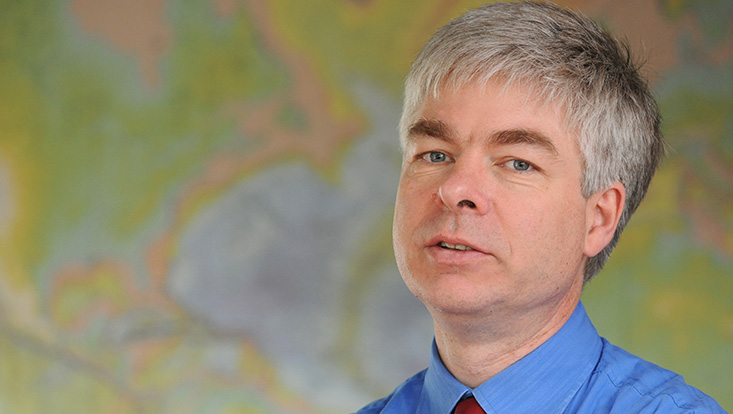 Photo: UHH/CEN, D. Ausserhofer
Prof. Dr. Detlef Stammer, director of the Center for Earth System Research and Sustainability at Universität Hamburg explains the implications of the USA's withdrawal from the Paris climate accord.
US president Donald Trump announced yesterday that the USA will withdraw from the Paris cimate accord. Trump claims that the accord is unfair and punishes the USA. He wants instead to negotiate a new accord, a move that has already been rejected by several European heads of government. What does the USA's withdrawal mean for the climate and the Paris climate accord? We asked Prof. Dr. Detlef Stammer, director of the Center for Earth System Research and Sustainability at Universität Hamburg. [Read on in German . . .]
Donald Trump hat angekündigt, dass die USA aus dem internationalen Klimaschutzabkommen aussteigen werden. Wie geht es nun weiter?
Man muss schauen, wie es in den USA selber weitergeht. Da gehen jetzt die internen Verhandlungen los. Es ist ja noch gar nicht klar, ob das Abkommen zu 100 Prozent zurückgenommen wird oder nur scheibchenweise. Neben dem inneren Druck wird es auch einen äußeren Druck geben.
Aber klar ist: Im Klimaabkommen waren Zusagen für die Zukunft, Reduzierungen durchzuführen, und wenn die USA sich nicht darum kümmern, dass der CO2-Ausstoß nicht weiter wächst oder reduziert wird, müssen wir davon ausgehen, dass die USA zukünftig weiter so viel emittieren werden wie heute oder sogar mehr. Und das ist ein Problem.
Ist absehbar, wie sich das Klima ohne die vereinbarten Anstrengungen der USA entwickeln wird?
Das Klima ist ein globales und reagiert auf die Gesamtsumme an CO2, die in die Atmosphäre abgegeben wird. Es ist dann ganz egal, wer das tut und wo das passiert: Das Klima reagiert dadurch, dass es wärmer wird. Wie warm, hängt davon ab, wie groß diese Summe ist.
Das heißt, wenn die Amerikaner nicht weiter reduzieren, ist das Erreichen eines Klimaziels von 2 Grad sehr stark in Frage gestellt. Die Entwicklung des Temperaturanstiegs wird dadurch eher so weitergehen wie bisher.
China und die USA sind die größten Emittierer. Wenn China sagt, sie wollen jetzt dramatisch reduzieren, wäre das schon mal ein guter Schritt, aber was auch immer in Amerika in Zukunft emittiert wird – das wird die Welt mittragen müssen.
Könnten andere Länder mit hohen CO2-Ausstößen die Nicht-Teilnahme der USA kompensieren?
Nein. Wir wissen, dass selbst ein 2-Grad- oder 1,5-Grad-Ziel bedeutet, dass man wenigstens zeitweise negative Emissionen einbauen muss. In dem Moment, wo Amerika überhaupt nicht mehr reduziert, müssen wir das noch stärker berücksichtigen. Die anderen Länder können sich noch so anstrengen, aber um starkes Klima-Engineering kommen wird dann nicht mehr herum.
Was heißt das?
Es geht darum, dass man versucht, CO2 aktiv aus der Atmosphäre zu entfernen, zum Beispiel durch die Verklappung von CO2, also Carbon Storage, das Verpumpen von CO2 in den Boden. Viele Technologien haben wir schon, aber die gesellschaftliche Bereitschaft dafür – gerade für das Speichern von Kohlenstoff im Boden – ist nicht sehr groß. Selbst mit Amerika im Klimaabkommen wäre das ein großes Problem – und das wird jetzt nur noch größer.
---
Contact
Prof. Dr. Detlef Stammer
Centrum für Erdsystemforschung und Nachhaltigkeit (CEN)
Bundesstr. 53
20146 Hamburg