AI in medicine
Prognosis Program Recognizes Neurological Complications
Doing the Research series
6 September 2022, by Viola Griehl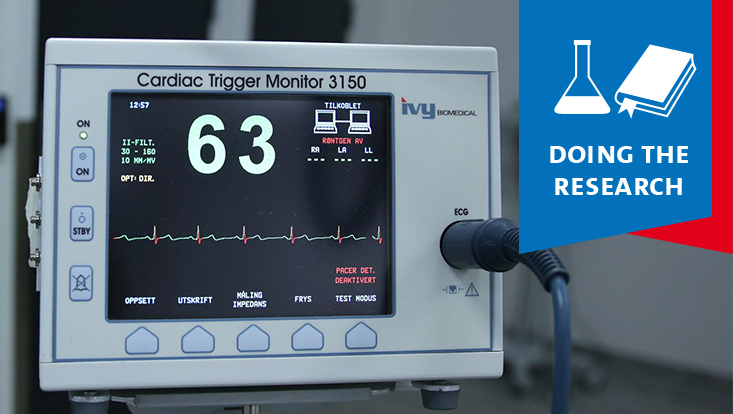 Photo: pixabay/Bokskapet
When data such as heart rate or blood pressure can be analyzed with the help of assistance software, doctors can respond much faster to potentially life-threating changes in a patient's condition.
For many intensive care patients, pressure on the brain must be monitored vigilantly and diagnosis depends strongly on the attending physician's experience. The neurologist Dr. Nils Schweingruber from the University Medical Center Hamburg-Eppendorf (UKE) has developed an AI-based system that recognizes critical phases up to 24 hours in advance. Our series Doing the Research introduces research projects at Universität Hamburg.
Why is brain pressure so crucial in brain injuries?
If the brain has been damaged due to injury, bleeding, or a massive stroke, it often responds by swelling. But the hard bones of the skull do not give to make room for swelling, so the pressure increases in the cranial cavities and blood circulation in the brain decreases. This can lead to further, often serious and irrevocable brain damage.
What does the prognosis software you developed do?
The system we developed analyzes the most various medical data of gravely ill patients using methods of machine learning, for example blood pressure, breathing parameters, lab findings, medications, body temperature, age, sex, size, and weight. Thus, critical findings are often recognized in good time and often point to increasing brain pressure, possible brain artery spasms, or brain fog. Attending physicians can therefore respond to changes in patients' conditions in a more timely fashion. At the moment, we can use our prognosis program to predict a critical brain pressure phase up to 24 hours in advance and also to determine how long, roughly, it will last.       
How do you test this kind of software in normal operating conditions without endangering someone?
We are currently developing a possible assistance software for future use.
How do patients respond to the software?
It's important that the attending physicians continue to maintain complete control of treatment. Clinical, machine-learning based assistance software has the great advantage of being able to warn the attending physicians about potential dangers. Responding to changes in a patient's condition, however, remains a central medical task.
In the future, machine learning will play a greater role in patient-oriented, individual medicine.
What data do you use for your program?
For the development of the prognosis software, large, anonymized data sets from patients treated in the intensive care units of the UKE were used. We used more than 12 million data points for the study. The software was also validated using anonymized, intensive care data from US American databases. For our study, we benefit from the UKE's high degree of digitalization and are already planning further studies to review the direct clinical use of the AI system.
To what extent can AI be used in other areas of intensive medicine?
In the future and against the backdrop of increasing digitalization in the health system, machine learning will play an ever greater role in patient-oriented, individual medicine. Intensive medicine especially will be able to avail itself in the future of even larger numbers of measurements by the most various of digital sensors. Machine learning will be crucial here to handle the variety of medical data and make precise, individual predictions about critical events.
The publication
Nils Schweingruber et al., A recurrent machine learning model predicts intracranial hypertension in neurointensive care patients, Brain, 2022. DOI: https://doi.org/10.1093/brain/awab453
Doing the Research
There are approximately 6200 academics conducting research at 8 faculties at Universität Hamburg. Many students also often apply their newly acquired knowledge to research practice while still completing their studies. The Doing the Research series outlines the broad and diverse range of the research landscape, and provides a more detailed introduction of individual projects. Feel free to send any questions and suggestions to the Newsroom editorial office(newsroom"AT"uni-hamburg.de).
Contact
Newsroom editorial office
Universität Hamburg