Study at Universität Hamburg reveals that testosterone is better than it's made out to be
An interview with Luise Reimers, doctoral student at the Biocenter Grindel
3 July 2017, by Online-Dienste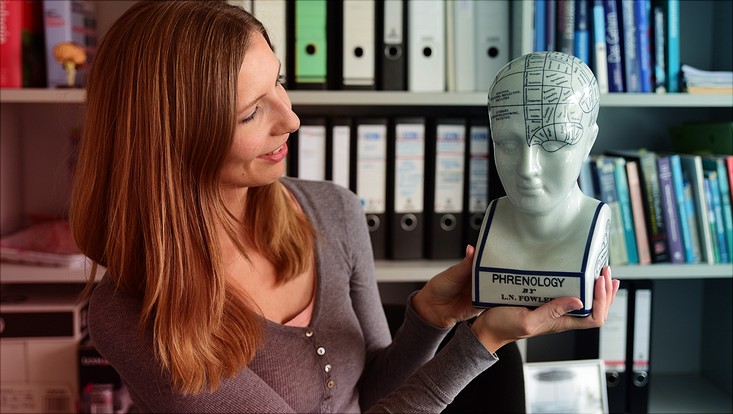 Photo: UHH/Diekhof
Luise Reimers studies the effects of testosterone. Here she holds up a "phrenological skull." This model illustrates the19th-century school of thought, long since discredited, according to which the shape of the human skull reveals personal characteristics.
Testosterone is considered an endogenous stimulant usually associated with display behaviors, aggression, and risk-taking. A study conducted by Luise Reimers, a doctoral student working with junior professor Dr. Esther Diekhof in the field of neuroendocrinology at the Biocenter Grindel, has led to very different conclusions. We talked to Reimers about her study. [Read on in German]
Ist Testosteron ganz anders als sein Ruf?
Die pauschale Aussage "Testosteron macht aggressiv" lässt sich jedenfalls beim Menschen nicht ohne Weiteres bestätigen. Viele der Studien, die Testosteron dieses negative Image beschert haben, wurden mit sehr speziellen Stichproben durchgeführt (z. B. Gefängnisinsassen), bei denen es schwer ist einzuschätzen, ob ein hoher Testosteronspiegel zu erhöhter Gewaltbereitschaft geführt hat oder andersrum.
Neuere Studien versuchen anhand von direkten Verhaltensbeobachtungen und aktuellem Hormonspiegel diese Zusammenhänge zu untersuchen.
Wen genau haben Sie untersucht?
Für unsere Studie haben wir männliche Fußballfans getestet, um zu schauen, inwiefern faires bzw. unsoziales, egoistisches Verhalten gegenüber Mitgliedern der eigenen oder einer konkurrierenden Gruppe gezeigt wurde und ob dies durch Testosteron beeinflusst wird. Fußballfans eignen sich hervorragend für so eine Studie, da sie sich mit ihrem Lieblingsverein identifizieren und gleichzeitig starke Rivalität gegenüber einigen anderen Vereinen zeigen.
Und wie lief die Untersuchung ab?
Für diese Studie haben die Probanden das Ultimatum Game gespielt. Hierbei gilt es, einen Geldbetrag mit einem anderen Spieler aufzuteilen. Der andere Spieler kann dieses Angebot entweder annehmen oder ablehnen. Ist letzteres der Fall, gehen beide Spieler leer aus.
Spielt jemand eher ökonomisch-rational, wird er mehr Angebote annehmen. Jemand, der vor allem auf die Einhaltung von Regeln und sozialen Normen Wert legt, wird dagegen ungleiche Aufteilungen eher ablehnen.
In dem Ultimatum Game mussten die Probanden über Angebote von anderen Fans ihres eigenen Lieblingsvereins (eigene Gruppe) sowie von Fans von stark rivalisierenden Vereinen (andere Gruppe) entscheiden. Während des Spiels wurde zudem die Hirnaktivität mittels funktioneller Kernspintomographie (fMRT) gemessen, um zu untersuchen, in welchen Hirnregionen Testosteron auf das Verhalten Einfluss nimmt. Der Testosteronspiegel wurde aus Speichelproben bestimmt, die zuvor von den Probanden abgegeben wurden.
Was ist für Sie das wichtigste Ergebnis, das aus Ihrer Studie hervorgeht?
Die wichtigste Erkenntnis ist, dass der Zusammenhang zwischen Testosteron und Verhalten weitaus komplexer ist, als der weithin verbreitete schlechte Ruf vermuten lässt. Wie Testosteron unser Verhalten beeinflusst, hängt von vielen unterschiedlichen Faktoren ab. In unserer Studie hat sich z. B. gezeigt, dass ein hoher Testosteronspiegel mit verstärkter Aktivität in der sogenannten Insel zusammenhängt, wenn der Proband ein unfaires Angebot von der eigenen Gruppe bekommt. Die Insel ist eine Region der Großhirnrinde und wird mit negativen emotionalen Prozessen (Schmerz, Wut, Ekel…) in Zusammenhang gebracht. Im Ultimatum Game wird angenommen, dass eine verstärkte Insel-Antwort die negative Reaktion auf ein unfaires Angebot repräsentiert.
Interessanterweise haben wir diesen Zusammenhang nur bei Probanden mit einer eher rational-ökonomischen Spielweise gefunden. Diese zeigten gegenüber den eher fair spielenden Probanden auch eine stärkere Tendenz Mitglieder der eigenen Gruppe bevorzugt zu behandeln. Testosteron könnte demnach bei dieser Ungleichbehandlung eine wichtige Rolle spielen.
Testosteron gilt als Männerhormon, aber auch Frauen haben es im Körper. Welche Funktion hat es jeweils bei den Geschlechtern?
Allem voran reguliert Testosteron bei Männern die Entwicklung der männlichen Geschlechtsorgane und stimuliert die Spermienproduktion. Außerdem ist Testosteron wichtig für die Libido, auch bei Frauen. In beiden Geschlechtern spielt es außerdem eine Rolle beim Aufbau von Muskel- und Knochenmasse.
Wie würden Sie nach diesen Erkenntnissen die Rolle von Testosteron beschreiben?
Testosteron scheint eher Status-relevante Verhaltensweisen zu fördern. Und die können, je nach Situation, aggressive oder eben auch mal soziale und altruistische Entscheidungen und Reaktionen verlangen. Denn solche positiven Verhaltensweisen sind natürlich auch enorm wichtig für ein positives Image, welches wiederum für den sozialen Status entscheidend ist.
Vielen Dank für das Interview!
Link zur Studie: http://www.sciencedirect.com/science/article/pii/S1053811917304275
---