Advanced Fellows at Universität Hamburg
"The goal is to enrich intellectual life in Hamburg."
6 January 2022, by Christina Krätzig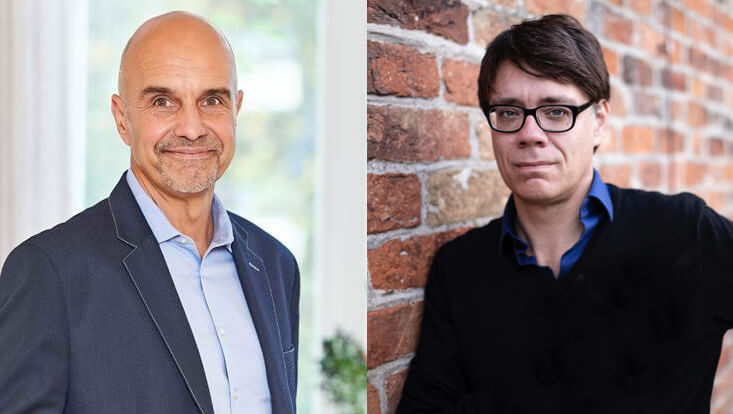 Photo: Hias/C. Höhne, KUMR.de
Political scientist Prof. Dr. Oliver Schmidtke teaches at the University of Victoria in Canada, where he heads the Centre for Global Studies. Conductor Lutz Rademacher was the head music director of the Detmold state theater until 2020 and he now lives as a freelance conductor in Berlin.
Time in Hamburg to dedicate yourself fully to a project of your own choosing: a funding program is making this possible for researchers and artists from all over the world. Conductor Lutz Rademacher and the political scientist Oliver Schmidtke talk about their experiences.
Mr. Rademacher, this year you are the only advanced fellow who is an artist. What is it like surrounded by academics?
Rademacher: I find the exchange within the group—with fellows who specialize in very different topics and are at very different stages of their own careers—extremely enriching. I want to use my time in Hamburg to find out why it is so hard for the public to warm to the so-called "new music" of the twenty-first century—unlike contemporary painting, for example. I offer the 16 other fellows a chance to listen to a piece of music together once a week. The ensuing discussion opens up other perspectives, as do the talks that other fellows give on their fields.
Mr. Schmidtke, as a political scientist, you are researching the emergence of right-wing extremism in different European countries. How do you benefit from your fellowship?
Schmidtke: I have lived in Canada for many years and head the Centre for Global Studies at the University of Victoria. In Hamburg, I am a bit less burdened with daily administrative duties. My time here facilitates more intensive engagement with my research topics and contact to my colleagues throughout Europe, and of course, especially here in Hamburg. All of the fellows receive support from so-called "tandem partners" so that they can gain a foothold in the academic community. My tandem partners are the political scientist Antje Wiener at Universität Hamburg and an educational scientist from the Helmut Schmidt University. We have already cooperated several times and now we are moving forward with a joint publication project. Consulting on things is much easier when you're all in the same place.
Do you intend to write a book, Mr. Rademacher?
Rademacher: No, I want to work on a piece of contemporary music theater and to premiere it on 24 June 2022. The tight time-frame and the small, as-yet unfixed budget are quite ambitious but as someone who has spent the majority of his life as a freelance artist, I am used to that.
What is the work about?
Rademacher: It should be theater-within-the theater. The involved disciplines such as composition, singing, or dramaturgy have a say and make the creative process, against the backdrop of public taste, tangible.
Does public discourse also play a role in your work, Mr. Schmidtke?
Schmidtke: I think that today it's important for almost all researchers. I also try to share my research findings with the public and to make them transparent. For example, in a 2-day workshop on the topic of remembrance policies in Europe and Canada, which I offered in 2021 and was open to the lay public. Communication with the public is, of course, one of the fundamental principles of the Hamburg Institute for Advanced Study, or HIAS, which supervises the fellows. So the goal is to enrich intellectual life in Hamburg.
What do your days look like? What is like to be a fellow?
Schmidtke: Some, but not all fellows live at the University's International Lodge. What we all have in common is is that we meet at HIAS at Rothenbaumchaussee 45 to work. That's where the fringe program takes place. On Tuesdays, for example, we all eat together at noon and Mr. Rademacher offers his music. On Wednesdays, we often explore the city's cultural life together. And every Thursday, one of the fellows presents his or her work. Fortunately, thanks to vaccinations and tests, this is now possible.
Rademacher: But it's not like we all hang around Rothenbaum the entire time. Thanks to HIAS' central location, I can hop onto my bike, for example, and in just a few minutes I can ride over to the Hamburg University of Music and Drama, which has turned out to be an important point of contact for me. It is wonderful to work for half a year in a stable, interdisciplinary group and it is just as important to exchange ideas with experts in your own field.
Advanced Fellowships funding program
Every year, up to 20 fellows live and work in Hamburg for 3 to 10 months. Researchers and artists from all over the world (with the exception of residents of Hamburg) are welcome. Fellows are taken care of by the Hamburg Institute for Advanced Study, which is funded by 9 Hamburg academic institutions. A share of the funding comes from the Excellence Strategy of the Federal and State Governments. The Advanced Fellowships were offered in 2021 for the second time.
Queries:
Newsroom editorial office
Universität Hamburg