"Welcome Aboard"
Researching the smallest building blocks of matter
Prof. Dr. Freya Blekman will strengthen the study of particle physics in Hamburg and the Cluster of Excellence Quantum Universe.
7 October 2021, by Anna Walter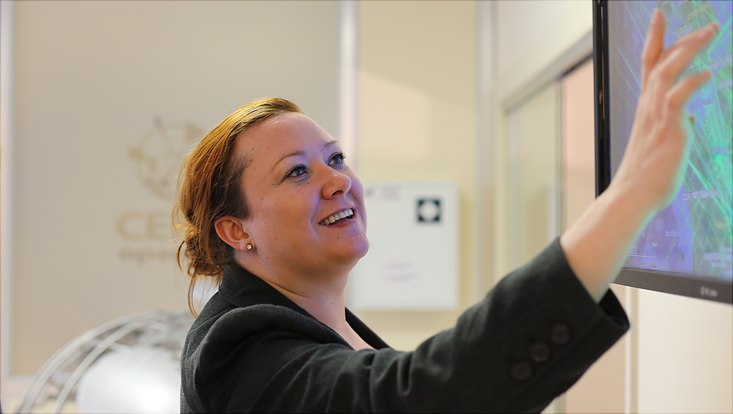 Photo: CERN
"One of my primary objectives is to make research that is sometimes considered highly complex accessible to the public," says particle physicist Prof. Dr. Freya Blekman.
Every year, Universität Hamburg welcomes many new researchers. Here, we present part of a series to introduce them and their areas of research.
On 1 October 2021, Prof. Dr. Freya Blekman took up a Helmholtz Distinguished Professorship in experimental physics—a joint appointment by Universität Hamburg and DESY. Blekman previously worked at Vrije Universiteit Brussel.
My research area in 3 sentences:
I am a particle physicist interested in the smallest building blocks of matter, known as elementary particles. To perform my research, I use the Compact Muon Solenoid Detector in the Large Hadron Collider at CERN (European Organization for Nuclear Research) in Geneva. I also study the feasibility of future particle accelerators.
I explain what I do to my friends and family as follows:
I help lay the groundwork for huge experiments that explore fundamental questions about nature such as "What are the building blocks of all matter?" and "How did the universe evolve?". To do this, I use one of the largest machines ever built, the Large Hadron Collider. This is a very difficult task, so I work together with several thousand intelligent, motivated colleagues from all over the world. One of my primary objectives is making the research we do at CERN, which is sometimes regarded as highly complex, accessible to the general public. At present, I am coordinating science communication for the Compact Muon Solenoid experiment, in which some 4,000 international researchers are taking part.
I am so glad to be in Hamburg, the University, and DESY because. . .
. . .Hamburg is a wonderful, green city with an excellent reputation and heritage. I am excited about being part of new scientific achievements of historic importance in the future.
Interfaces between my research and the Cluster of Excellence Quantum Universe:  
My research in the CMS experiment at CERN ties in perfectly with the outstanding work already being performed at Quantum Universe. My search for new particles will ideally complement this work. In addition, my research on future colliders will strengthen the cluster, as will my expertise in communicating complicated physics research.
This is why students should come to my lectures:
I am starting out as a research professor, so I will not be offering many classes right away. However, students in my classes can expect modern teaching methods such as project work and integrated learning in which they will play an active role in the course and the learning process. What is more, I have long-standing experience in supervising bachelor's and master's theses, which yield projects for academic publication for many students.
Reaching out to the world: I work with the following international and federal institutions and universities:
In addition to my connections to CERN and to research institutions in the Netherlands, the United Kingdom, and Belgium, I am a visiting professor at the University of Oxford and have strong connections to the United States in my role as a Distinguished Researcher at the Fermi National Accelerator Laboratory.
I am also looking forward to participating in activities at the University that. . .
. . . support underrepresented groups and attempt to keep them at the University. In addition, I am a great fan of performance and contemporary art and love any activities related to these art forms.
My research is important to society because:
Particle physics is one of the research fields in physics that try to answer fundamental questions about our world. These questions are almost philosophical in nature, yet we need very concrete, modern technology to investigate them. Many of the developments originally stemming from particle physics research are useful for everyone. One famous example is the World Wide Web. A more recent example is the new three-dimensional, color X-ray images based on particle physics technologies.
Queries:
Newsroom editorial office
Universität Hamburg