Cooperation with Edeka Digital in the Faculty of Business Administration (Hamburg Business School)
Fighting Shortage of IT Experts, Promoting More Practical Curricula
2 May 2023, by Newsroom editorial office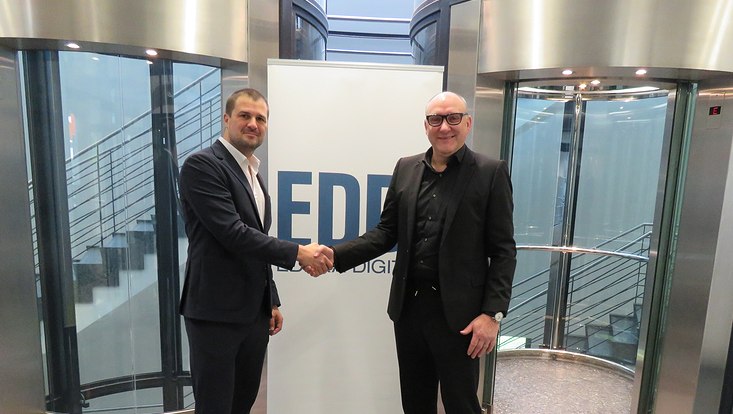 Photo: Tobias Mahlberg
Prof. Dr. Jan Recker, the nucleus professor of information systems and digital innovation, and Christoph Diekmeyer, the managing director of Edeka Digital
Courses offered by the professorship for information systems and digital innovation now allow students of business administration to focus on topics related to digital innovations in trade and procurement. This is possible thanks to new cooperation with Edeka Digital, which is being headed Prof. Dr. Jan Recker, nucleus professor.
Since Summer Semester 2023, there has been, among other activities, an "innovation challenge" within the scope of this cooperation. This allows students to realize sustainable project ideas. There are also opportunities for final theses and projects in companies, while there are also more internships and student employee positions with Edeka Digital.
The combination of theory and practice is designed to make special topic areas such as digital business models, digital innovation, the challenges of transformation in large organizations, the digitalization of products and services, and sustainable development tangible. Especially qualified students and post-doctoral researchers can benefit from a range of additional funding opportunities.
Tried-and-true cooperation
"We have already tried cooperation in various guest lectures and the feedback was very positive. Digital innovations simply must be understood in a practical context," explains Prof. Dr. Jan Recker, nucleus professor of information systems and digital information as he addresses the advantages of cooperation. The guest lectures should also be expanded upon in the future.
By funding young talent, Edeka Digital, the IT subsidiary of the Edeka headquarters, is responding to—among other things—the shortage of workers in the IT industry. In the future, cooperation can expand to include new options for professional training for Edeka Digital staff.
Contact:
Newsroom editorial office
Universität Hamburg