"Welcome Aboard!"
"I Always Try to Create a Link to the Reality of Daily Life"
Prof. Dr. Daniel Fliege strengthens the humanities.
3 March 2023, by Fliege/Red.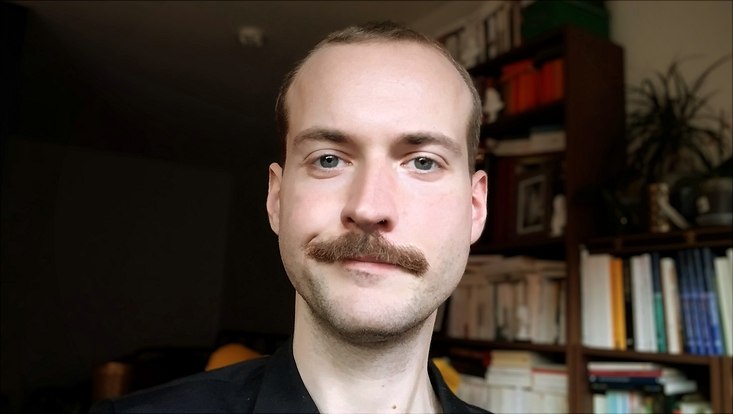 Photo: Private
Literary scholar Prof. Dr. Daniel Fliege
Every year, Universität Hamburg welcomes numerous new researchers. This series introduces them and their areas of research. This time: Literary scholar Prof. Dr. Daniel Fliege
Prof. Dr. Daniel Fliege came to Hamburg in Winter Semester 2022/23 from the Humboldt-Universität zu Berlin to take up the Professorship for Romance Studies with a focus on Italian and French Literature in the Faculty of Humanities.
My research area in 3 sentences:
My research addresses, as is usual in romance studies, two completely different areas: on the one hand, I am working with how contemporary cultural models were taken up and reformulated in spiritual literature in the early modern period. I am also researching what is known as the "littérature du sida," that is, poetry, particularly autobiographical and autofictional poetry written in French about HIV/AIDS since the mid-1980s that deals with the relationship between HIV—infections / AIDS as a disease and the presentation of one's (own) (homo)sexuality.
This is how I explain my research to my family:
It is important for me that my research can also be understood by non-academics. Put very simply, my initial focus is exploring how spiritual literature from the sixteenth and seventeenth century was influenced by non-religious model texts and authors. So, for example, the poet Mageurite de Navarre rewrote secular love poetry to express her faith. Otherwise, I work with texts where people who have contracted HIV and/or AIDS write about their own (homo)sexuality. In this I am particularly interested in how the infection or illness has changed their relationship with their own bodies and others, and their sexuality in general.
In Hamburg, the city and the University, I am looking forward to:
I love how open Hamburg is, and the people who live here, as well as how the canals and parks open it up geographically. They provide space to catch your breath and to let your thoughts run free, as well as providing an openness to diversity: Hamburg is an incredibly colorful and dynamic city, and I am looking forward to participating in the cultural life of the Hanseatic city. 
These are my plans at Universität Hamburg:
In the coming semesters, I want to begin a recurring lecture series under the Hamburg Open Lectures title, to present subjects to more than just the academic public, but in which academics can open up a dialog with members of the general public. It should center around subjects suited to interdisciplinary discussion.
This is why students should come to my lectures:
In my lectures, students can look forward to interesting topics, for which I read artifacts in their historical context, but also always try to create a link to the reality of daily life. In addition to literary texts, I also bring in other art forms, particularly visual arts and film. That's because current cultural theories help enrich my seminars, particularly in the fields of gender and queer studies and post-colonialism.
Reaching out to the world: I work with the following international and federal institutions and universities. . .
I am currently working particularly closely with French colleagues in Paris ( Sorbonne, and Paris Nanterre), and we are researching how Petrarchism is changing across cultural and linguistic boundaries. I am also working closely with Romance linguistics at the Humboldt-Universität zu Berlin, examining post Tridentine hagiography in France.
My research is important to society, to help resolve the following issues: 
My research is important, particularly for the early modern period, as I often research authors who have been long forgotten and neglected. Taking a longer-term view, I hope my work can contribute to expanding the literary canon.
Queries:
Newsroom editorial office
Universität Hamburg