Double degree program in Business Administration
"It's a great opportunity to get to know another culture through personal experience"
26 January 2023, by Anna Priebe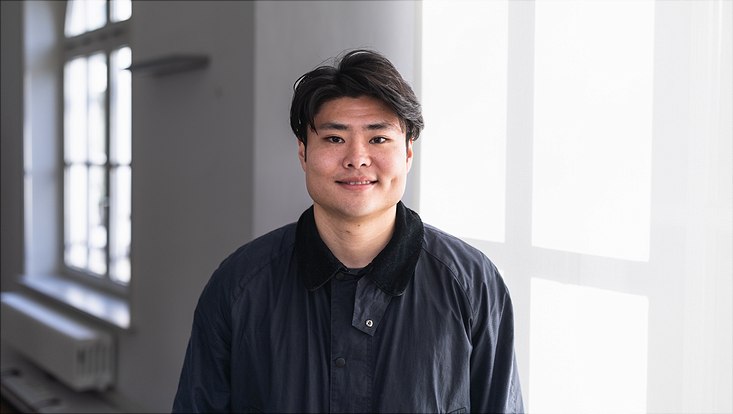 Photo: UHH/Röttger
Ken Takada is studying a double-degree program at Universität Hamburg and Kyoto University.
Students at the Faculty of Business Administration can complete two master's degrees within one program – an M.Sc. in Business Administration from Universität Hamburg and an MBA from Kyoto University. The program includes two semesters at the partner university. As part of the program, Ken Takada from Kyoto University has been in Hamburg since October 2022. In an inverview he discusses his experiences.
How has your time in Hamburg been so far?
I've visited several Asian countries but this is my first time in Europe. So everything is new for me – and a lot of things are different from home. I have to get used to many things and it took some time to warm up. I live in a dorm which is nice because I've met many international students, as well as two other students from Japan.
The first months are also very busy. Parallel to getting settled, I'm also starting my thesis at my home university, so I have to prepare several things for that. In addition, the courses have started and they're quite different from what I know from Japan. In our university, we have lectures where the professor talks and we listen and take notes. In Hamburg we are expected to speak up and there is a lot more interaction and discussion.
What's the biggest challenge in studying for a double degree?
For me, the biggest challenge is the language. I took English courses at my home university, but the teachers there speak Japanese. So if I had questions or didn't know a word I could ask in Japanese. Now all my courses are in English and there is a lot of special vocabulary, but I can't ask for it to be translated into Japanese. That means I have to achieve a higher level of language skills while taking the lectures.
Why did you decide to do the double degree program?
A friend at Kyoto University told me about it. Most students study part-time in addition to working. They don't have the time to study abroad for one year. I study full time so he thought it would be a good opportunity.
And it's a really good fit because I'm very interested in how people learn in different contexts. I did my bachelor's degree in mathematics and now I'm doing my master's degree in business administration. I was intrigued by the differences in studying and learning between these two disciplines and wanted to experience studying in another country.
Even after this short period of time, I'm convinced it was the right choice. It's a great opportunity to get to know another culture. You can read a lot about other countries, but you learn far more if you spend time there and have personal experience. That's why I highly recommend that all students of business administration at Universität Hamburg and at Kyoto University look into and apply for this program.
What plans do you have for your time in Hamburg?
I'm taking all the courses the German students in my semester are taking, but I have two additional goals. One is to get all possible elective courses that will help me with my thesis. It will be about digital transformation in industrial manufacturing companies, as well as innovation technology management. So I'm interested, for example, in the quantitative research methods course. In addition to that I'm really interested in Health Care Management. Since we don't have that specialty at my university, my second goal is to take as many courses as possible in Hamburg.
Do you know what you'll do after you complete the double degree?
I haven't decided yet. I think I will start working in Japan first, but it would be great to get the chance to work abroad for some time. Maybe I can work with a Japanese company that has local branch in Europe.  
Queries:
Newsroom editorial office
Universität Hamburg