"Welcome Aboard!"
"Science can play an important role in the transformation to sustainability."
Prof. Dr. Laura Marie Edinger-Schons will become the chief sustainability officer and strengthens economics.
16 December 2022, by Edinger-Schons/Red.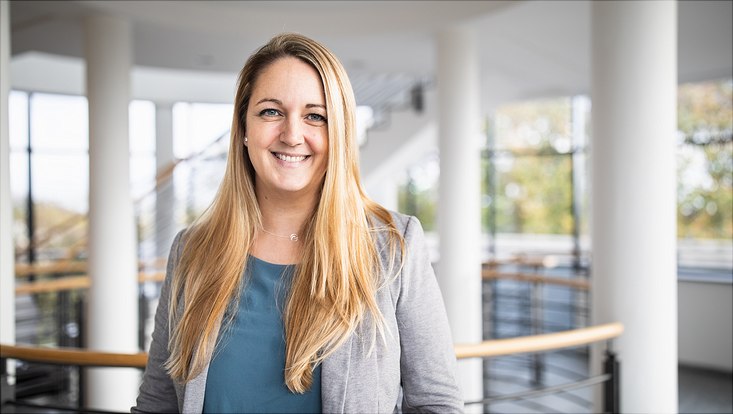 Photo: UHH/Esfandiari
Prof. Dr. Laura Marie Edinger-Schons
Every year, Universität Hamburg welcomes numerous new researchers. This series introduces them and their areas of research. This time: economist Laura Marie Edinger-Schons, who will coordinate the University's sustainability activities in her role as chief sustainability officer. The professorship and the Sustainability Office are being funded through the Excellence Strategy of the Federal and State Governments.
Prof. Dr. Laura Marie Edinger-Schons joined the University from the University of Mannheim in Winter Semester. She joined the Faculty of Business, Economics and Social Sciences as a professor of business administration with a focus on sustainable economizing. She also heads the new Sustainability Office of the Executive University Board.
My research area in 3 sentences:
As human beings, we are facing huge challenges in sustainable development, for example, the climate crisis or the protection of human rights. Companies have great leverage in reducing their negative impact on nature and people and driving positive value creation. However, many have not so far fully tapped into this potential. This is where my professorship begins its work: my team and I look for answers to how companies can contribute to sustainable development pursuant to the sustainable development goals of the United Nations (UN SDGs).
This is how I explain my research to my family:
My 4-year-old son asked me what I actually do at the University and what sustainability means, so we simulated the history of Easter Island using Playmobil. When there are limited resources, such as trees, water, or food, and the number of people increase, then we reach a point at which the trees cannot grow as fast as people fell them. So we need to be careful. And as human beings, we have already gone beyond many of these points. To me, sustainable development means we have to successfully design our lives such that we do not harm living conditions for our fellow humans and animals, now or in the future.
In Hamburg, the city and the University, I am looking forward to:
I have already been living in the Niendorf district of Hamburg with my family since 2020 because my husband was appointed to the Informatikum at Universität Hamburg. We both found Hamburg wonderful and made a snap decision to move here. It was during the lockdown and I was sitting around in video conferences anyway. I then commuted to Mannheim for work for 2 years, which was very stressful for us as a young family. I am now looking very forward to getting to know the city better thanks to my work at Universität Hamburg!
These are my plans at Universität Hamburg:
I will have 2 roles at Universität Hamburg: First, my professorship, and I am looking forward to my many terrific colleagues, of whom many, of course, also work on sustainability. This gives my team the opportunity to somewhat refocus work within the professorship.
Second, as chief sustainability officer with the Executive University Board, I can make headway on the topic of sustainability. Incidentally, that was my role in Mannheim, where I was vice dean for sustainability and information and where I gained a great deal of valuable information. Universities play a central role in sustainability information and that does not mean just minimizing our own footprints but maximizing positive impact via sustainability-oriented research, teaching, and knowledge exchange. To this end, it is important to create a culture of sustainability that everyone shapes and lives.
This is why students should come to my lectures:
In many of our courses, we let students develop things on their own, for example, concepts for social organizations, video reports on sustainability that can be shown at film festivals, or their own games that can be used to make sustainability issues clear. In Mannheim, we discovered that students not only had fun doing applied work in groups but also very deep learning experiences with regard to sustainability. In our lectures, we regularly invite guest speakers, from social organizations to environmental protection organizations to DAX companies. I think it's important to hear all points of view to better understand the great challenge of economizing sustainably.
Reaching out to the world: I work with the following international and federal institutions and universities:
Only after completing my doctorate did I begin to look at experimental game theory to research sustainability in the economy. During my studies and while pursuing my doctorate, I spent 3 1/2 years in Indonesia and I experienced a lot that made the relevance of economic sustainability clear to me. Since then, I have worked together with many co-authors from the United States, for example in New York, Pittsburgh, and Boston. Last summer, I visited Harvard and MIT and was very inspired. And in Europe, I have several terrific co-authors, for example, in Oxford, St. Gallen, and through the Business and Society Network, which organizes and annual conference that I also help with. In 2018, we even hosted the conference in Mannheim!
My research is important for society because:
The research conducted within my professorship focuses on a few questions currently commanding great public interest: How can companies really become sustainable, rather than just talk about it? How can consumers be motivated to consume more sustainably? And how can bridges between real and financial markets be built to promote sustainability information? We often work closely with partner organizations. In these cases, we take up current inquiries and management issues and try to address them using scientific methods. Thanks to the strong cooperation, research findings can often be applied directly. I think that as researchers, we can play an important role in the transformation to sustainability.
Interview with Prof. Dr. Laura Marie Edinger-Schons and the University's president, Prof. Dr. Hauke Heekeren, on the newly created CSO position, first measures, and central challenges
Queries:
Newsroom editorial office
Universität Hamburg