New president of Indiana University visits Hamburg
Successful Cooperation and New Plans for the Future
3 November 2022, by Newsroom editorial office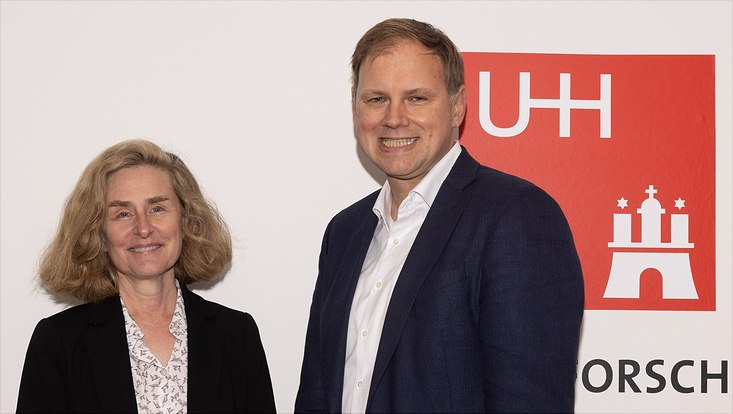 Photo: Universität Hamburg
Pamela Whitten and Hauke Heekeren
Pamela Whitten, President of Indiana University visited Universität Hamburg on 1 November 2022 to discuss current projects and potential additional collaborations. Students and doctoral researchers will also be able to take part in a joint scholarship competition.
Universität Hamburg and Indiana University in the USA have been working closely together since the 1960s. In 2019, both universities agree to found a strategic partnership to provide more targeted and long-term support for collaborative activities. The most recent successes to arise from this collaboration include a joint teaching project as part of the Global Classroom Program, a multilateral research collaboration within the Next Generation Partnerships, as well as the expansion of a strategic collaboration between the Faculty of Education and the Indiana University School of Education.
As part of the visit, Hauke Heekeren, president of Universität Hamburg, and Pamela Whitten, president of Indiana University agreed that this successful partnership should continue and grow into the future. In addition to management discussions, the program also included discussions with the UKE, the Faculty of Education, with vice-president Susanne Rupp and with the Knowledge Exchange Agency.
Currently, students and doctoral researchers at Universität Hamburg can actively get involved in the partnership and contribute to peaceful and fair co-existence. To participate, they had to submit a video or audio contribution to a scientific poster as part of a UN Sustainability Goal 16—Peace, Justice and Strong Institutions Competition. Participants could win up to €1,000 in scholarships. The best submissions will be presented at an international forum, where students from Indiana University, and 5 other partner universities, Moi University (Kenya), Newcastle University (England), National Taiwan University, UNAM (Mexico), and O.P. Jindal (India).
Queries:
Newsroom editorial office
Universität Hamburg