Glacier Kwong is striving for democracy in her homeland
"In Hong Kong, when journalists do their job, it is considered activism."
2 September 2021, by Niklas Keller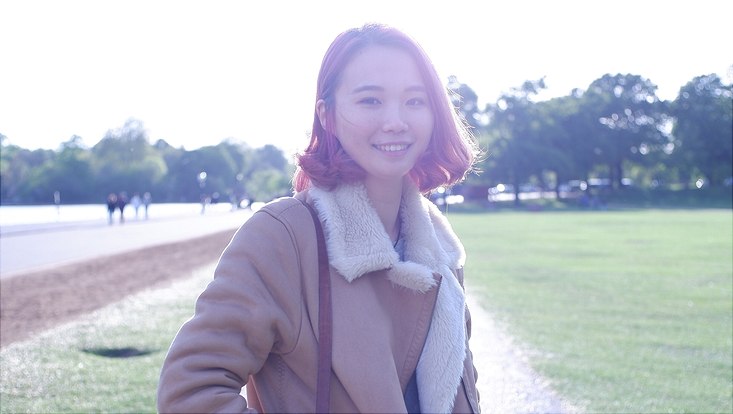 Photo: Private
As a political activist, Glacier Kwong gives interviews, writes articles, and gives speeches. Since 2018, she has been working toward a doctorate at Universität Hamburg.
Glacier Kwong from Hong Kong is currently doing her doctorate at the University of Hamburg. Kwong previously demonstrated for democracy in her homeland; today, she remains involved primarily online in exile in Hamburg. In this interview, she explains how academic work differs between Hamburg and Hong Kong and why the topic of data protection is so important to her.
You moved to Hamburg in 2018 and now live here in exile. Why did you decide to come to the Hanseatic city?
I had been to Hamburg once before and find the city to be incredibly beautiful—at least when the sun shines every now and again! Also, Universität Hamburg—in cooperation with the Europa-Kolleg—offers the European and European Legal Studies degree program, which was an ideal fit for me, since I am extremely interested in European data protection.
How does studying in Germany differ from studying in Hong Kong?
The atmosphere in the University is completely different. In Hong Kong, we are ultimately trained to become examination machines. There, it is simply about sitting through lectures, passing examinations, earning a degree, and getting a good job. In Hong Kong, professors simply press ahead with their lectures, clicking through PowerPoint slides. Many people are not interested in discussing things we have just learned or what we talked about.
In Germany, it is different. Here, we have the opportunity to discuss things. We can disagree with a professor, and the professor will readily engage in a discussion with us. I have the feeling that students in Germany are not afraid of making mistakes. They can say what they think, and others might say, "It is interesting, that you think that, but I have a different opinion."
You founded the NGO Keyboard Frontline, which advocates online privacy. How important is this issue to you?
Data protection and digital rights are extremely important to me, because it was an underappreciated topic in Hong Kong for a long time. There are many activists who fight for different political goals. But no one thought about the future of digital rights. This is why I campaigned for this in Hong Kong at that time. From that, I developed an interest in data protection and decided that I had to learn more. After completing my master's degree, I took the decision to write my doctoral dissertation. I am very passionate about this topic. It may come across as boring and even nerdy, but I am really interested in it.
What are you investigating in your doctoral dissertation?
Primarily, it focuses on the legal theory of data protection. We live in a world of commercial and state surveillance. This new reality demands that we examine the concept of private data and, if required, amend the substantive basis that we use in European law and in many places across the world. It is a legal theoretical study on how the way we view and handle private data is changing.
How do you arrange your activism and your doctoral studies in everyday life?
To be honest, it is really difficult to find a balance. Sometimes, I feel like I am in a parallel universe: I might be thinking about what is going on in Hong Kong and, at the same time, trying to get my shopping done and write my doctoral dissertation. I often try to limit my activist work or delegate certain tasks to others. The time difference in particular does not make it easy.
You also write articles for a German newspaper—a few weeks ago you wrote about the dissolution of the Apple Daily, a Hong Kong newspaper. How important is the issue of freedom of the press to you?
Many of my friends are journalists. Without press freedom, society would be a really bad place, because there would be no one to hold the government to account. The press is society's fourth estate and has the unparalleled role of informing the public. In Germany, the criticisms and debates regarding the role of journalists are—in my opinion—healthy, because there is a space to have this discourse. I am a little bit jealous of this, because, in Hong Kong, journalists are seen as activists for simply doing their job. In Hong Kong, in order to be able to have discussions at all, we need a free press first. Unfortunately, that is currently not the case.
What are you planning to do after your doctoral studies?
On the one hand, I want to continue as a political activist. At the moment, I am very involved in the digital world: giving interviews, writing articles, and giving speeches. I also call for demonstrations and fight there for more democracy in Hong Kong. I want to continue doing that.
On the other hand, I can well imagine working for an NGO that focuses on Hong Kong or data protection. Writing my doctoral dissertation is not only about knowledge of data protection but also about the way of thinking and a critical approach to laws, politics, and society. That would help me in my work for an NGO that is involved in such issues.
Contact
Newsroom editorial office
Universität Hamburg