Online Meeting with Kyoto University
Universities Agree to Expand Collaboration
22 April 2021, by Tim Schreiber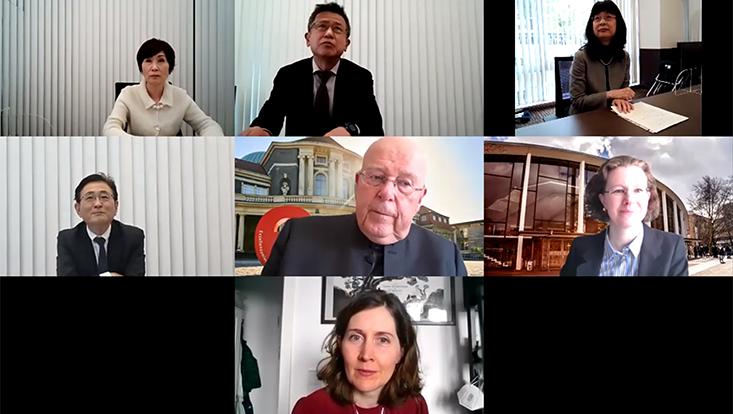 Photo: Universität Hamburg
The two universities met on Zoom
Kyoto University has been one of Universität Hamburg's strategic partners since July 2020. In an online meeting, the universities have now decided to hold a workshop in the fall, to develop joint perspectives on university development and encourage academic exchange.
The meeting was called to meet the newly elected president of Kyoto University, Prof. Dr. Nagahiro Minato. In addition to a joint workshop planned, depending on the pandemic, for the third quarter of the year, the presidents spoke about projects that have already been completed since the beginning of the partnership. In terms of research, these include 2 large symposia comprising 7 disciplines and 60 participants each, and a range of joint publications, particularly in the area of logistics, biology, and social and political science. There is also a central student exchange and continuing plans for joint teaching at the faculty level.
Things have not stood still during the coronavirus pandemic, even with all the challenges that it has brought for international collaboration. The beginning of April 2021 saw the implementation of an agreement between the Faculty of Business Administration and the Graduate School of Management at Kyoto University to offer a joint double master's degree program. In the future, this offers the opportunity to obtain 2 master's degrees, the Master of Business Administration from Universität Hamburg, and the Master of Business Administration from Kyoto University in only 6 semesters. The first Universität Hamburg students can start in Kyoto from April 2022.
Two very renowned partners
Kyoto University is a state university with around 23,000 students and 2,800 academic staff. The university was founded in 1897. This makes it Japan's second-oldest university. Alongside the University of Tokyo, Kyoto University is one of the country's foremost universities and, with 11 Nobel laureates to date, also one of the most respected worldwide. There has been a cooperation agreement between Universität Hamburg and Kyoto University since 2017.
As part of its internationalization strategy, Universität Hamburg has already been expanding its network of international higher education partners since 2012. As a flagship university, a concept that facilitated its denomination as a "University of Excellence," internationalization plays a major role.
Queries:
Newsroom editorial office
Universität Hamburg