From Harvard to Hamburg
Interview with Anna Biggs
28 June 2019, by Heiko Fuchs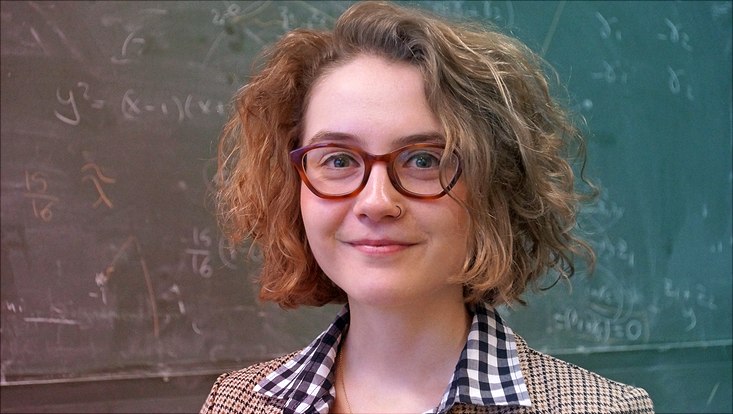 Photo: UHH/Fuchs
After 2 years of study, Anna Biggs is already researching string theory
Anna Biggs studies mathematics and physics at Harvard University. In 2018, the twenty-year-old completed a research internship of several months with the Emmy Noether Group of Dr. Murad Alim at the Department of Mathematics at Universität Hamburg. Now she is back in Hamburg to finish a publication. With us she talked about Hamburg, string theory and male domains.
Anna Biggs, you are studying at Harvard in your 5th semester and completed a research internship at Universität Hamburg last year. Why did you choose Hamburg?
My supervisor in the physics department at Harvard, Dr. Jacob Barandes, knows Dr. Alim. Since I wanted to gain international experience, he suggested that I contact him in Hamburg. I exchanged several mails with Dr. Alim, skyped a few times and then decided to do an internship at Universität Hamburg.
What do you like about Hamburg?
I didn't know much about the city before I arrived, but when I came here, I liked Hamburg very much, especially the colourful building facades in St. Pauli. Last summer I had a flat in St. Pauli – before that I had never been in a district with so much street art. I mean graffiti as well as posters and notes on the street walls. That's something I find really charming. I like the liveliness and expressiveness of St. Pauli. When I came to Universität Hamburg, most of my experience was shaped by the people I met in Dr. Alim's group, who were extremely supportive and welcoming. We had a good time together.
What's the biggest difference to Harvard?
At Harvard, students study a wide variety of subjects. In the Geomatikum, the only university building I know, everyone studies mathematics or a natural science. In addition, there seems to be more flexibility in the curriculum at Harvard than there is here. We have a few compulsory courses, but there is no fixed curriculum per semester. I can also take courses in history, social sciences or philosophy in addition to mathematics and physics.
When did you decide that you wanted to specialize in mathematics?
Probably in my second year at university. I started with the idea that I wanted to do something with science, technology and mathematics, but thought maybe I'd choose philosophy or political science instead. So, I took part in some physics and mathematics courses and thought it was great. Here in Hamburg I got to know research in theoretical physics and quickly found out that this kind of research was just right for me.
What did you work on during your internship?
We are interested in paths in a complex plane that fulfill certain mathematical relationships. Depending on a parameter, the number of paths that fulfill this condition is either two or three. How the number of possible paths depend on this parameter is an interesting mathematical and physical problem. The existence of these paths is related to the existence of special particle states in string theory.
After only 2 years of study, you are already researching string theory. Isn't that a big challenge?
Certainly, although not as big of a challenge as it might seem. My research involves a clearly defined mathematical problem and, while I don't understand all of the string theory background, I have the mathematical knowledge to work on and understand it.
For a long time, mathematics, physics, and the other natural sciences were purely male domains. Even today, there is still a small proportion of women studying in Germany. What is the situation in the U.S. like?
This is very similar with us: the proportion of women decreases with increasing proximity to management positions. In my mathematics and physics classes, for example, half to a quarter of the students are women and in the graduate school the ratio is one in ten. Most oppressed identities are underrepresented in math and physics though, not just women. Queer and trans people, most racial and ethnic minorities, and folks with disabilities do not succeed in physics at the same rate as white, heterosexual men do in the U.S.
Did you receive special support?
There are some programs that aim to increase the proportion of women in scientific and technical occupations. For example, I have completed a summer programme at Massachusetts Institute of Technology (MIT) in electrical engineering and computer science, which was founded to encourage young women to study these subjects. At Harvard, there are different groups such as "Women in Physics" for students as well as doctoral students, who organise workshops, conferences and mentoring programmes. The aim is to improve the networking of female students and to get support from older female students. I also feel supported by a few supervisors and professors who have passionately discussed both physics and life with me. They are interested in me and my ideas and have also invested in my education. I'm lucky that also my parents have also been extremely supportive. When I was struggling with math in grade school my mom helped me do a lot of my homework.
How did you finance your internship abroad?
There is a scholarship at my university for students who want to complete a full-time internship abroad to gain both academic and intercultural experience –the "Weissman International Internship Program Grant". I applied, was successful and came to Hamburg.
What are your plans after graduation?
After graduating, I would definitely like to do a doctorate in theoretical physics. But I can also imagine that I will take a year to travel or take additional study courses. After completing my doctorate, I would ideally like to do postdoctoral research at various universities and then apply for teaching positions at colleges. 
On the way to a scientific career, the MIN Faculty offers support, qualification, and networking opportunities especially for women. Further information can be found here.
---
Dr. Murad Alim
Universität Hamburg
Fachbereich Mathematik
Heiko Fuchs
Fakultät für Mathematik, Informatik und Naturwissenschaften
Dekanat/Kommunikation und Kooperationsprojekte