base.camp creative lab
From the farm to the supermarket and Smartphone
Informatics students develop their own applications.
19 March 2019, by Maria Latos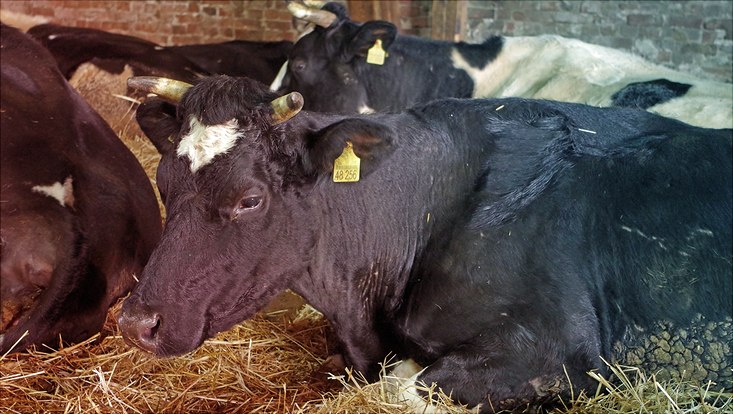 Photo: UHH/MIN/Willert
In one of the base-camp projects, an application is being developed that would provide supermarket customers with information about the provenance of meat products.
Application is an important part of information technology. To advance applications, the Informatikum at Universität Hamburg runs the creative lab base.camp. With support from the Department of Informatics, students can develop their own programming and software ideas. The first projects since base.camp's founding in October 2018 have now started.
Universität Hamburg students head to Stellingen when they want to engage in creative programming. The district is home to the Department of Informatics' base.camp creative lab. Students can realize their ideas and projects on Big Data, AI, and security. "A project's usefulness is not one of the main criteria at the very start. It's about 'learning by doing,' about development, and, of course, about learning from failure and how to do it better next time," said Mathias Fischer, a professor in the Department of Informatics, scientific director of base.camp, and chair of the base.camp steering committee.
Aside from Fischer, the steering committee includes Prof. Eva Bittner, Prof. Chris Biermann, and Prof. Judith Simon as well as 2 students. The committee reviews project ideas and whether or not projects can be realized within the scope of a few months. Then students can get started. Eugen Ruppert and Björn Schmidt oversee the creative lab's operations and lend a helpful hand. Twice a week the research associates hold office hours to advise students and contribute their technical and methodological expertise.
Software for consumer protection
One current project was the brainchild of Thorben Willert. He is studying informatics in the fourth semester and has been active in base.camp since December. He would like to help consumers of meat products by creating images that show potential buyers how the animals lived. "Products already bear codes but few consumers can really deal with them," he said. "Pictures make it easer to see how animals really live." His idea: Customers can use their Smartphone to scan codes on the product and see pictures. "My goal is to create greater transparency and show what animal life in production facilities really looks like," Willert said.
Data would be transmitted via ear-tags. Cameras installed at farms would record and integrated software would "read" the information. Willert first visited an organic farm near Hamburg and photographed cows in their stable. Now he is developing the software that will be able to recognize the codes on the ear-tag photos. He will conclude the project by taking videos and having his self-designed software analyze them. Willert will decide later whether or not customers need to download an App or simply scan a barcode to see images on a webpage. "It would be great if I could find someone for the project who is more familiar with image processing than I am," he said.
Networking in Hamburg
The base.camp team also wants to help students find partners. Eugen Ruppert and Björn Schmidt are planning a project market at which students can present their ideas and get others on board. Ideally, this will lead to interdisciplinary cooperation, since developing a website involves not just programming but graphic design, among other things. They are also seeking to create closer ties within Hamburg, for example, with other universities.
Thorben Willert would like to complete his project by summer. Right now, he is working on the software 6–8 hours per week and spending a lot of time in the base.camp lab. Whether his idea will find purchase is not something he can predict but he hopes that, at the least, small or organic farms will seize upon it.
---
Contact
base.camp Lab
Faculty of Mathematics, Informatics and Natural Sciences
Department of Informatics
Vogt-Kölln-Straße 30
22527 Hamburg
Maria Latos
Faculty of Mathematics, Informatics and Natural Sciences
MIN Office of the Dean, communication and cooperation
Rothenbaumchaussee 19
20148 Hamburg