Science City Bahrenfeld—the most important questions and answers
22 January 2019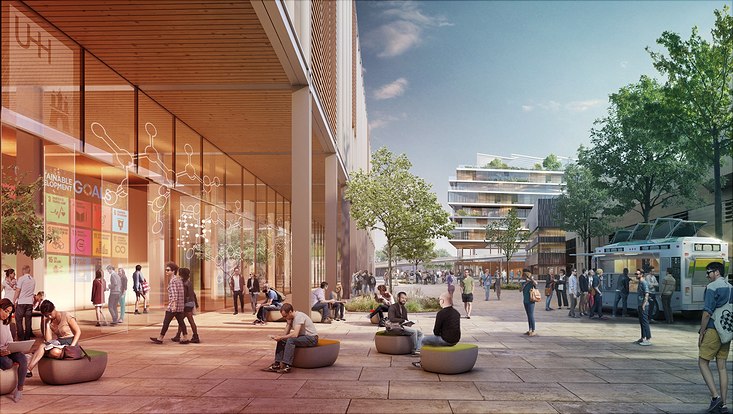 It is now official—the future project Science City Bahrenfeld is due to start in 2020. The aim: to strengthen Hamburg as a hub for science! And to offer the greatest minds in Hamburg and worldwide a creative, attractive, and sustainable space to learn, teach, research, live, and work. A project that promises monumental changes—and above all improvements—for Universität Hamburg. Here are the six most important questions and answers.
What is Science City Bahrenfeld?
Science City Bahrenfeld is a major expansion of the existing research campus in Hamburg-Bahrenfeld which will have an impact on the entire suburb of Bahrenfeld. For the very first time, science will drive urban development. The vision for 2040 brings together three key areas: Expansion of the Deutsches Elektronen-Synchrotron (DESY) and of Universität Hamburg's campus in Bahrenfeld and development of the nearby horse racing track.
The adjacent Altona public park will serve as a "green heart" by coupling science and research with high-quality living and recreational spaces as well as sport and health facilities. The concept for Science City Bahrenfeld is just the start of a process to take place over the next years and decades, involving Universität Hamburg as well as a number of further scientific institutions. The current plans foresee a brand new modern and attractive suburb designed according to a holistic understanding of science, business, and living with maximum connectivity. Universität Hamburg will assume one of the main roles in the Science City. The visionary urban development project will kick-off with an architectural competition in 2020, with completion planned for 2040.
What distinguishes science cities?
Science cities characteristically combine research, learning, working, and living. They provide a space not only for research and teaching, but also for start-ups, innovative businesses, offices, and living. They are spaces in which science, business and industry, and civil society meet and converse. That is why science cities depend upon interaction and cooperation within the local area and facilitate access to knowledge for society as a whole. Well-known German science cities are the technology park Berlin Adlershof or the Munich project Garching Science City.
"Science City Bahrenfeld will be THE major research campus in Germany—with world-class facilities for research in the natural sciences and outstanding conditions for study and teaching. We are setting forth toward a hub of science of the future."

Prof. Dr. Dr. h.c. Dieter Lenzen, President of Universität Hamburg
What does Science City Bahrenfeld mean for Universität Hamburg?
The plan envisages a center located in Hamburg's west for basic and applied research as well as transfer into broader society with international brilliance. Already today the research campus in Bahrenfeld numbers one of the University's five campuses. In the future the University's presence in Bahrenfeld will be greatly expanded, resulting in an excellent environment to research, teach, learn, and work for the natural sciences at Universität Hamburg. At present physics at the University is partly located in Bahrenfeld—right next door to DESY—for example, the Institute of Experimental Physics, the Institute of Laser Physics, and the clusters of excellence Advanced Imaging of Matter and Quantum Universe.
In the future, aside from a few exceptions such as the Observatory, physics, chemistry, as well as some parts of biology will be located in Science City and will thus profit from the proximity to one another as well as to the other scientific institutions on site. "Being present on the same campus will greatly facilitate cooperation between chemistry, physics, and biology on the big research topics as it is there that the key research facilities and large core facilities are concentrated," says University president Prof. Dr. Dr. h.c. Dieter Lenzen. From a construction perspective, the longterm move to Science City Bahrenfeld will mean an immense improvement in conditions for all those located there in the future. In contrast to the many buildings in need of renovation, for example, on and near the inner city campus, the City of Hamburg plans to erect modern buildings for research and to house academic institutes, as well as lecture halls and a learning center especially for Universität Hamburg.
Construction is due to commence in around five years. Infrastructure in Science City Bahrenfeld will create an ideal basis for teaching, working, and researching: More than 5,000 students are to profit from modern lecture halls and labs, from interactive learning spaces for individual and group work equipped with the most modern media technologies, from new spaces of encounter, and from new teaching and learning concepts. The vast majority of seminars and lectures in chemistry, physics, biology, or the nanosciences will in the future take place in a single location.
Already this year, the physics school lab Light and Schools run by Universität Hamburg will move into its own building on the research campus in Bahrenfeld.
What will Science City Bahrenfeld look like?
In addition to the academic institutions and labs, there are plans to create spaces for start-ups and innovative enterprises as well as a suburb with around 2,500 apartments and recreational precincts for students, researchers, and creatives.
Good accessibility on foot, bike, or public transport as well as short distances within Science City is the goal. This will be facilitated through shuttle bus systems, mobility stations, pedestrian and bike path networks, as well as modern logistical models for operating research institutions. In order to reduce the use of individual motorized modes of transport and to ensure a good connection to the main campus of the University at Von-Melle-Park, there are plans for access to the local train network at nearby Luruper Chaussee.
The neighboring public park will provide a green center for the future Science City Bahrenfeld. Much of the accommodation catering for various lifestyles and needs will be built on the former race track and the directly adjacent areas.
By combining academic institutions and the University with housing for the local population in Bahrenfeld, we will achieve a socially mixed and lively suburb. Schools and daycare, shopping centers, and good access to public transport will provide the necessary infrastructure.
What next?
Participating institutions, residents, and the wider public will be involved in the developmental process. There will be an information and participation campaign for citizens and residents, and numerous informative events and discussion fora will gather those living and working in Bahrenfeld, politics, academia, businesses and industry, and civic administration around one table to discuss the proposed development of the suburb and provide space for suggestions and critique.
Where can I find out more?
Universität Hamburg will also provide regular updates on developments.
Kontakt
Merel Neuheuser
Press Advisor to the President