From Hamburg to Horizon: Alexander Gerst returns to command the ISS
7 June 2018, by Anna Priebe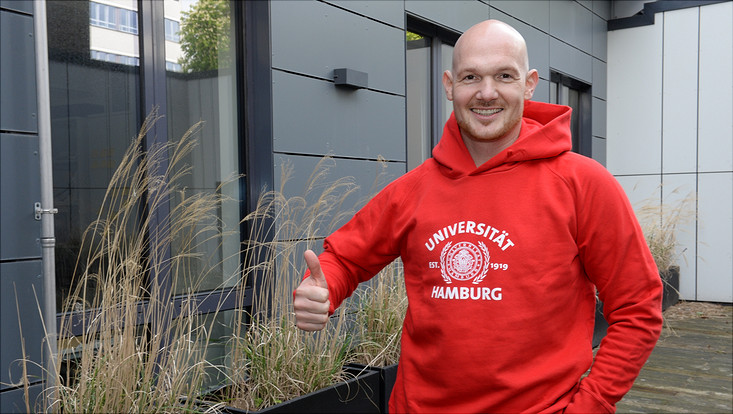 Photo: UHH/CEN/Aus­ser­ho­fer
Alexander Gerst (42) is not only the most famous astronaut from the Federal Republic of Germany, and, from October, the first German commander of the International Space Station (ISS), but also a Universität Hamburg graduate. The Doctor of Geophysics is due to arrive at the ISS with his team tomorrow for the "Horizon" mission and he even has a piece of the University on board with him.
Since working up to his odctorate from 2004 to 2010, a journey that took him all the way to the Antarctic volcano of Mount Erebus, Alexander Gerst has maintained close ties to his alma mater. Those ties made him proud to carry a small piece of the university with him on his second trip into space, a Universität Hamburg flag.
He is taking this flag with him to the ISS, where he and his team will be stationed until December as part of the "Horizons" mission. They will be responsible for supervising approximately 300 scientific experiments, with approximately 40 coming from Germany. Gerst has taken part in months of training to prepare himself physically for this demanding mission, as well as practicing starting and docking the Sojus rocket. He spent several months in space in 2014.
His doctoral supervisor has no doubts that Gerst will make an impressive commander. Prof. Dr. Matthias Hort from the Institute of Geophysics recalled,"While he was researching for his doctoral thesis, conducting measurements of volcanoes in the Antarctic, Asia and Central America, he always had a Plan B, and a Plan C. If, for example, an instrument was broken, he was able to make well thought-out decisions as to which option was the best to successfully get the measurements he needed. He was always fully prepared and never left anything to chance if he could help it."
The flag
It was not only Gerst who had to take a barrage of tests to prove his fitness, the Universität Hamburg flag also had to pass a number of hurdles. The flag, in the University red with a white crest, had to be printed on extremely flame resistant material, and be sent to the European Space Agency (ESA) 6 months prior to blast off. There, it was thoroughly checked before being packed into the astronaut's "luggage."
Back to Universität Hamburg
On his return to earth, Alexander Gerst is planning to visit Universität Hamburg: He, along with children's author Cornelia Funke, are to be awarded the title of Honorary Senator of Universität Hamburg to coincide with the University's centennial celebrations in 2019, as announced by the Academic Senate in 2017.
---
Contact
Dr. Ariane Neumann
Head of the President's Office