Summer study in Hamburg
Three international summer school programs begin in July
27 February 2018, by Giselind Werner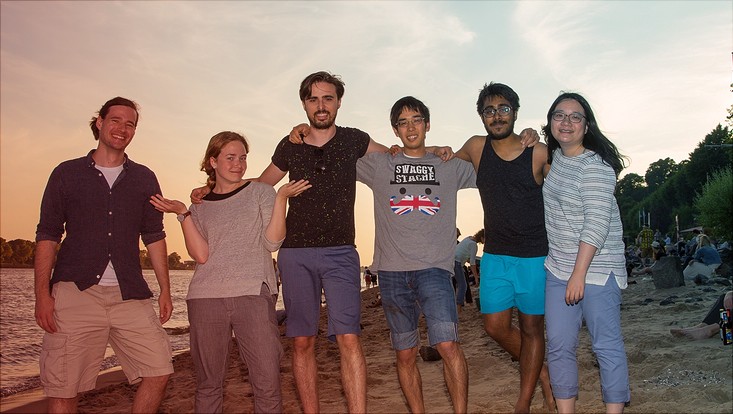 Photo: UHH/Dingler
Following last year's successful Particles, Strings and Cosmology summer school pilot program, 3 new international programs on climate change, health economics, and physics will be offered this upcoming summer. The goal is to attract gifted young people from all over the world to Hamburg, where they will work for 4 weeks alongside top-tier researchers from the University while also learning more about the city and German culture.
The coordinating faculties and the Department of International Affairs are offering the summer school programs to promote international exchange among young researchers. This should also strengthen strategic university partnerships because students from partner universities can take advantage of special conditions to attend courses.
"We know from last year's pilot project that our course offers are very attractive internationally. Both instructors and participants from all over the world showed great commitment and enthusiasm," said Olga Wagner, the program's coordinator in the Department of International Affairs.
Positive feedback
 Participant feedback from Summer School 2017 was very positive.
"I really enjoyed aspects of my studies here that I did not at my own university. Some of my friends were jealous that I was able to take part in the summer school program. And I think they should definitely attend next year," said Timothy Gary Carolus from South Africa's Stellenbosch University.
"All of the instructors were very open to discussion and questions. That was really great. It was a very well-rounded program, academically and culturally," said Anneke Erasmus, also from Stellenbosch University.
Summer schools set to become focal research areas
Academic staff from the social sciences and humanities offer courses on academic, cultural, and regional topics. An integral part of the summer school program, these courses not only highlight Hamburg as hub of university studies and research; they also provide a glimpse into German culture and the German academic system. A German language course and extracurricular activities such as trips to Berlin and Lübeck round off the program.
This year 3 thematic areas—Particles, Strings and Cosmology; Health Economics; and Climate Change—correspond to key research areas of the University.
The project is now being developed following last year's successful pilot program. In the upcoming years the model will be expanded to include topics from all faculties.
Summer schools brief profile
Target groups:  bachelor's students about to complete their degree, master's students and doctoral candidates
Max. number of participants: 20 per summer school
When: 2–20 or 27 July 2018
Application deadline: 30 April 2018
---
Contact
Olga Wagner
Summer School Coordinator
Department of International Affairs