New perspectives on Aby Warburg: Carlo Ginzburg reads in honor of Martin Warnke
16 October 2017, by Online Services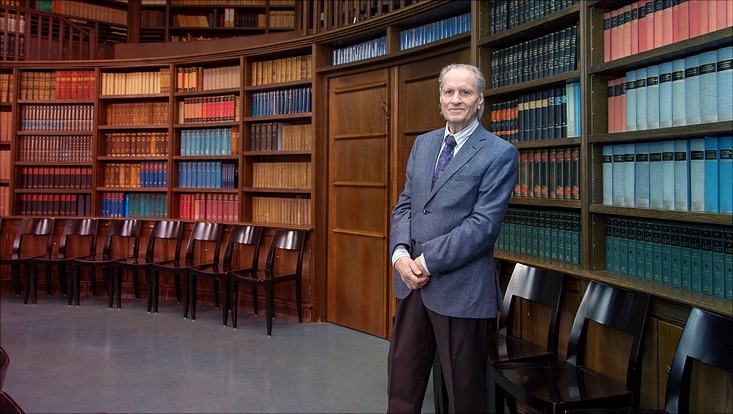 Photo: UHH/Dingler
Art historian Prof. Dr. Martin Warnke, emeritus professor of Universität Hamburg, in the reading room of the Warburg-Haus. Warnke turned 80 on 12 October and to mark this momentous event the Art History Seminar organized a special lecture by Carlo Ginzburg on 16 October.
A number of great names in the field of art history have taught and worked at Universität Hamburg: Aby Warburg (1866–1929), Erwin Panofsky (1892–1968), and Martin Warnke (born 1937), to name a few. Warnke, emeritus professor at our University since 2003, turned 80 on 12 October and to mark this momentous event the Art History Seminar organized a special lecture on 16 October held by the distinguished Italian historian Carlo Ginzburg.
It all begins with Aby Warburg. The banker's son inspired by art history laid the foundations for a new method in his doctoral dissertation: iconography, or rather iconology—deriving the meaning of an artwork's symbolic form in its historical context. As a private scholar, Warburg built up an extensive and world-famous art history library in the Heilwigstrasse, in the building that today houses the Warburg-Haus and was back then the hub for an intellectual circle of great renown to which the philosopher Ernst Cassirer and the art historian Erwin Panofsky, both professors at Universität Hamburg, belonged.
After the National Socialists seized power in 1933, staff moved the library to London—Warburg had already passed away in 1929. The empty library building housed various businesses well into the 1990s.
The rediscovery of the Warburg-Haus took place during Martin Warnke's time as professor for art history at Universität Hamburg, an appointment he had held since 1978. Together with Warburg enthusiasts such as the senator for science and research Leonhard Hajen and various patrons of the arts, Warnke succeeded in breathing academic life into the building once more. In 1993 the city of Hamburg purchased the building and after restoration works, entrusted it in 1995 to the newly founded Aby Warburg Foundation. Today the Warburg-Haus is a joint institution of Universtät Hamburg and the Foundation.
Martin Warnke and political iconography
Martin Warnke was not only instrumental in establishing the Warburg-Haus as a research institution; he also revived Warburg's methodological approaches. Thanks to the award of the Leibniz Prize of the German Research Foundation in 1991, he was able to establish the Research Centre for Political Iconography, which explores the artistic demonstration and communication of power and political control throughout history, in the Warburg-Haus. Today the Centre houses an image database with over 250,000 items cataloged according to more than 200 topics such as "terror," "catastrophe," or "anarchy." Warnke thus rehabilitated an art historical methodology that had been forced to emigrate from Germany under the National Socialists.
The Italian connection
"We thought that we had rediscovered Warburg for art history in Europe, however, the fact is that Warburg was always around in Italy," Warnke recalls his work in the 1990s. As a student and during long research visits to Italy, Warburg had forged contact with many scholars. This meant that it was no surprise that Italian scholars were amongst the early visitors to the Warburg-Haus. One of those was the historian Carlo Ginzburg, then already teaching art history at the University of California.
Ginzburg remained true to Hamburg and to Warburg: in 1992 he was awarded the Aby Warburg Prize from the City of Hamburg and in 1996 he held the Warburg Professorship at Universität Hamburg. Ginzburg also sustained his friendship with Martin Warnke. Hence it was a logical step to invite Carlo Ginzburg to hold the lecture to honor Martin Warnke. Ginzburg's lecture on 16 October, entitled "Unintended Convergences: Ernesto di Martino and Aby Warburg," illuminated a further facet of Warburg, namely the parallels between the well-known Italian ethnologist and anthropologist Ernesto de Martino and his ethnographic studies in southern Italy, in particular on religion and magic.
Akademische Feier zu Ehren Martin Warnkes
Das Kunstgeschichtliche Seminar lädt ein zur akademischen Feier anlässlich des 80. Geburtstags von Prof. Dr. Martin Warnke:
Wann: am 16. Oktober 2017, 18 Uhr c.t.
Wo: Hauptgebäude der Universität Hamburg, Hörsaal B
presentation Prof. Dr. Carlo Ginzburg: "Unintended Convergences. Ernesto de Martino and Aby Warburg"
Contact
Sue Ryall
Art History Seminar
Front Office Research Group Images of Nature