University Ball 2017—tickets available
5 October 2017, by Sarah Batelka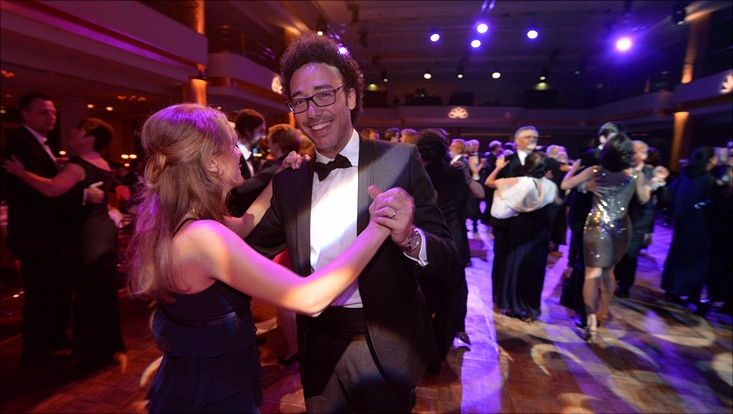 Photo: Hartmut Zielke
Dance until dawn! The annual University Ball will take place this year on 18 November.
An evening in the spirit of academic pursuit: for the fifth consecutive year, the Universität Hamburg Alumni Association and the Hamburger Informatik Technologie-Center e.V. (HITeC) will be hosting the University Ball on 18 November in the Grand Elysée Hotel Hamburg. Order tickets now... [Read on in German]
Neben einem Drei-Gänge-Gourmetmenü erwartet die Gäste ein buntes Rahmenprogramm in Hamburgs größtem Ballsaal. Für die musikalische Begleitung sorgt das Ensemble "Step UP!". Auf insgesamt 1.600 Quadratmetern gibt es genug Platz für Tanz und gute Gespräche mit vielen interessanten Gästen sowie Angeboten auf und abseits der Tanzfläche. Durch den Abend führt Moderatorin und Alumna Nina-Marlisa Lenzi. Der Universitätsball steht in diesem Jahr unter der Schirmherrschaft Taiwans.
Die Karten kosten je nach Kategorie 90, 80 oder 70 Euro pro Person. Mitglieder des Alumni-Vereins erhalten einen Rabatt in Höhe von 10 EUR. In dem Eintrittspreis enthalten sind der Eintritt, das Unterhaltungsprogramm und ein Drei-Gänge-Menü. Für Studierende gibt es ab 22 Uhr Flanierkarten für 20 Euro (ohne Menü).
---