This page:
UHH
>
Newsroom
>
Campus
>
Get involved and resolve conflict creatively—Prof. Dr. Gordon Mitchell on the peace building summer university program 2017
Get involved and resolve conflict creatively
Interview with Prof. Dr. Gordon Mitchell on the peace building summer university program 2017
27 September 2017, by Anna Priebe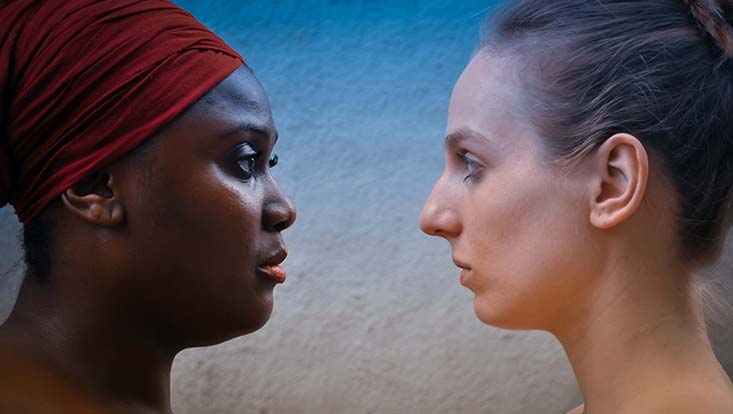 Photo: Art Peace Project
This photo was taken in a workshop with the Syrian photographer Manar Bilal. Participants were asked to portray conflicts.
Violence in soccer stadiums, hate in the Internet—conflict, whether political or societal, is as multifold as its causes and solutions. How can you get help? Twenty-five students sought answers to this question at a summer university program organized by an initiative on peace building from 29 August–1 September. They focused on the topic of "creativity and dialog." Prof. Dr. Gordon Mitchel, the initiative's spokesperson, talks about ways of getting involved. [Read on in German]
Prof. Mitchell, wann haben Sie persönlich sich das letzte Mal in einen Konflikt eingemischt, um ihn zu schlichten?
Das war beim Einkaufen im Rewe in Winterhude. Zwei Männer, so 30 oder 40 Jahre alt, haben angefangen, sich zu prügeln, und ich bin dazwischen gegangen.
In der Sommeruniversität standen u. a. Humor und Improvisationstheater als Themen auf dem Programm. Das sind nicht unbedingt die Inhalte, die man bei einem Workshop zur Konfliktlösung erwartet. Wieso wurden sie gewählt?
Wir haben uns im Initiativkreis für den Schwerpunkt Kreativität entschieden, denn manchmal braucht man für die Lösung von Konflikten ungewöhnliche Ansätze. Humor ist dabei immer ganz wichtig. Der Dozent, den wir dazu eingeladen haben, hat sehr viel Erfahrung im Bereich Theater.
Sehr interessant war die Abschlusspräsentation dieses Teilworkshops, dessen Teilnehmer übrigens nicht nur Studierende, sondern auch Dozenten waren. Die Präsentation bestand darin, dass die Gruppe angefangen hat zu lachen – über nichts zu lachen. Und das war so lustig anzusehen, dass wir schließlich alle gemeinsam gelacht haben. Es schafft einfach eine andere Stimmung. Für die Studierenden war es spannend, solche Erfahrungen zu machen und das hinterher zu reflektieren.
Ist das tatsächlich eine Methode, sich zum Beispiel im Fußballstadion neben gewaltbereite Fans zu stellen und einfach mal zu lachen?
In manchen Konflikten ist die Wirkung von Humor tatsächlich sehr groß. Aber das ist natürlich von Situation zu Situation verschieden und man kann es nicht immer machen.
Kann man denn Konfliktsituationen in Workshops so nachstellen, dass es realistisch ist?
Zwei Workshops haben sich dieses Jahr mit Performance beschäftigt. In solchen Settings kann man üben und sich in verschiedene Rollen hineinversetzen. In solchen ästhetischen Räumen kann man sich ausprobieren, sich selbst beobachten und nach Möglichkeiten suchen, Konflikte auf andere Weise zu lösen.
Welche Möglichkeiten des Einmischens waren noch Themen im Workshop?
Einmischen kann man sich auch auf Wegen, die nicht unmittelbar etwas mit Streitschlichten zu tun haben. Wir haben zum Beispiel mit Manar Bilal zusammengearbeitet, einem syrischen Fotografen, der in Flüchtlingslagern Kinder beim Spielen fotografiert. Es ist eine andere Sicht auf den Konflikt. Wir haben uns davon inspirieren lassen und eine Gruppe hat in einem Fotoprojekt ihre eigenen Geschichten und Ideen umgesetzt, um Konflikte, Widersprüche und Lösungen darzustellen. Konflikte sichtbar zu machen und Bilder für sie zu finden, ist auch eine Form des Einmischens.
Herausgekommen ist zum Beispiel ein Bild, auf dem sich zwei Frauen anstarren. Die beiden Studierenden haben hinterher erzählt, dass es für sie eine große Herausforderung war, sich so lange mit ernstem Gesicht in die Augen zu schauen ohne wegzusehen. Und das ist ein wichtiger Bestandteil: Sie haben hinterher den Prozess und ihre Gefühle bei der Umsetzung reflektiert.
Zudem sind wir eine Universität, und unsere Wissenschaft kann auch einen großen Beitrag zu Frieden und Konfliktlösung leisten. Wenn wir lernen zu kommunizieren, wenn wir scharf und gnadenlos in unseren Analysen sind – dann sind das Beiträge zur Friedensbildung. Wir müssen Denkprozesse initiieren. Die Studierenden und Lehrenden sollten die Erfahrung machen, dass man auf andere Weise lernen kann, dass man anders kommunizieren kann – auch an einer Universität – und vor allem, dass man für Lösungen interdisziplinär arbeiten muss.
---