What does the digital university teaching of tomorrow look like?
Prototype of Hamburg Open Online University (HOOU) kicks off
26 September 2017, by Giselind Werner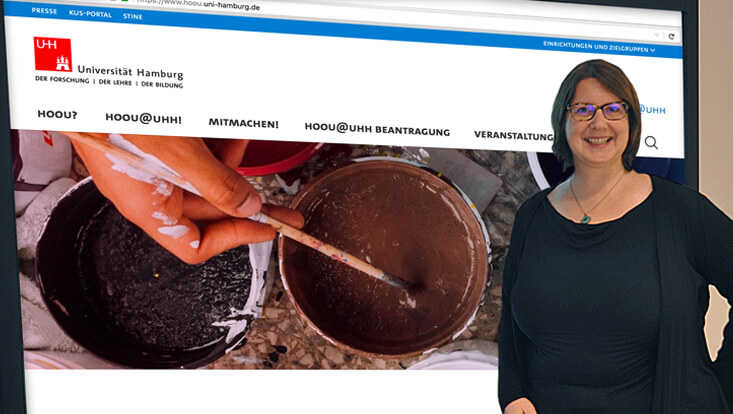 Photo: UHH/Pinkert
Since 2015 the HOOU, a joint project of Hamburg's six public universities and the Multimedia Kontor Hamburg, has been developing models to expand upon the traditional classroom using digital technology. This should also make it easier for universities to collaborate and to get the general public involved. The platform has now gone online with about 60 courses on various subjects. Prof. Dr. Kerstin Mayrberger is the University's Digitalization Representative for Teaching and Academic Management at HOOU@UHH. In our interview, she explains what a digital university could look like. [Read on in German]
Bildet die HOOU die Hochschullehre von morgen ab?
Ja, die HOOU steht exemplarisch für eine Entwicklung in der digitalen Hochschullehre, die sich in den nächsten Jahren stärker in Richtung von Blended Learning, also Präsenzlehre mit Online-Anteilen, oder auch gänzlichen Online-Angeboten entwickeln wird. Dieses dürfte auch für die Universität Hamburg eine interessante Richtung sein, die es gilt, schon frühzeitig über die Fächer hinweg mitzugestalten.
Mit welchen Projekten hat sich die Universität Hamburg bisher an der HOOU beteiligt?
Die Universität Hamburg war in der ersten Förderphase bis 2016 mit knapp 20 Projekten in der Hamburg Open Online University beteiligt. Hierbei handelt es sich um unterschiedliche didaktische Formate – von Selbstlernumgebungen, Trainings bis hin zu Blended Learning Angeboten. Darunter sind beispielsweise das interdisziplinäre Projekt "Sustainable Futures", das "eManual Alte Geschichte" sowie das kultur- und sprachwissenschaftliche Projekt "Russland 2.0" vertreten.

In der ersten Auswahl waren vor allem solche Projekte von Seiten der Universität Hamburg beteiligt, die sich als sogenannte "Early Birds" auf das Experiment "HOOU" eingelassen haben. Oft waren diese eng an die reguläre Lehre angebunden und wurden entsprechend von Studierenden genutzt.
Inwiefern wird das in Zukunft anders sein?
Die zweite Förderphase der HOOU gestaltet sich an der Universität Hamburg generell anders. Wir möchten nun vor allem Mikro-Projekte umsetzen. Diese haben den Vorteil, dass die darin entstehenden digitalen Lernarrangements vier Wochen nach Bearbeitungsstart zur Verfügung stehen und sowohl curricular und extracurricular Einsatz finden.
Die Lernangebote sind vom Format her sehr unterschiedlich geraten. Was ist das Ziel der großen Diversität?
Das Konzept der HOOU@UHH zielt auf die Erstellung von digitalen Inhalten in möglichst vielen Fächern. Durch die Sichtbarkeit der HOOU soll auch die Vielfalt des Lehrangebots der Universität Hamburg für die Zivilgesellschaft als Leistungsmerkmal des Wissenschaftsstandorts herausgestellt werden.
Wo werden die künftigen HOOU-Projekte der Universität Hamburg zu finden sein?
Neben der offiziellen HOOU-Plattform werden die HOOU-Projekte perspektivisch auch im Open-Access-Portal der Universität Hamburg zugänglich sein.
Die zweite Förderphase der HOOU hat begonnen. Was ist geplant und wie können sich Lehrende der Universität Hamburg daran beteiligen?
In der zweiten Phase besteht der Anspruch, unsere Angebote breiter zu streuen und die HOOU@UHH attraktiv für vielfältige Bedürfnisse zu gestalten. Dafür können von allen Ressourcenverantwortlichen an der Universität Hamburg, die einen Teil ihrer Veranstaltungen mit digitalen Materialien unterstützen möchten, auf der HOOU@UHH-Website jederzeit einen Antrag für ein Mikro-Projekt stellen und so mitmachen. Die Produktion der Materialien übernehmen studentische Teams. Gemeinsam mit den Fakultäten wird monatlich über neue Projektanträge entschieden. Eine möglichst breite Öffnung ist dabei der Leitgedanke.
---