Openness and accessible educational material!
OERCamp17 Nord on 23 and 24 June at Universität Hamburg
15 June 2017, by Tobias Steiner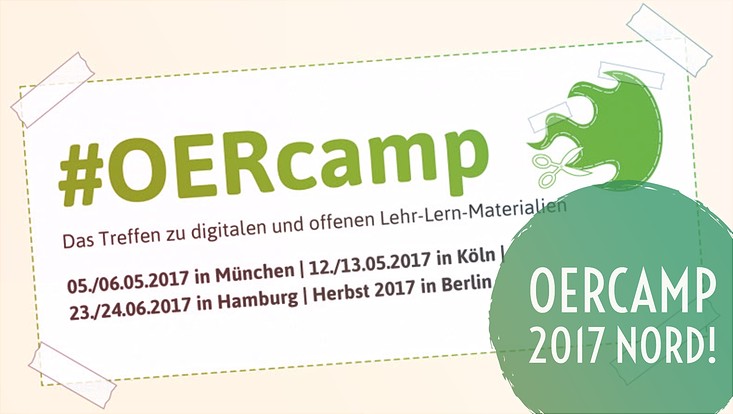 Photo: oercamp.de
On 23 and 24 June 2017, the 8th consecutive OERCamp ("Open Educational Resources") will be taking place at Universität Hamburg. [Read on in German]
Seit 2012 findet das OERCamp im jährlichen Turnus als Vernetzungs- und Austauschtreffen von Praktikerinnen und Praktikern zu Offenenen Bildungsmaterialien (engl. "Open Educational Resources (OER)") statt. Hier dreht sich alles um digitale, frei verfügbare und weiterverwertbare Lehr-Lern-Materialien - dieses Jahr unter der Schirmherrschaft der UNESCO.
Als weiteres Highlight werden 2017 gleich vier nach Regionen aufgeteilte OERCamps in Deutschland organisiert. Nach zwei Stopps in München (Süd) und Köln (West) ist nun am 23. und 24. Juni 2017 das Team des SynLLOER-Projekts um Prof. Dr. Kerstin Mayrberger Gastgeber für die Region Nord. Als Veranstaltungsorte konnten die Räumlichkeiten des Universitätskollegs, des HUL, sowie das Chinesische Teehaus Yu Garden als Konferenz-Zentrale gewonnen werden.
Das OERCamp17 besticht durch seine interessante Mischung an partizipativ-aktivierenden Veranstaltungsformaten: So wird mit einem "klassischen" Konferenz-Rahmen mit vorstrukturierten Workshop-Beiträgen begonnen und geendet. Die zeitliche Mitte des OERCamps, also Freitag nachmittags und Samstags, gehört dann dem titelgebenden Barcamp, bei dem Teilnehmende selbst aktiv werden, Ideen im Plenum vorschlagen und dann das Publikumsinteresse entscheidet, ob und wie sich daraus einzelne Sessions zum thematisch fokussierten Austausch ergeben.
Die laufenden Vorbereitungen zum OERCamp sowie Details zu SynLLOER finden sich im Projekt-Blog unter https://uhh.de/synlloer
Interesse an einer Teilnahme am OERCamp17 Nord? Dann gleich unter folgenden Links anmelden und für Workshops registrieren:
Falls Sie sich vorab schon mal einen Eindruck verschaffen wollen, was bei einem OERCamp so passiert: Einblicke in das #OERCamp17 West an der Technischen Hochschule Köln sind hier zusammengefasst: www.oercamp.de
Folgen Sie uns unauffällig
Contact
Tobias
Steiner
Projektkoordination SynLLOER und wiss. Mitarbeiter Universitätskolleg VM04/VM05