"A duck like you and me!"
Prof. Dr. Hans von Storch on the Donald Duck's 83rd birthday
9 June 2017, by Sarah Batelka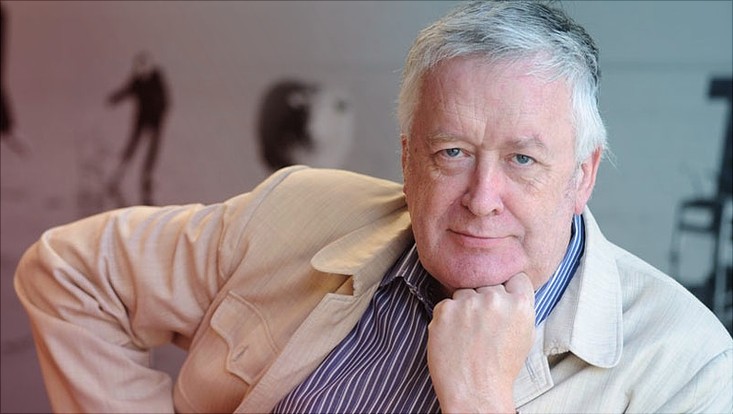 Photo: UHH/CEN
Mathematician and climate researcher Prof. Dr. Hans von Storch founded D.O.N.A.L.D. in Hamburg 1977. The organization is dedicated to all things Donald.
Happy Birthday, Donald! Eighty-three years ago today, the world's most famous duck appeared for the first time in the the animated film "The Wise Little Hen." We spoke with Universität Hamburg climate researcher and mathematician Prof. Dr. Hans von Storch, who founded D.O.N.A.L.D. in 1977. The organization is dedicated to research on the world of Donald Duck. [Read on in German]
Was fasziniert Sie als Klimaforscher und Mathematiker besonders an Donald Duck?
Donald Duck interessiert mich vor allem als Mathematiker. Der Donaldismus ist auch eine Art von Mathematik. Es geht darum, mit dem Wissen über Entenhausen, wie es insbesondere von den beiden wichtigsten "Berichterstattern", dem Zeichner Carl Barks und der deutschen Übersetzerin Dr. Erika Fuchs, überliefert wurde, die Funktionsweise von Entenhausen zu rekonstruieren. Das ist durchaus eine mathematische Methode: zu überlegen, wie man auf der Basis von Grundsätzen und Vorgaben eine in sich konsistente Welt bauen kann. 
Welches ist die wichtigste Erkenntnis nach 40 Jahren donaldistischer Forschung?
Die Forschungsergebnisse der Donaldisten sind sehr vielfältig. Ich beispielsweise habe mich damit beschäftigt, inwieweit die uns bekannte Physik in Entenhausen gilt oder nicht.
Einige physikalische Grundsätze wie Masseerhaltung, Energieerhaltung und Pulserhaltung finden sich in Entenhausen wieder: So müssen Schiffe mit einem Motor oder durch Wind angetrieben werden.
Der zweite Hauptsatz der Thermodynamik, der heißt, dass in unserer Welt nichts von alleine ordentlicher wird, gilt in Entenhausen jedoch nicht! Ein Beispiel: Donald Duck ist als Wettermacher mit einem kleinen Flugzeug in der Lage, an einem sommerlichen, ruhigen Tag einen Schneesturm zu erzeugen. Das ist eigentlich nur damit zu erklären, dass er die Luft abkühlen kann – eine Vorgehensweise, die in unserer Welt aufgrund der physikalischen Gesetze nicht gelingen würde.
Wir Donaldisten schlussfolgern daraus, dass sich Entenhausen in einer Welt befindet, die größer ist als unsere. Wir leben nur in jenem Teil, in dem der zweite Hauptsatz der Thermodynamik gilt. Das erklärt, warum Donaldisten oft das Gefühl haben, es könnte jederzeit Donald um die Ecke biegen und vor einem stehen.
Seit knapp 80 Jahren lebt Donald Duck mit seinen Neffen Tick, Trick und Track in einer Patchwork-Familie, seine vielen Berufswechsel machen ihn zum Quereinsteiger schlechthin und doch strebt er im Grunde nur nach Selbstverwirklichung in seiner Hängematte: alles aktuelle Lebensentwürfe und Konzepte. Nimmt Entenhausen gesellschaftliche Entwicklungen vorweg?
Das geschieht in der Tat ab und an. Es gibt beispielsweise eine berühmte Episode, in der überlegt wird, wie man günstig ein Schiff heben könnte. Es wird die Möglichkeit erdacht, das Schiff mit Tischtennisbällen zu füllen und so an die Wasseroberfläche treiben zu lassen. Diese Technik wurde später tatsächlich umgesetzt. Trotzdem ist es sicher nicht so, dass Entenhausen uns als Vorbild voranschreitet. Die Stadt ist vielmehr ein Augenöffner, der uns Dinge offener und selbstkritischer sehen lässt.
Im Kino, im Fernsehen oder in Comics: Zurzeit kommt man an Superheldinnen und -helden nicht vorbei. Donald aber ist ein cholerischer Niemand, der vom Unglück verfolgt wird. Warum ist er trotzdem so beliebt?
Donald ist eine Ente wie du und ich. Wir erkennen uns in ihm wieder. Aber es ist nicht so, dass wir ihn lieben oder so sein möchten wie er. Auch Donalds Nachbar zu sein, wäre für mich die schlimmste Strafe überhaupt.
Hans von Storch ist Meteorologe und Mathematiker. Er ist Professor am Institut für Meteorologie der Universität Hamburg, Gründungsmitglied des Exzellenzclusters "Integrated Climate System Analysis and Prediction" (CliSAP) und Gastprofessor an der Ocean University of China in Qingdao. Bis 2015 leitete er das "Instituts für Küstenforschung" am Helmholtz-Zentrum Geesthacht. Als naturwissenschaftlicher Klimaforscher beschäftigt sich von Storch seit vielen Jahren mit dem Verhältnis von Wissenschaft und Gesellschaft. 1977 begründete er die D.O.N.A.L.D. (Deutsche Organisation nichtkommerzieller Anhänger des lauteren Donaldismus) mit, die das fiktive Leben in Entenhausen geistes- und naturwissenschaftlich erforscht; als Ausgangspunkt dienen dazu die Geschichten des amerikanischen Comiczeichners Carl Barks.
---
Contact
Prof. Dr. Hans von Storch
Helmholtz-Zentrum Geesthacht, Centre for Materials and Coastal Research (HZG)
Max-Planck-Straße 1
21502 Geesthacht