University at 16? Yes, it's doable!
Alissa D.—Universität Hamburg's youngest student
4 December 2017, by Janine Fricke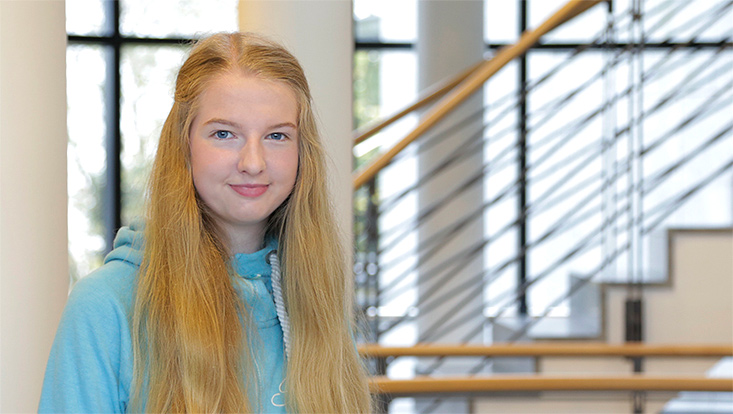 Photo: UHH/Wendt
At 16, Alissa D. is currently Universität Hamburg's youngest student.
With one year less of Gymnasium, German high school students are now younger on average when starting university. According to the Federal Statistics Office, more and more first-year students are minors when they begin their studies. Alissa D., however, is probably one of the youngest. At 16, she is studying foodstuffs chemistry and is currently Universität Hamburg's youngest student.
"Amazing! How did you manage that?" This is the question most people ask Alissa as soon as they hear that she is already studying at a university. "It just happened that way," says the young student shrugging her shoulders.
It was already unusual when she started school just 3 months after her 5th birthday. And it was more so that she was bumped up to 2nd grade just 2 weeks later. At 10, she skipped 7th grade and, just shy of 15, she found herself completing written Abitur exams.
Her kindergarten teachers had already suspected their 3-year-old charge might be gifted. "My mother didn't know exactly what that meant. As far as she was concerned, I was completely normal," says Alissa. At the standard school entrance examination when she was 4, a psychologist confirmed that she was highly gifted and strongly recommended putting Alissa in school early.
I was too young; I could only study
Her decision to begin university study was influenced by the fact that there were few alternatives. At 15 Alissa was too young to go abroad after completing her Abitur or to begin professional training. She did not want to take a one-year break, either, so she decided to study foodstuffs chemistry. "Chemistry always interested me at school. And I definitely wanted to do something practical," she said.
The greatest challenge at the start of her studies in Winter Semester 2016/2017 was the level of university work in organic chemistry. "At the beginning I really had to cram!" A new experience for the young student. Gnerally, however, Alissa still does not have to study too hard to get good grades.
Lecture halls, labs, and stables
On a typical day, Alissa leaves the house around 7 am, attends her first lecture around 8 am, conducts lab experiments from noon to 6 pm, and then takes care of her two horses before heading home around 10 pm. She admits that it can all be a bit strenuous. Nonetheless, she doesn't miss the carefree life of the average 16-year-old. "I don't know if they have it any better. When I see how much my peers have to study for school, I realize that I have more time than they do, especially in the semester breaks."
Her cats and horses also help relieve stress. "When I ride, I have a physical outlet and can be my age so that I don't always have to be the smart or studious one."
At the university, her age plays (almost) no role anymore
At school, her classmates always thought it was exciting to have a much younger girl in their class. The only envy she encountered was from a few parents when Alissa got better grades with less effort than their own gifted children.
At this point, most people don't notice the age difference. For example, the participants of this year's preparatory math course did not know that their tutor was only 16. Her age is only an issue in legal matters. "At 15, for example, I am not allowed to use a lighter, but it's okay for me to use the Bunsen burner!" she says laughing.
First a bachelor's, then a master's, and then?
If Alissa graduates in the regular period of study, she will have a bachelor's at 18 and a master's at 20. She doesn't know what she wants to do after that. One thing is clear, however: she doesn't want to finish faster. She'd prefer to take a relaxed approach. "And if I fail now and then, I still have a few years ahead of me."
---