Cornelia Funke and Alexander Gerst appointed honorary senators of Universität Hamburg
24 October 2017, by Viola Griehl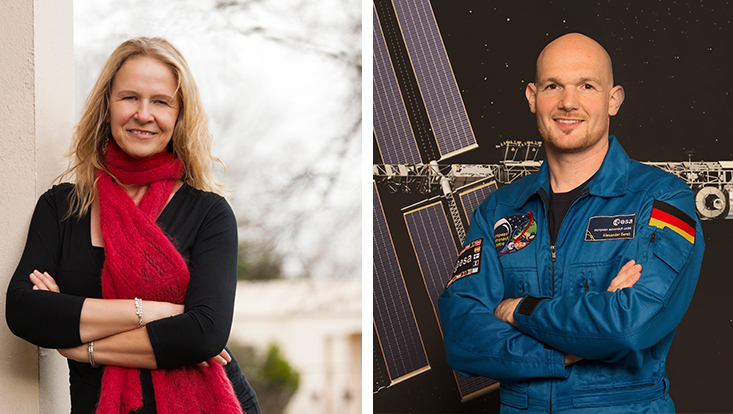 Photo: Dressler/Joerg Schwalfenberg; ESA/P. Sebirot
In Summer 2017, two alumni of Universität Hamburg were conferred the distinction of honorary senator: best-selling author Cornelia Funke and astronaut Alexander Gerst.
Two alumni of Universität Hamburg, best-selling author Cornelia Funke and astronaut and geophysicist Alexander Gerst, have been appointed honorary senators of Universität Hamburg. This distinction recognizes their special relationship to the University.
Cornelia Funke—one of Germany's most successful writers
Cornelia Funke, born in 1958, studied education at Universität Hamburg from 1977 to 1983. Many of her children's books, most notably Dragon Rider and the Inkheart trilogy, have been translated into English and earned international acclaim. Funke has been awarded several prizes, including the Order of Merit of the Federal Republic of Germany. For several years now, she has worked as German ambassador to the United Nations Decade of Biological Diversity and patron of the Bethel children's hospice in Bielefeld.
Alexander Gerst—"Astro_Alex" all set for second mission into outer space
Alexander Gerst, born in 1976, studied geophysics at the present-day Karlsruhe Institute of Technology and completed his doctorate at the Center for Earth System Research and Sustainability at Universität Hamburg in 2010. In 2009 Gerst was selected by the European Space Agency (ESA) to take part in a mission and spent May to November of 2014 working at the International Space Station (ISS). As part of his own research, he captured special images of ash-producing volcanoes. Through social media, Gerst alias "Astro_Alex" has given hundreds of thousands the opportunity to take part in his mission and never missed a chance to draw followers' attention to the fragility of our planet. In 2018 he is due to return to the ISS as commander.
42 honorary senators since 1949
Universität Hamburg confers the distinction of honorary senator to persons who have shown long-standing service to the University. Honorary senators are full members of the University and enjoy all rights and obligations this entails, for example, they may use all University facilities and are expected to help the University reach its goals.
Since 1949, the University has conferred this honor 42 times. The Academic Senate is responsible for selecting honorary senators.
Currently serving as honorary senators are entrepreneur Dr. Michael Otto, entrepreneur and patron of science and culture Prof. Dr. h.c. Hannelore Greve, as well as the Israeli educational scientist Prof. Dr. Miriam Gillis-Carlebach. Among the ranks of those already deceased are entrepreneur and patron of science and culture Prof. Dr. Helmut Greve, journalist and publisher Dr. h.c. mult. Rudolf Augstein, US American particle physicist Prof. Dr. Wolfgang Panofsky, former German federal chancellor Dr. h.c. mult. Helmut Schmidt and his wife, educational scientist Dr. h.c. Hannelore Schmidt, journalist Dr. Dr. h.c. Marion Countess Dönhoff, politician and journalist Lord Ralph Dahrendorf, and writer Dr. h.c. Siegfried Lenz.
All honorary senators of Universität Hamburg:https://www.uni-hamburg.de/uhh/profil/auszeichnungen/ehrungen-der-universitaet.html
---
Contact
Merel Neuheuser
Presidential Press Officer