Key research area Particle, Astro- and Mathematical Physics
5 September 2017, by Peter Kröninger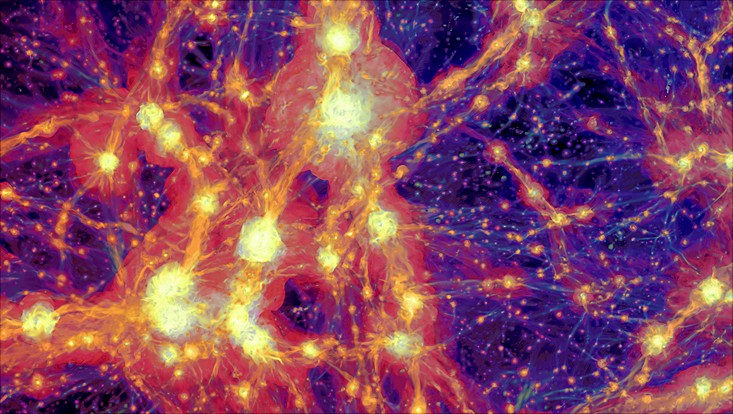 In Hamburg, outstanding scientists are conducting unique research at the intersection of observational, experimental, and theoretical research.
What are the building blocks of matter? What does dark matter consist of and what is "dark energy"? How are space and time structured, what are the origins and history of the Universe, and how does it all go together? These are the questions that they key research area Particle, Astro- and Mathematical Physics address. The Departments of Physics and Mathematics as well as the German Electron-Synchotron (DESY) are all part of the research area. [Read on in German]
Die Arbeiten reichen von mathematischen Theorien, die durch physikalische Fragestellungen inspiriert sind, über die Entwicklung theoretischer Modelle im Bereich der Teilchenphysik sowie teilchenphysikalische Experimente am Large Hadron Collider (LHC) beim europäischen Kernforschungszentrum CERN in Genf bis zu astrophysikalischen und kosmologischen Beobachtungen mit einer Reihe verschiedener Teleskope.
Diese Forschung ist weltweit vernetzt und findet zum Teil in großen internationalen Kollaborationen rund um den Erdball statt. Die dabei entwickelten Methoden und Technologien beeinflussen nachhaltig zahlreiche Gebiete der Wissenschaft und Gesellschaft. Das Zusammenspiel von beobachtender, experimenteller und theoretischer Forschung ist in Hamburg herausragend ausgeprägt und die Schnittstelle der drei Gebiete einzigartig besetzt.
Im Forschungsschwerpunkt sind große Verbundprojekte eingeworben worden, z.B. der Sonderforschungsbereich "Teilchen, Strings und frühes Universum" oder der vom Bundesforschungsministerium finanzierte Forschungsschwerpunkt "Elementarteilchenphysik mit dem CMS-Experiment" und das von der Deutschen Forschungsgemeinschaft geförderte Graduiertenkolleg "Mathematics inspired by String Theory and Quantum Field Theory".
---