30 June 2023
Research on adapting to effects of climate change
€5.8 Million for Foresighted Catastrophe Management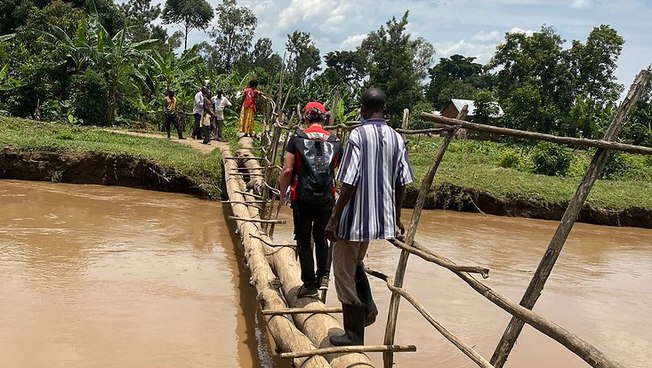 Photo: Daniel Geiger
A bridge across a river in east African Uganda
Introduce support measures before the catastrophe happens— this could help save human lives in the world's increasing climate catastrophes while also reducing the scope of destruction in the affected regions. Prof. Dr. Daniel Geiger, organization expert at Universität Hamburg, is looking at how suitable early warning systems can trigger support measures. A Canadian-British governmental consortium is now granting €5.8 million to the research.
"How can I set up funds even before the catastrophe happens? This approach is completely new and marks a paradigm shift in catastrophe management," says Prof. Dr. Daniel Geiger, who has been researching crisis coordination and crisis coping for the last 15 years. Worldwide, floods are the catastrophes that cost the most lives and destroy the conditions necessary for life, meaning houses, fields, and harvests. Droughts are a close second, although they are very different and involve a much longer look into the future. Geiger: "In our project, we are looking at both aspects because both are climate-induced catastrophes that we can to some extent predict—in contrast, for example, to earthquakes."
The Resilience Building through Multi-Stakeholder Engagement in Anticipatory Action for Climate-Induced Disaster (REBUMAA) project, which is set to run for 3 years, will work together with The International Federation of Red Cross and Red Crescent Societies, universities in Nigeria, Benin, and Togo, as well as with local Red Cross societies in the 3 African countries. Researchers will work with the 3 local universities to scientifically track the introduction and implementation of the highly innovative forecast-based finance approach. Geiger will act as scientific head of the project, which is starting now.
Special focus on women
The goal is to develop best-practice examples for setting up programs that involve foresight. "The idea is to create a knowledge hub and to become the port of call for all organizations and countries that wish to implement such a program," says Geiger. He further says that there are very practical matters to consider, such as the flow of money. Often, he continues, people in crisis regions do not have their own bank accounts. Payments are conducted via "mobile money" or mobile telephones, but usually only men have mobile phones. "It may happen that the money doesn't reach the women who, for example, feed their families with some agricultural work, but goes towards something else."
Geiger explains that the project is therefore focusing on women: "A climate catastrophe, for example, a flood, creates poverty. And poverty leads repeatedly to violence, usually against women. Thus, our goal is to make women especially more resilient so that they can escape the spiral of poverty."
From each of the participating universities, 5 to 8 people will be working on the project, primarily doctoral researchers. There is a wide range of disciplines involved. In addition to organization researchers from Universität Hamburg, climate, hydrography, and meteorology researchers in Africa will also take part. The International Federation of Red Cross and Red Crescent Societies will be helping with data collection and research-project design.
CLARE is a £110m, UK-Canada framework research program on climate adaptation and resilience. The goal is socially inclusive and sustainable activity to foster resilience to climate change and natural hazards. CLARE is an initiative jointly designed and run by the UK Foreign Commonwealth and Development Office and Canada's International Development Research Centre. CLARE is primarily funded by UK aid from the UK government, along with the International Development Research Centre, Canada.