26 June 2023
From graffiti to a 4,000-year-old receipt
Special Look at Manuscript Research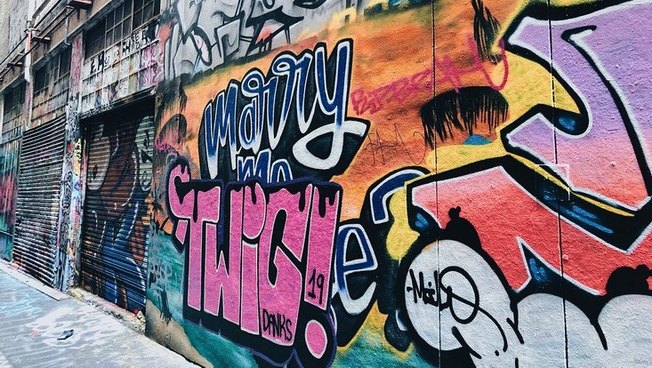 Photo: Cherie Lim
Graffiti on a building wall
In the upcoming weeks, the public will have 2 opportunities to take a closer look at special written artefacts from today and the past: an international graffiti conference from 29 June to 1 July 2023 and a new exhibition on Hamburg's written treasures starting on 5 July 2023 will provide some insights and also make top research in Hamburg visible and tangible.
Since antiquity, people have left behind handwritten traces that vary in kind depending on place and context. Since 2019, the Cluster of Excellence Understanding Written Artefacts (UWA) at Universität Hamburg has been the world's only research cluster examining manuscripts from all epochs of history and all regions of the earth—from Mesopotamian cuneiform tablets and medieval prayer books to train-station graffiti. This summer, the public has 2 opportunities to get to know the many facets of manuscript research.
TAG: The most important graffiti conference is coming to Hamburg
TAG: Name Writing in Public Space will take place from 29 June to 1 July. "Tagging," which means leaving your signature in public space, usually using a spray can, is no longer seen as a dubious pastime for juvenile delinquents; it is increasingly drawing the interest of researchers. The TAG conference is the most important international conference on the topic and every year it brings together researchers and "writers" in the graffiti scene. Following conferences in Berlin, Amsterdam, Cologne, and Modena, TAG is coming this year to Hamburg as part of the exhibition EINE STADT WIRD BUNT in cooperation with the UWA.
The conference will kick off on 29 June from 5 to 8 pm in the atrium of the State and University Library Carl von Ossietzky (SUB). Following a film (Hobo Carvings in Red Bluff, CA), there will be talks by the graffiti experts Matthew Champion and Susan Philips for the public at large (in English). All other talks (in German and English) will take place on 30 June and 1 July from 9 am to 5:30 pm at the Museum of Hamburg History. The program is open to the public and free. No registration required. 
Hamburg's written treasures: unusual manuscripts, innovative research
A few days later, Hamburgs Schriftschätze: Neue Fragen an alte Manuskripte will open at the SUB. From 5 July to 2 October, visitors can see 20 unusual written artefacts in the SUB collection that have been studied by researchers in the UWA cluster of excellence.
These include such various objects as a 4,000-year-old receipt for flour, a music score from Mozart's father Leopold, and a complete copy of the Koran the size of a matchbox. Each of these artefacts tells a story reaching far beyond the text: the exhibition's focus is how researchers in the cluster understand historical connections based on traces of use and storage.
The exhibition on Hamburg's written treasures opens on 5 July and can be seen everyday from 9 am to midnight (10 am to midnight on weekends). The exhibition is free. The opening, with short talks by the curators Prof. Dr. Kaja Harter-Uibopuu (UWA) and Dr. Katrin Janz-Wenig (SUB), will take place on 4 July at 6 pm in the SUB's conference room. This event is also free but please register per email at pr"AT"sub.uni-hamburg.de.