2 June 2023
Exhibition on Hamburg's theater and opera house architecture
Was für ein Theater!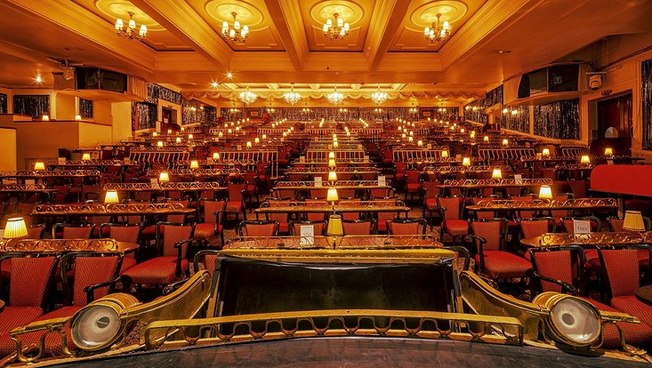 Photo: Thorsten Baering
Hansa-Theater
Since the eighteenth century, Hamburg has been one of the premiere cities for German-speaking theater. An exhibition curated by the architectural historian Prof. Dr. Frank Schmitz and his art history students at Universität Hamburg illuminates Hamburg's theater and opera house architecture from an historical and present-day perspective. The exhibition runs from 9 to 27 June 2023 in the foyer of Hamburg City Hall.
The exhibition shows various chapters in Hamburg's theater architecture history, with examples from both prestigious and less-prestigious theaters. In addition to buildings such as the State Opera and the Schauspielhaus, smaller performance venues such as the Hansa-Theater will also form part of the exhibition. Buildings no longer in use, such as the Schilleroper or the former Hippodrom and venues no longer in existence, such as the former opera house at Gänsemarkt or the Konzerthaus Ludwig—based on Vienna's Burgtheater—are also featured.
Dr. Carsten Brosda, senator for culture and media: "Hamburg has long been a significant theater city. Many very different types of performance venues shape Hamburg's cultural life: public and private theaters, variety theater, theater ships, monuments with long histories and iconic new buildings. The exhibition focuses on architectonic peculiarities throughout the ages, making our city's architectural richness visible."
Prof. Dr. Hauke Heekeren, president of Universität Hamburg: "Universität Hamburg is a university opening more and more to society at large. This exhibition contributes to that and is a very good example of Universität Hamburg's manifold activities: scholarship meets civil society. The exhibition enables all Hamburg citizens to learn about this exciting topic. I thank Prof. Dr. Frank Schmitz and his team for their good scholarly presentation and realization."
"The sources available for the topic are optimal, because there is a lot of archival material—especially many unpublished photos of historical Hamburg theater buildings—in the public archives and in the St. Pauli archive," says Prof. Dr. Frank Schmitz, who has been working at Universität Hamburg's Art History Seminar since 2018 and has already intensively studied theater architecture within the scope of a project funded by the German Research Foundation. The exhibition in Hamburg City Hall was developed with students in a related course in Winter Semester 2022/2023 and is now being shown as part of the Hamburg Summer of Architecture 2023.
The exhibition opens on 8 June 2023 at 6 pm at Hamburg City Hall (foyer, Rathausmarkt 1, 20095 Hamburg). Culture senator Dr. Carsten Brosda delivers words of welcome, Frank Schmitz gives an introduction. The exhibition runs from 9 to 27 June 2023. There are public guided tours on 11 and 24 June (2 pm, meet in the anteroom to City Hall foyer).